Would an Iranian Nuclear Deal Be Good for Human Rights?
Maybe. But a breakdown in talks could usher in another brutal crackdown.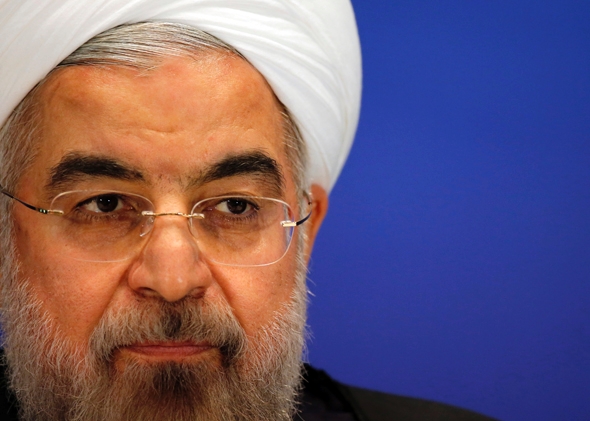 As Iranian and Western negotiators try to nail down a deal over Tehran's nuclear program by a Nov. 24 deadline, many in Iran's long-suffering dissident community find themselves in an ironic position: They support a deal even though they are skeptical that it would improve their country's human rights situation anytime soon.
This support grows less out of hope than out of fear—fear that failure to reach an agreement could have devastating consequences for human rights.
The hard-line political forces in Tehran most opposed to a nuclear compromise with the West also dominate the institutions—the Revolutionary Guards, the judiciary, and various security bodies—that perpetrate the most serious rights abuses, ranging from summary executions to the detention of journalists, religious and ethnic minority activists, and Iranians with connections to the West. For most of the past decade, these hard-liners exploited times of tension with the West, such as periods when the threat of a U.S. military strike was amplified, or when Iranian nuclear scientists were being assassinated. For the hard-liners these were opportunities to crack down on regime critics, and expel them from universities, newspapers, government ministries, and city councils.
The fear among Iranian dissidents is that a breakdown in nuclear talks would prompt another wave of repression. Inevitably, a breakdown would be seen in Iran as the West having rejected reasonable Iranian overtures (just as the West would see it as Iranian rejection of reasonable Western overtures). Hard-liners would depict this rejection as more evidence of Western disrespect, even contempt, for Iran, and would try to exploit any sense of renewed tension to push their oppressive agenda. That would be especially easy if threats of a military strike by the United States or Israel were revived.
Would the reverse also be possible? Could successful nuclear negotiations actually improve the human rights climate? Not all dissidents dismiss this possibility, but to understand why many aren't hopeful, it helps to understand the history of the current presidential administration.
The surprise victory of President Hassan Rouhani in the June 2013 election had raised hopes for an easing of the repressive climate that had set in with the crackdown on protests following the disputed 2009 re-election of President Mahmoud Ahmadinejad. Two days after Rouhani's win, 47 political prisoners from Tehran's Evin and Rajaee Shahr prisons wrote a public letter of support to Iran's new president, celebrating his "promise of a better tomorrow" and urging him to uphold the rights of Iranian citizens. Many of the signatories were former reformist officials well-acquainted with the daunting challenge facing Rouhani. Hence their observation that "the new presidential administration cannot be expected to work miracles."
Indeed, Rouhani hasn't worked miracles. He has occasionally raised hopes—as when, in May, he tweeted that "#Happiness is our people's right" after six young Iranians were arrested for posting a YouTube video of them dancing to the Pharrell Williams song "Happy." But he has said little in the face of the judiciary's execution this year of nearly 400 prisoners (many believed to be minority rights activists spuriously charged for criminal offenses), the arrest and continued detention of Washington Post correspondent Jason Rezaian, and the decade-long prison sentence meted out to student activists like Bahareh Hedayat.
Earlier this fall Rouhani infuriated activists and journalists when, in a television interview, he said, "I do not believe that an individual would be detained or put in prison [in Iran] for being a journalist." In response, 135 Iranian journalists sent a letter to the president and asked him to correct his "false statement." They added, "[W]e hope for more, and we ask you to fulfill your promises."
Sussan Tahmasebi, one of the pioneers of Iran's women's rights movement, now based in Washington, D.C., says that "patience with Rouhani has worn thin very quickly. While he may at some point push more on human rights issues, we haven't had many signals to suggest this will become a priority."
Shirin Ebadi—who was awarded the Nobel Peace Prize in 2003 for her legal work defending women's and children's rights under the Islamic Republic, and now highlights the regime's abuses from exile in the West—fears that if Rouhani refuses to even acknowledge the extent of human rights abuses continuing on his watch, there's little reason to expect he's planning to challenge them.
Tahmasebi, who like many prominent activists left the country in the wake of the 2009 Green Movement uprising but retains close contact with organizers on the ground, says they view progress under Rouhani as, at best, slow and uneven. A number of cultural and environmental groups have re-emerged, she says, but registering as a nonprofit organization continues to be difficult, and authorities still often prevent civil society groups from even meeting. "People are now just very cautiously realistic, they don't have a clear picture of what they are able to do, there is no clear signal of what is possible," she says.
And while Rouhani's vice president for women's affairs, Shahindokht Molaverdi, has engaged a wide range of women's activists, there is deep concern about what meaningful changes can be made in the face of an ultraconservative establishment that has stepped up morality policing and gender segregation of public spaces. Unless Rouhani undertakes robust structural reforms that blunt the power of the judiciary and intelligence services, there is little his government can do besides plead behind the scenes with the heads of those institutions.
If there is reason to hope that Rouhani will surprise skeptics, it lies in a tacit understanding reached between his camp and many civil society activists after he was elected to office: that during the early part of his administration he would prioritize negotiating a nuclear deal with the West over major reform in the realm of human rights. Resolving the nuclear standoff would bring an end to international sanctions and reverse Iran's economic free fall—a feat that would dramatically boost Rouhani's public support, providing him the political capital he'd need to loosen the grip of hard-liners on the levers of the state's repressive machinery.
So, though many activists are disappointed by the lack of passion for human rights shown by Rouhani so far, his initial promise—that progress would ensue after a nuclear deal—hasn't been tested. The jury is still out. "A nuclear deal is great, but there are two parts to the puzzle, with nuclear diplomacy and internal reform; one won't necessarily bring about the other," says Tahmasebi.
Ebadi says much hinges on what follows a nuclear accord, arguing that in the wake of a deal Iran could be pressed to ease repression if Tehran's Western interlocutors make human rights a central part of their ongoing engagement. "If the West's only aim is to create security for itself and initiate trade deals, then there will be little difference," she says.
That is one reason that Ebadi, Tahmasebi, and other activists say what would have greater impact than a simple nuclear deal is a full normalization of ties with Iran, involving engagement with various branches of the Iranian state as well as academia and the private sector.
The most immediate impact of a nuclear deal, says Shirzad Abdollahi, a Tehran-based education specialist who writes on civil society issues, would be the alleviation of economic suffering caused by sanctions, which he sees as a prerequisite to any popular focus on citizen's rights. If more urgent daily concerns such as lack of access to medicines and spiralling inflation are eased, his thinking goes, Iranians will be more focused on rights issues, and that would, in time, create pressure on Rouhani from below.
"If the sense of external threat is reduced, it will create space to deal with domestic concerns," he says. "People will have the chance to focus more on cultural and social issues, whether it is art or spirituality or even simply learning."
For many activists who consider the erosion of Iranians' quality of life under sanctions a human rights violation in itself, a nuclear compromise would at minimum address that concern. Beyond that, the case for a nuclear deal rests on a hope and a fear: the tentative and guarded hope that the deal would indeed give Rouhani more clout in battling the hard-liners, and that broad engagement with the West would help him use that clout; and the well-founded fear that, if there is no deal, the result could well be that the worst has yet to come.