Neville Chamberlain Was Right
The maligned British prime minister did what we would want any responsible leader to do.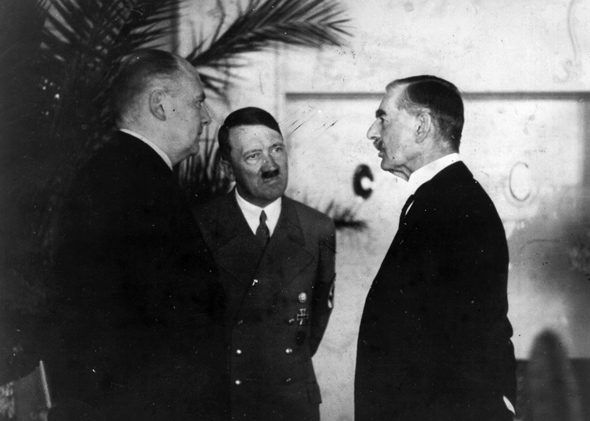 Seventy-five years ago, on Sept. 30, 1938, British Prime Minister Neville Chamberlain signed the Munich Pact, handing portions of Czechoslovakia to Adolf Hitler's Germany. Chamberlain returned to Britain to popular acclaim, declaring that he had secured "peace for our time." Today the prime minister is generally portrayed as a foolish man who was wrong to try to "appease" Hitler—a cautionary tale for any leader silly enough to prefer negotiation to confrontation.
But among historians, that view changed in the late 1950s, when the British government began making Chamberlain-era records available to researchers. "The result of this was the discovery of all sorts of factors that narrowed the options of the British government in general and narrowed the options of Neville Chamberlain in particular," explains David Dutton, a British historian who wrote a recent biography of the prime minister. "The evidence was so overwhelming," he says, that many historians came to believe that Chamberlain "couldn't do anything other than what he did" at Munich. Over time, Dutton says, "the weight of the historiography began to shift to a much more sympathetic appreciation" of Chamberlain.
First, a look at the military situation. Most historians agree that the British army was not ready for war with Germany in September 1938. If war had broken out over the Czechoslovak crisis, Britain would only have been able to send two divisions to the continent—and ill-equipped divisions, at that. Between 1919 and March 1932, Britain had based its military planning on a "10-year rule," which assumed Britain would face no major war in the next decade. Rearmament only began in 1934—and only on a limited basis. The British army, as it existed in September 1938, was simply not intended for continental warfare. Nor was the rearmament of the Navy or the Royal Air Force complete. British naval rearmament had recommenced in 1936 as part of a five-year program. And although Hitler's Luftwaffe had repeatedly doubled in size in the late 1930s, it wasn't until April 1938 that the British government decided that its air force could purchase as many aircraft as could be produced.
All of this factored into what Chamberlain was hearing from his top military advisers. In March 1938 the British military chiefs of staff produced a report that concluded that Britain could not possibly stop Germany from taking Czechoslovakia. In general, British generals believed the military and the nation were not ready for war. On Sept. 20, 1938, then-Col.Hastings Ismay, secretary to the Committee of Imperial Defense, sent a note to Thomas Inskip, the minister for the coordination of defense, and Sir Horace Wilson, a civil servant. Time was on Britain's side, Ismay argued, writing that delaying the outbreak of war would give the Royal Air Force time to acquire airplanes that could counter the Luftwaffe, which he considered the only chance for defeating Hitler. British strategists, including Ismay, believed their country could win a long war (so long as they had time to prepare for it). This was a common belief, and doubtless factored into Chamberlain's calculations.
Historians disagree whether the British military's position relative to Germany was objectively better in 1939 than it was in 1938. The British military systematically overestimated German strength and underestimated its own in the lead-up to the Czechoslovak crisis, then shifted to a more optimistic tone in the months between Munich and the outbreak of war. Whatever the situation on the ground, it's clear that the British military's confidence in its abilities was far higher in 1939 than it was during the Munich crisis, especially because of the development of radar and the deployment of new fighter planes. In 1939, the military believed it was ready. In 1938, it didn't.