Francois Hollande: "France Isn't Just Any Country"
France's new president talks about Obama, Europe's economy, and whether he is afraid of Angela Merkel.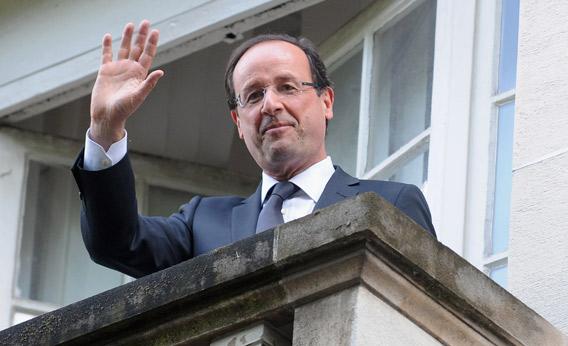 Francois Hollande was interviewed by Slate.fr on Friday May 4, two days before French voters went to the polls. He had the opportunity to update his answers on Sunday, shortly after he learned he had been elected president.
Slate.fr: How do you assess your proposal to create a European growth pact, which you have defended throughout your campaign?
Hollande: The French presidential campaign has put the demand for growth back on the agenda. The word is included in the fiscal compact treaty, but without content or concrete application. Yet it will be difficult if not impossible to reduce deficits and keep debt in check without additional economic activity. Preeminent figures such as European Central Bank chairman Mario Draghi have spoken in favor of this growth pact, but so have other heads of governments. In Spain, Portugal, the Netherlands, and Italy, everyone agrees that austerity alone will not bring back balanced budgets. For this reason alone I believe the French election campaign has been invaluable, and this is why it has been watched from well beyond our borders.
Slate.fr: Angela Merkel didn't receive you during the campaign, but the head of the Social Democratic Party Sigmar Gabriel did support you. Does the prospect of your first meeting with the German chancellor make you nervous?
Hollande: Not in the least. Whatever happened during the French presidential campaign will leave no hard feelings. I perfectly understand why Angela Merkel supported Nicolas Sarkozy because of the action they have taken together, even though I have questioned its results, and because of their shared political sensibility.
Slate.fr: The "Mer-kozy" couple has been criticized in Europe. What is your position on the Franco-German partnership?
Hollande: As much as I believe in the Franco-German partnership, I question the idea of a duopoly. European construction is based on a well-balanced and respectful partnership between France and Germany. The partnerships between Schmidt and Giscard, Kohl and Mitterrand, and even between Chirac and Schroeder, have proved that political differences do not mean that we cannot work together. But these heads of state combined an intergovernmental approach with European Union processes. This was the best way to avoid our partners feeling left out, or even worse, subordinate.
That balance has changed over the past few years. The Franco-German relationship has been exclusive. European institutions have been neglected and some countries, notably the more fragile ones, have had the unpleasant feeling of facing an executive board.
Slate.fr: British Prime Minister David Cameron did not receive you either, and the British media and financial sector have been hard on you. How do you intend to reinforce the Franco-British relationship?
Hollande: One must admit that the British have been particularly shy on the issue of financial regulation, and have only paid attention to the interests of the City of London, hence their reluctance to implement a tax on financial transactions and tax harmonization in Europe. Furthermore, since the central bank cannot directly intervene in debt financing, the U.K. is better protected from speculation, and is thus relatively indifferent to the fate of the eurozone.
I will soon meet David Cameron to discuss the benefits of a closer industrial cooperation between our two countries and to continue the ongoing rapprochement in terms of defense.
Slate.fr: Your predecessor demonstrated his role as a European leader on issues such as the fighting in Georgia, the revolution in Libya, and during the financial crisis. Is that also your ambition?
Hollande: France isn't just any country in Europe, and its president is not an ordinary leader in the world. Sometimes directing or leading the way is not enough, he has to initiate policies, as Nicolas Sarkozy was able to demonstrate during his term. Sometimes that was fortunate, as with the UN action in Libya. Sometimes it wasn't: I'm thinking of the Union for the Mediterranean, which due to a lack of preparation led to failure. Yes, I do intend to give France its place in the affirmation of an international ambition. What was missing in dealing with the financial crisis was consistency and perseverance, particularly the control of the financial world, the fight against tax havens, and the European Union financial transaction tax.
In the same manner, European countries weren't able to join forces in order to reduce the trade imbalance with China. We had to wait for Obama to state the conditions of trade reciprocity for the word to even be pronounced again. And let's not forget that the convertibility of the Chinese currency should have been discussed at the G20. I think the reform of the international monetary system must be a priority in our agenda.
Slate.fr: Speaking of Barack Obama, you're to meet him for the first time at the Camp David G8 Summit on May 18 and 19. [In English] Mister Hollande, do you speak English?
Hollande: [In English] Yes, I speak English. But a French president has to speak French!
Slate.fr: Do you think it's important for the French head of state to speak the common language of international diplomacy?
Hollande: He needs to understand it and to be able to have unmediated exchanges with his interlocutors. But I am attached to the French language and to the French-speaking world.
When I took part in European leaders summits, it was sometimes unpleasant for me to hear Romanian, Polish, Portuguese, and Italian friends speak English [rather than their own language], although I admit that on an informal basis, first contacts can be made in this language. Nevertheless, I will defend everywhere the use of the French language.
Slate.fr: The United States might look at a change of president in France, especially to a socialist one, with suspicion at first. How do you intend to make yourself known and acknowledged in the United States?
Hollande: I perfectly understood President Obama's attitude throughout the French presidential campaign. He had no reason to distance himself from Nicolas Sarkozy. It's the basic solidarity that leaders who worked together owe to each other. Barack Obama himself is running for re-election this year, and this vote will have a huge importance in the world. The Democratic administration's choices in terms of foreign policy showed serious and beneficial changes compared with the preceding one. In the same way, we have similarities on the economic level. So, I intend to assert France's independence without making Barack Obama's task any more difficult. For example, I will maintain the position I had during my campaign of a pullout of French troops from Afghanistan by the end of 2012, in agreement with our allies.
Slate.fr: What's your position on the Iranian nuclear program crisis?
Hollande: I haven't criticized Nicolas Sarkozy's firm stance on the risks of a nuclear proliferation. I will maintain it with the same strength and the same will. And I will not accept it if Iran, which is perfectly entitled to civil nuclear power, uses this technology for military purposes.
Slate.fr: On this particular topic, the Obama administration seems more flexible, more ready to negotiate, than the French government.
Hollande: Iran must bring forward all the information that was asked for and stop pretending. Sanctions must be reinforced as much as necessary. But I still believe that negotiation is possible to reach the intended goal.
Slate.fr: Wasn't your position about the French presence in NATO rather vague throughout your campaign?
Hollande: I regretted this decision as it was taken in 2008. The goals that were stated, and more particularly the reinforcement of the European defence mainstay, were not reached.
But I don't intend to go back to the previous situation. I will ask for an evaluation of France's role and responsibilities in the military command.
Slate.fr: On Africa and the Middle East, do you share [outgoing foreign minister] Alain Juppe's position of extreme firmness regarding Islamists? He considers that negotiation is possible as long as certain boundaries are not crossed, such as the respect of fundamental human rights, of the free choice of voters, and the acceptance that different parties can succeed one another as the head of state.
Hollande: France mustn't change its principles depending on the circumstances or the situations. The principles we valued during the Arab spring, when regimes prevented the advent of democracy, must be discussed with the new governments that were elected in those same countries, in Tunisia and Egypt for example. We must remind them as often as need be of the importance of the good functioning of democracy, of gender equality, and of the place that society and the state respectively hold.
Knowing if Islamic parties can enter a long-term democratic process is what is at stake here, which is why the success of this transition is very important. The Tunisians demonstrated it, even if we can see that threats are looming large.
Slate.fr: Do you think the arrival to power of Islamists in numerous countries in Northern Africa could reinforce the French fears and fantasies about Islam that were very present during the presidential campaign?
Hollande: I found the confusions and generalizations that occurred throughout the campaign very upsetting. Foreigners can be of African or North African descent without being Muslim. And they can be Muslims without being "communautarists" (a French term that means identifying so strongly with one group that one separates from the nation as a whole). I want the French people to respect values that allow each individual to practice his or her faith, but in the frame of our common rules of secularism.
This interview was conducted by Jean-Marie Colombani, Johan Hufnagel, Eric Le Boucher, Eric Leser, and Jean-Marie Pottier, and translated by Cécile Dehesdin, Grégoire Fleurot, and Bérengère Viennot.