Francois Hollande: "France Isn't Just Any Country"
France's new president talks about Obama, Europe's economy, and whether he is afraid of Angela Merkel.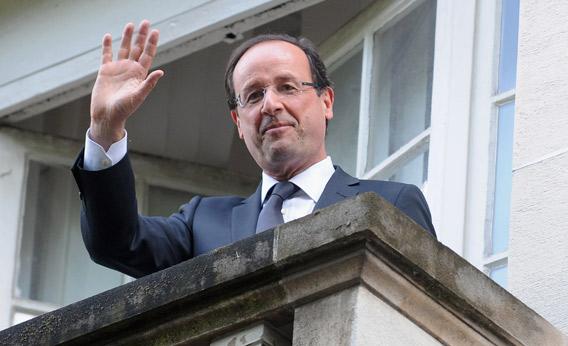 Francois Hollande was interviewed by Slate.fr on Friday May 4, two days before French voters went to the polls. He had the opportunity to update his answers on Sunday, shortly after he learned he had been elected president.
Slate.fr: How do you assess your proposal to create a European growth pact, which you have defended throughout your campaign?
Hollande: The French presidential campaign has put the demand for growth back on the agenda. The word is included in the fiscal compact treaty, but without content or concrete application. Yet it will be difficult if not impossible to reduce deficits and keep debt in check without additional economic activity. Preeminent figures such as European Central Bank chairman Mario Draghi have spoken in favor of this growth pact, but so have other heads of governments. In Spain, Portugal, the Netherlands, and Italy, everyone agrees that austerity alone will not bring back balanced budgets. For this reason alone I believe the French election campaign has been invaluable, and this is why it has been watched from well beyond our borders.
Advertisement

Slate.fr: Angela Merkel didn't receive you during the campaign, but the head of the Social Democratic Party Sigmar Gabriel did support you. Does the prospect of your first meeting with the German chancellor make you nervous?
Hollande: Not in the least. Whatever happened during the French presidential campaign will leave no hard feelings. I perfectly understand why Angela Merkel supported Nicolas Sarkozy because of the action they have taken together, even though I have questioned its results, and because of their shared political sensibility.
Slate.fr: The "Mer-kozy" couple has been criticized in Europe. What is your position on the Franco-German partnership?
Hollande: As much as I believe in the Franco-German partnership, I question the idea of a duopoly. European construction is based on a well-balanced and respectful partnership between France and Germany. The partnerships between Schmidt and Giscard, Kohl and Mitterrand, and even between Chirac and Schroeder, have proved that political differences do not mean that we cannot work together. But these heads of state combined an intergovernmental approach with European Union processes. This was the best way to avoid our partners feeling left out, or even worse, subordinate.
That balance has changed over the past few years. The Franco-German relationship has been exclusive. European institutions have been neglected and some countries, notably the more fragile ones, have had the unpleasant feeling of facing an executive board.
Slate.fr: British Prime Minister David Cameron did not receive you either, and the British media and financial sector have been hard on you. How do you intend to reinforce the Franco-British relationship?
Hollande: One must admit that the British have been particularly shy on the issue of financial regulation, and have only paid attention to the interests of the City of London, hence their reluctance to implement a tax on financial transactions and tax harmonization in Europe. Furthermore, since the central bank cannot directly intervene in debt financing, the U.K. is better protected from speculation, and is thus relatively indifferent to the fate of the eurozone.
I will soon meet David Cameron to discuss the benefits of a closer industrial cooperation between our two countries and to continue the ongoing rapprochement in terms of defense.
Slate.fr: Your predecessor demonstrated his role as a European leader on issues such as the fighting in Georgia, the revolution in Libya, and during the financial crisis. Is that also your ambition?
Hollande: France isn't just any country in Europe, and its president is not an ordinary leader in the world. Sometimes directing or leading the way is not enough, he has to initiate policies, as Nicolas Sarkozy was able to demonstrate during his term. Sometimes that was fortunate, as with the UN action in Libya. Sometimes it wasn't: I'm thinking of the Union for the Mediterranean, which due to a lack of preparation led to failure. Yes, I do intend to give France its place in the affirmation of an international ambition. What was missing in dealing with the financial crisis was consistency and perseverance, particularly the control of the financial world, the fight against tax havens, and the European Union financial transaction tax.
In the same manner, European countries weren't able to join forces in order to reduce the trade imbalance with China. We had to wait for Obama to state the conditions of trade reciprocity for the word to even be pronounced again. And let's not forget that the convertibility of the Chinese currency should have been discussed at the G20. I think the reform of the international monetary system must be a priority in our agenda.
TODAY IN SLATE
Politics
Talking White
Black people's disdain for "proper English" and academic achievement is a myth.
Operation Backbone
How White Boy Rick, a legendary Detroit cocaine dealer, helped the FBI uncover brazen police corruption.