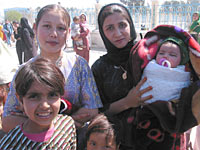 On the first Wednesday after the Afghan New Year, the shrine in Mazar-i-Sharif is closed to men. Thousands of women fill the marble courtyard and the adjoining parks, throwing off their burqas and setting out picnics on the muddy grass. (Two and a half years after the fall of the Taliban, nearly all women still wear burqas on the streets here. They say their men, damaged by years of war, don't know how to behave respectfully toward women.) Hasina, the 27-year-old staff reporter who works with me at the IWPR, tells me that all the women in the area come to the shrine on the Wednesday after New Year's, not just to celebrate the holiday, but to gossip, check out each other's outfits, and see who has gained weight and who's lost it. "If a woman is in beautiful clothes and with gold and she is looking fat, they will say she has good fortune," Hasina told me. "If she is thin and has no jewelry, they will see that things are not going well for her."
Hasina has been promising to take me to the shrine, and yesterday we went. I've never seen so many Afghan women and children in one place. Inside the gates, women push their burqas from their faces or shed them entirely to show off new hair styles and fancy clothes—retro chiffon dresses with balloon sleeves, '50s-style prom gowns, tight jeans and low-cut tops, perilously high heels. They wear heavy makeup, especially lipstick, and white face powder.
We make our way through the crowd to where Hasina's mother, aunt, sisters, nieces, and nephews are sitting. Over a picnic lunch of rice with carrots and raisins, toasted flat bread, red beans, and spiced yogurt, I ask the women if they're happy to be away from men for the day. "Very happy!" Hasina's eldest sister says. "You see, the men in Afghanistan are just like animals, looking like this"—she leaned forward and leered. Next to her, Hasina's other, married sister nursed her young son and nodded in agreement. "If men were here they would be doing this," she said, pinching my arm and making signs with her hands to indicate grabbing flesh.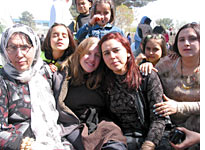 One of Hasina's younger sisters, an olive-skinned 21-year-old in a white vinyl jacket, is engaged to a man of her own choosing, which caused a stir among the more conservative elements of their very liberal family. Nearly all marriages are arranged here. Hasina's sister's fiance is a cousin—marriages between relatives are common in Afghanistan—but when he came asking for her, Hasina's parents said, "No, he's just started studying at the university and doesn't yet have a job." That was when Hasina's sister spoke up and said she loved him. This is not done in Afghanistan. Normally, if a woman's parents reject a marriage proposal, she silently accedes to their wishes. If her parents choose a man for her, she has two choices: She can say no or she can say nothing. Under no circumstances should a well-bred girl say "yes" or express any eagerness for the union. Hasina said that at first her parents were annoyed by her sister's forwardness, but they got over it, and are now pleased that the couple like each other.
With no plans to marry anytime soon, Hasina herself is as much in control of her life as any Afghan woman I've ever met. Besides working as a journalist, she is studying medicine. Yet she and the other female reporters at IWPR face significant challenges. It's harder for them to get around the city because they don't feel safe riding alone in taxis; sometimes, as a result, their stories get out of date because they can't find friends to accompany them to interviews. They can't talk to militia fighters—especially not in the city they're from, because if an armed man likes a woman, he could seek her out and bring arms to bear to pressure her family into letting her marry him. They also can't leave the city without a male companion. Hasina's family supports her, but even the men she works with in our office, who are pretty liberal by Afghan standards, sometimes give her trouble. If she wears a V-neck blouse, they tell her to cover up; some of them say that if a woman wants to be a doctor, she can't be a good wife and mother. Noori, our office manager, says he considers himself Hasina's friend and simply doesn't want to see her hurt. "One flower doesn't make spring," he said recently, meaning that Hasina is so far ahead of the curve that her efforts to lead a different kind of life could end up isolating her.

But Hasina doesn't see it this way. "That is right that I am not like other women, but all the girls I know say they want to be like me," she told me on the way back from the shrine. "I have my family and as long as they love me I can study and be happy. Actually, men want to have power over women. It's true that we do not have much freedom now, but at least let us try."