The First Mass School Shooting
Teachers and students who fled bullets in Stockton, Calif., 25 years ago mourn in the wake of Newtown.
"There was a lot of that," Weldon says.
"Some visitor or some counselor," Egeland says.
"Some announcement," adds Sue Rothman, another former kindergarten teacher at Cleveland.
"Or a reminder," Schardt says.
"So we read a lot of books," Egeland says.
"A lot of books," Weldon says.
"And then eventually," Rothman says, "they told us we didn't have to follow the curriculum. But in many ways that was harder."
"We didn't have to give the standardized test that year," Egeland explains. "We had to push for that."
They had to push for much more as well, requesting necessities as basic as walkie-talkies for yard duty and an exterior paint job to mask the bullet holes around the building. (The custodial crew had already spent the night after the shooting patching holes, replacing windows, shampooing carpets stained with blood and even repairing a tetherball pole cleaved by a bullet.) The teachers submitted a three-page "Needs List" to the Stockton Unified School District three weeks after the attack. When their requests went unanswered, they paid an unscheduled visit to the superintendent's office. They soon became known around the district as "those Cleveland teachers," but they got their meeting. "We eventually figured out that we needed to advocate for us because we were victims, too," says Rothman. "They were not seeing us as victims."
Listening to the teachers today, a bracing nostalgia sinks in. The work of Cleveland School Remembers is not simply activism that they couldn't accomplish 25 years ago. This is work that they could never have imagined they would need to accomplish. A gun slaughter like this had never struck an American elementary school; the immediate shock and recovery obscured the long view of how and when such a shooting might happen again. Even as the horror recurred at campuses from California to Colorado to Virginia to Pennsylvania to Connecticut, many of those who'd witnessed it the first time hadn't even developed a language or ability to process their own tragedy until decades later. Some of the teachers sought to avoid triggering flashbacks among colleagues who raced to shelter wounded kids or, like Weldon and Schardt, were conscripted to confront the ravages of the dead. "We didn't know what everybody was feeling at the time," Rothman says, "so we'd talk about other things and do other things."
"But also," Schardt says, "when Sandy Hook happened, it brought it all back to us, I think. It was like, we saw these pictures of these little kids. When they put the pictures of the kids on the TV, I just sat there sobbing—looking at those pictures and remembering those pictures of our kids and the same ages that they were, and thinking about their parents and their teachers."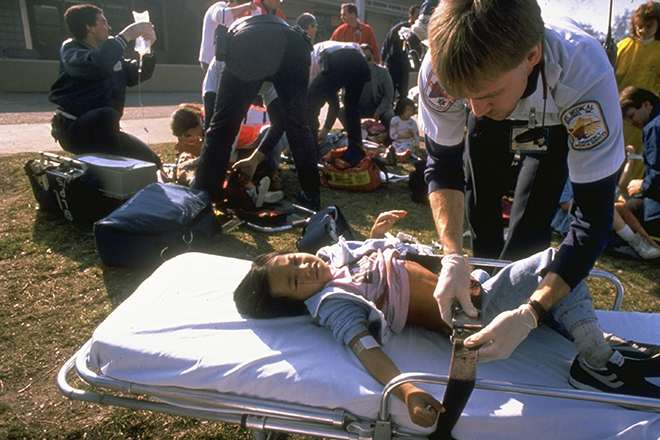 "I thought, 'Again?' " adds Barbara Sarkany-Gore, who taught kindergarten at Cleveland Elementary before retiring in 1998. "Of course, I've always had this feeling, waking up the next day after Cleveland, and thinking, 'Something's wrong.' And then that feeling of disbelief: 'Did it really happen? How could it have?' That feeling of disbelief while it was happening."
"Right," Weldon replies. "That it's really happening, because it's so weird. In a school. But now, it's such an everyday occurrence. It's not weird anymore. People just duck—duck and cover."
Twelve recorded incidents in almost 25 years do not make mass shootings on school campuses an "everyday occurrence." Yet smaller shootings and gun incidents involving schools arise much more frequently, often much further below the national radar. In January 2013, while the country still reeled from the Sandy Hook massacre, four people died and 10 more were injured in seven different campus incidents across America. In October, less than one week after a 17-year-old fatally shot himself at a high school in Austin, Texas, a 12-year-old killed a teacher, shot two students and committed suicide in Sparks, Nev.
The Children's Defense Fund estimates that, in America, 50 children and teens are killed or injured by firearms each day. In a lesson on telling time during her final year teaching at Cleveland, Weldon asked her students what they could do in five seconds. A 7-year-old boy stood up and shouted, "You can pop a clip in less than five seconds!" Recounting the story, Weldon mimics the boy's hand motions: a swift, strong slap of the left hand to the bottom of a right fist clutching an imaginary handgun. "This is how they come to school," she says. "They come with this knowledge—they come every single day, in your classroom."
And so they come to other classrooms, and so the ghosts and fearful imagination persist—a fog of heartbreak pulsing with fervor and sadness and a sharp, subsonic dread. "When this happens, as far as a school, it's not your child who's been killed," Schardt says. "But it's one of the children you are responsible for. You are the main nourisher. You give them sustenance. Especially in primary—you are a parent. In loco parentis. You're a counselor. You feed them. You're a nurse. All of those things."
With this in mind, the Cleveland teachers worry quite a bit about the Sandy Hook teachers, two of whose ranks (plus the school's principal, psychologist, and two teacher's aides) died with their 20 first-graders one year ago. Not long after the shooting in Stockton, the teachers there received a letter of support from teachers in Winnetka, Ill., where, in 1988, a woman with three handguns killed a student and wounded six others at their school. After some deliberation with the district, the Stockton teachers welcomed the Winnetka teachers for a counseling meeting. "We looked forward to them being here, I remember," says Egeland. "I thought it was really helpful."
Cleveland School Remembers took an identical tack in April, extending its own offer of counsel to teachers in Newtown. A liaison for the Sandy Hook teachers replied with her thanks, assuring her counterparts in Stockton that their proposal would be reviewed in May. That was the last the Cleveland teachers heard from Connecticut.
"We said, 'We're here if you need us, and nobody else needs to know about it,' " Schardt explains. "I think we felt the need to talk to somebody. We thought, 'Who else could understand this experience, at least from a teacher's perspective?' "
But despite the unfathomable casualties, the suffocating media crushes, the instant notoriety and the long, barbed emotional tails that the schools' massacres have in common, there are two notable differences informing the perspectives of teachers at Cleveland: Unlike Sandy Hook, many of them were eyewitnesses to the gunman's rampage, and virtually all of them returned to campus as classes resumed—the very next day. "That school is being torn down," Rothman says of Sandy Hook. "None of that happened to us."