Baking Bad
How dabbing—smoking potent, highly processed hash oil—could blow up Colorado's legalization experiment.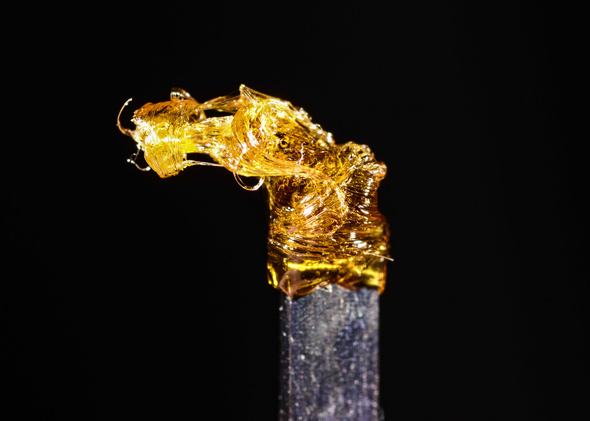 Brad Melshenker, owner of the Boulder, Colo.-based 710 Labs, knows his operation, with its extensive ventilation systems, industrial hygienist–approved extraction machine, vacuum ovens, and workers wearing respirator masks looks like something out of a marijuana version of Breaking Bad. It's why he calls his lab manager, Wade Sanders, "Walter," after the show's protagonist, Walter White.
And like the famously pure and powerful blue meth White cooked up on Breaking Bad, the product produced by 710 Labs' fancy equipment is extremely concentrated, powerful, and coveted: butane-extracted hash oil (BHO). The lab's finished BHO might not look like much—a thin, hard, and shiny brown slab, like peanut brittle without the peanuts—but when a piece of this "shatter," as it's called, is placed on the nail of a specially designed pipe that's been superheated by a blowtorch, it vaporizes and delivers a direct hit of 70 to 90 percent THC, three times the potency of the strongest marijuana strains. As Melshenker puts it, if smoking regular pot is like drinking a beer, "dabbing," as this process is known, is a shot of hard liquor. Vice calls the result, "The smoothest slow-motion smack in the face of clean, serene stonedness that you've ever experienced." Rolling Stone reports, "Your head spins, your eyes get fluttery, a few beads of sweat surface on your forehead and, suddenly, you're cosmically baked." Some pot aficionados vow to never smoke the old way again.
Hash, in other words, is no longer just a way to make use of leftover marijuana trim. It's now becoming the main attraction. (Butane isn't the only way to extract hash oil from marijuana, either; some concentrate-makers use carbon dioxide– or water-based extraction methods.) At Greenest Green, Melshenker's Boulder dispensary, the inventory used to be 60 percent marijuana flower, 30 percent BHO, and 10 percent edibles. Now it's the opposite: 60 percent BHO, 30 percent flower, and 10 percent edibles. And roughly 40 dispensaries statewide contract with 710 Labs to turn their marijuana into shatter or "budder," a gloopier version. (Because of delays in Boulder's regulation process, 710 Labs won't be able to produce recreational BHO until Feb. 17.)
Hash oil is even fueling its own subculture. Forget 4:20; "dab heads" or "oil kids" light up at 7:10. (Turn the digits upside down and you have "OIL.") Connoisseurs sport specially designed blowtorches and incredibly pricey "oil rig" pipes; a top-of-the-line rig from Melshenker's Faulty Pelican glass company sets you back $14,000. There's even dab gear, made by companies like Grassroots.
"There's a whole industry here," says Melshenker, whose business card doubles as a stainless-steel dabber, the tool used to apply BHO to an oil rig's superheated nail.
Soon enough, then, Colorado's small-scale experiment should spread far and wide, with controversial drug laws getting the boot, millions of clandestine tokers coming out of the closet, and governments reaping the benefits in taxes and fees. That is unless something goes terribly wrong, derailing the whole legalization movement.