The 2009 Slate 60
The largest American charitable contributions of the year.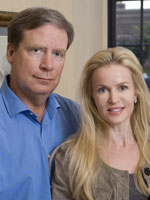 "It's not what you were given. It's what you do with it that matters."
Although I was only 8 years old, I vividly remember my mother's reprimand. I thought my report card—with an unbroken string of E's for excellent—was cause for great praise. Instead, she focused immediately on the postscript about behavior: "Patty often finishes her work early and distracts the other children." To her, that was simply unacceptable. I should be helping—not hindering—my fellow second-graders. Nothing less would be rewarded.
The philanthropists who appear on the Slate 60 understand, at least in part, what my mother was saying. This year proved their generosity. Because of the massive losses that even the wealthy suffered in 2008 and early 2009, few would blame them for taking a year off. Giving USA 2009 found that giving in 2008 fell by the largest percentage in five decades. But donors on the 2009 Slate 60 came through with $4.2 billion in new commitments (pledges and gifts) to philanthropy.
So first, a heartfelt cheer for the generous donors on this list. They have certainly earned E's for excellent by sharing their wealth in these difficult times. But—taking a cue from my mother—I challenge the givers on past, present, and future Slate 60 lists to consider what they are doing with their largesse.
Are the Slate 60 really Great Givers or simply wealthy and generous?
In the past 14 years, I have had the pleasure of working with several donors on this list. I've learned how to separate the wheat from the chaff, and I see more philanthropists striving to be Great Givers. In 1997, as he pledged $1 billion to establish the U.N. Foundation, Ted Turner issued a very public challenge to his fellow-wealthy—many of them gathered at the black-tie affair—to use their wealth to aggressively tackle today's problems. (It was a follow-up to a challenge he made in a Maureen Dowd interview, a challenge that prompted the creation of this list.) A brilliant move for a man who loves to give it away and loves to compete in equal measures. But today, even Ted no doubt would acknowledge that size (of a gift) is not all that matters.
There are three simple measures that distinguish the Great Givers from the merely wealthy and generous. Great Givers are those who: 1) give big, 2) give now, and 3) give for great social impact.
Stanley and Fiona Druckenmiller, who lead this year's Slate 60, embody the term Great Giver. They are known for being reluctant to attract attention and praise for their giving, but their leadership stands as a strong model for others. They give big: gifts that are large, focused, and institution-changing. Their sustained support of Geoff Canada's Harlem Children's Zone Project since the 1990s is estimated to be more than $100 million and was game-changing for Canada as he built on the agency's early track record with a 10-year business plan encouraged by Druckenmiller to create a neighborhood zone of support so that Harlem's children are surrounded by an enriching environment of motivated peers and supportive adults with the right services within. Stanley Druckenmiller acknowledges that in choosing to support Canada, he used the same skills set that served him as a successful investor: He bet on the right mission and a great leader.
The Druckenmillers (whom I have never met) also give now.   Stanley, 56, and Fiona, 47 *, already have a decadelong record of giving both money and time. And they give for great social impact: Much of their giving is focused on improving education in Harlem. Fiona's recent announcement of a gift to create a neuroscience institute reflects their shared belief that better understanding of the brain sciences can improve millions of lives.