The 2007 Slate 60
The largest American charitable contributions of the year.
Editor's note: Since publishing our 2007 list with the late Leona Helmsley as the No. 1 donor, we have realized it was more accurate to count her bequest among gifts for 2008. An inventory of her assets has been filed with the Surrogate's Court of the State of New York, so we now have a better idea of the worth of her bequest and her intentions for it.We have changed the data in our searchable database  to reflect that Barron Hilton is now the No. 1 donor for 2007, and Helmsley the top donor for 2008.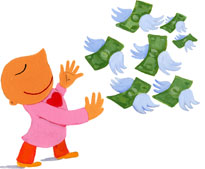 Two hoteliers known for providing comfort to the well-to-do are leaving a different legacy: aid to the less fortunate. That's the takeaway from the top of our annual list of the largest American charitable contributions. This year, Slate 60 was compiled by Slate editors and reporters using data provided by the Center on Philanthropy at Indiana University and other sources, including Slate's own reporting. The top two spots on the list are occupied by prominent hotel billionaires: The late Leona Helmsley bequeathed $4 billion to the Leona M. and Harry B. Helmsley Charitable Trust, and Barron Hilton donated $1.2 billion to the Conrad N. Hilton Foundation, started by his father.
Helmsley, who made her fortune not only in hotels but also in real estate, isn't the most obvious candidate for exemplary benefactress. Search Wikipedia for "Queen of Mean," and you'll be taken to her biography page. In the late 1980s she served 18 months in prison for tax evasion. After her death, it was discovered that she left $12 million to her dog and nothing to two of her four grandchildren. But at the same time, she also had moments of striking generosity during her life. After the Sept. 11 attacks, Helmsley gave $5 million to New York City firefighters, and in 2006 she made a $25 million donation to the New York Presbyterian Hospital through the Helmsley Charitable Trust. Helmsley's estate could end up being worth as much as $8 billion, which would make the trust the seventh-largest such foundation in the nation. The foundation's trustees will decide what causes will benefit from Helmsley's largess; as yet, they haven't made their choices.
Barron Hilton announced his $1.2 billion pledge  to the Conrad Hilton Foundation in December after completing the sale of the Hilton Hotels Corp. and Harrah Entertainment.  The foundation focuses its work on improving the lives of the poor  around the world, working to provide sanitation systems in developing countries, early childhood education, and housing for homeless mothers and children, among other causes.
This is the first Slate 60 appearance for both Helmsley and Hilton. Helmsley's gift is the fourth-largest donation that we've recorded in the Slate 60. (Read an explanation of our methodology.) There have been a total of 13 gifts of $1 billion or more during the 12 years we've been keeping track.
A look at the top 10 indicates that giving toward universities and hospitals (and, perhaps synergistically, medical schools) remains a popular choice for leading philanthropists. Jon and Karen Huntsman donated $627 million to their foundation, much of which will go to cancer research. Denny Sanford is on the list for the third straight year, with gifts totaling $502.6 million * to various groups, including Sioux Valley Hospitals and Health Systems. That gift will create pediatric clinics around the country.
Colleges also did well. No. 6 donor John W. Kluge gave to Columbia University, No. 7 donors Sandy and Joan Weill gave to Cornell, and No. 9 donor Robert A. Day gave to Claremont McKenna College. In addition, plenty of Slate 60 donors focused their efforts on public universities, like the University of Illinois, the University of North Carolina-Chapel Hill, the University of Pittsburgh, and Texas Tech.
As David Plotz pointed out in our 10th anniversary retrospective two years ago, the idea behind the Slate 60 was to fuse competition and generosity. And the competition has grown fierce. For the second straight year, donors had to pony up $30 million to warrant mention. The median gift was $75 million, compared with $60 million in 2006 and $32.5 million in 2005. For another measure of how steep the competition has become, let's travel back to the inaugural Slate 60, in 1996 (with apologies for not taking into account the effects of inflation). The top gift that year was a $105 million donation from Samuel and Aline Skaggs. George Soros was second with $100 million. This year, donors who made gifts or pledges totaling $100 million finished in a 10-way tie for 15th place.
One of the most rewarding aspects of publishing the Slate 60 is recognizing the handful of people whose names appear year after year—donors who have made generosity their life's work. We again welcome old friends Peter Lewis (10th time, $54.4 million to various causes), Eli and Edythe Broad (ninth time, $176 million to various causes), Larry Ellison (seventh time, $39 million to the Ellison Medical Foundation), George Soros (seventh time, $474 million to his foundations), Lorry Lokey (sixth time, $112.5 million), Pierre and Pam Omidyar (sixth time, $97.8 million to their foundations), Jon and Karen Huntsman (fifth time, $627 million to their eponymous foundation), Oprah Winfrey (fifth time, $50.2 million to her foundations), and Sandy and Joan Weill (sixth time, $328.5 million).You can find out how much your favorite philanthropists have given, and how often, using our searchable database.