The Awesomest Vintage T-Shirt Ever
The secret history of "Kosciuszko Walkathon 2010."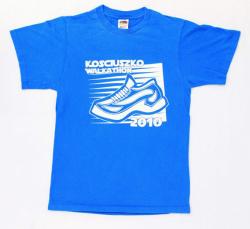 Consider the perfect vintage T-shirt. It's a well-worn piece of kitsch awesomer than a Star Wars iron-on, "I'm With Stupid," or Live Aid '85. The perfect vintage tee is Dodger blue. It's a size small. (In vintage T-shirt land, that means it fits like an extra-small.) It contains one illustration: a sneaker. In white letters, the shirt reads, "Kosciuszko Walkathon 2010."
"We assumed it was from Chicago," says Reed Hushka, the president of Sleevecandy, the online retailer that's selling the shirt. "The name sounds Polish. But my friend had another theory: that it came from a town in Missouri." When you parade around in a T-shirt like "Kosciuszko Walkathon 2010"—and this is something I do a lot—you are stepping into a contextual black hole. You might as well be wearing a signboard written in Mandarin. But as Hushka explains, it's this "awesomely random" quality that gives a vintage tee its value. Sleevecandy is selling "Kosciuszko Walkathon 2010" for $22.
So consider the perfectly baffling vintage T-shirt: Who were the Kosciuszkos? Whence did they walk? I now know the answers. But first we have to solve the bigger mystery, which is: Why are we buying these things in the first place?
In a plain, red-brick warehouse in New Jersey, a lump of used clothing is zooming down a conveyor belt. A Hispanic woman examines the lump, and tosses it on another conveyor belt. Another woman picks it up and examines it again. People who work at Manhattan T-shirt boutiques had whispered to me that this place was vintage T-shirt heaven, a mecca. The warehouse owner looks at me, shrugs, and says, "It's a recycling business."
This is the first crucial piece of context about vintage T-shirts: They are part of a giant international salvage operation. Eric Stubin, the president of Trans-Americas Trading Co., buys nearly 17 million pounds of clothes each year, mostly from charities. Stubin's quest is to squeeze as much money as he can from every article. About half the clothes that arrive at his warehouse become fibers for car-seat cushions or wiping rags to sell at Home Depot. Most of the rest is judged so new or so uncool that it's earmarked to sell at a low price in Africa or Latin America.
A tiny remaining slice consists of vintage pieces—suits, jeans, T-shirts—with a value of a more than few dollars. "It's about 2 percent of what our industry touches," says Stubin. The vintage T-shirt you buy, then, is a rescue item that narrowly avoided vaporization or an overseas flight.
When one of these T-shirts is discovered on the conveyer belt—"York County Soccer" or "Lexington Market Bingo"—it is sent to Emma Allen and Hannah Nichols, who work in Trans-Americas' vintage department. Allen and Nichols are vintage T-shirt power brokers. The New York boutiques come to them in search of stock—but don't want their names published, lest their competitors figure out their source. "We're beginning to get into the heads of people all over the world," Allen tells me. Every civilization has its own vintage needs. Boston and London like preppy vintage. Japanese vintage shops want American T-shirts from the 1950s, rather than the '70s and '80s stock that Americans crave.