Runaway Railroad
History of American Slavery, Episode 8: Our sometimes mythical memory of the Underground Railroad, and why the Fugitive Slave Act of 1850 propelled the country toward war.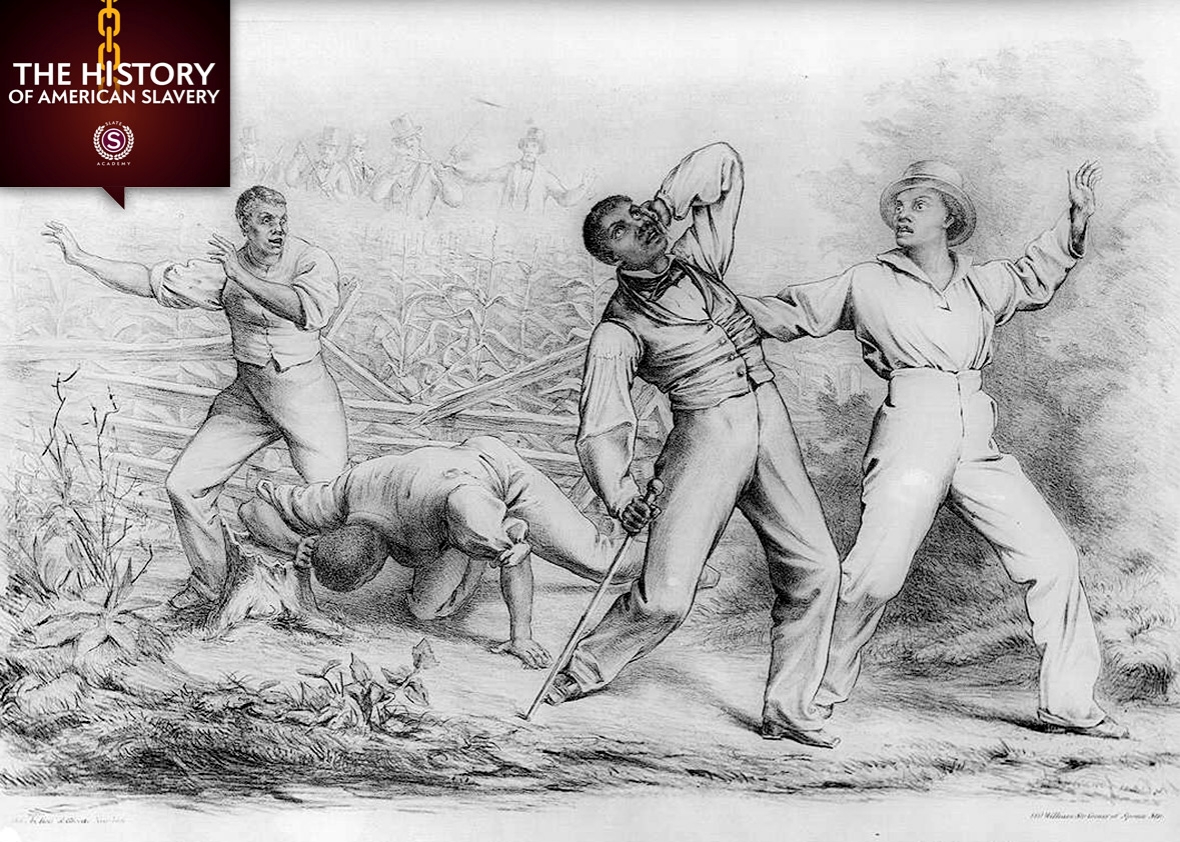 In Episode 8 of The History of American Slavery, a Slate Academy, hosts Rebecca Onion and Jamelle Bouie discuss the small minority of people who escaped slavery during the 1850s and 1860s and the people who helped them along the way.
They examine our evolving and sometimes selective historical memory of the Underground Railroad. They also explore the legal environment that confronted fugitives and their helpers and how it changed after the passage of the Fugitive Slave Act of 1850. Jamelle and Rebecca begin the episode by looking at the life of John Parker (1827–1900).
For more information on how to subscribe to your Slate Plus podcast feed, go here.
Steven Lubet is Williams memorial professor of law and director of the Bartlit Center for Trial Strategy at Northwestern University School of Law. Read an excerpt from Lubet's book, Fugitive Justice: Runaways, Rescuers, and Slavery on Trial.
Eric Foner is DeWitt Clinton professor of history at Columbia University. Read an excerpt from Foner's book, Gateway to Freedom: The Hidden History of the Underground Railroad.
Born in 1827 in Virginia, John Parker was 8 years old when he was sold away from his family and forced to march more than 800 miles to Alabama. As a young man, Parker was apprenticed to an iron foundry and managed to buy his freedom at age 18.
"It was not the physical part of slavery that made it cruel and degrading," Parker later recalled, "it was the taking away from a human being the initiative, of thinking, of doing his own ways. … [S]lavery's curse was not pain of body, but the pain of the soul."
By day, as a free man, Parker became a successful, industrious entrepreneur and a father to six. He established his own foundry in Ripley, Ohio, and was one of the only black Americans to hold a patent before the 20th century.
By night, he fought what he called "his own little personal war on slavery" as a daring conductor of the Underground Railroad. He was known for making dangerous excursions into Kentucky, helping to ferry enslaved people across the Ohio River. During the war, Parker also manufactured war supplies and recruited black soldiers for the Union Army.
John Parker risked his success, freedom, and life to help hundreds of people escape their enslavement. As an Ohio newspaper wrote upon Parker's death in 1900, "a more fearless creature never lived. He gloried in danger … He would go boldly into the enemy's camp and filch the fugitives to freedom."
Next time, on Episode 9 of The History of American Slavery, Jamelle and Rebecca remember the life of Rose Herrera (1835–Unknown). They'll talk to Heather Williams and Adam Rothman about the journey of emancipation and the many ways enslaved Americans had to grab freedom during the war. Your homework, should you choose to accept it: Read an excerpt from Rothman's book, Beyond Freedom's Reach: A Kidnapping in the Twilight of Slavery.
In Episode 7, Rebecca implied that Samuel Cartwright didn't support the theory of polygenesis. In fact, Cartwright did eventually espouse the theory in the later years of his career.
We also wanted to link to a scholarship fund that we discovered after production of the podcast: the Anarcha, Betsy, and Lucy Memorial Scholarship Award is administered by National Medical Fellowships and awarded to female medical students who are descendants of American slaves.