To Do No Harm?
History of American Slavery, Episode 7: What modern medicine gained from slavery, and how slaveholders sought to legitimize their ideology through science.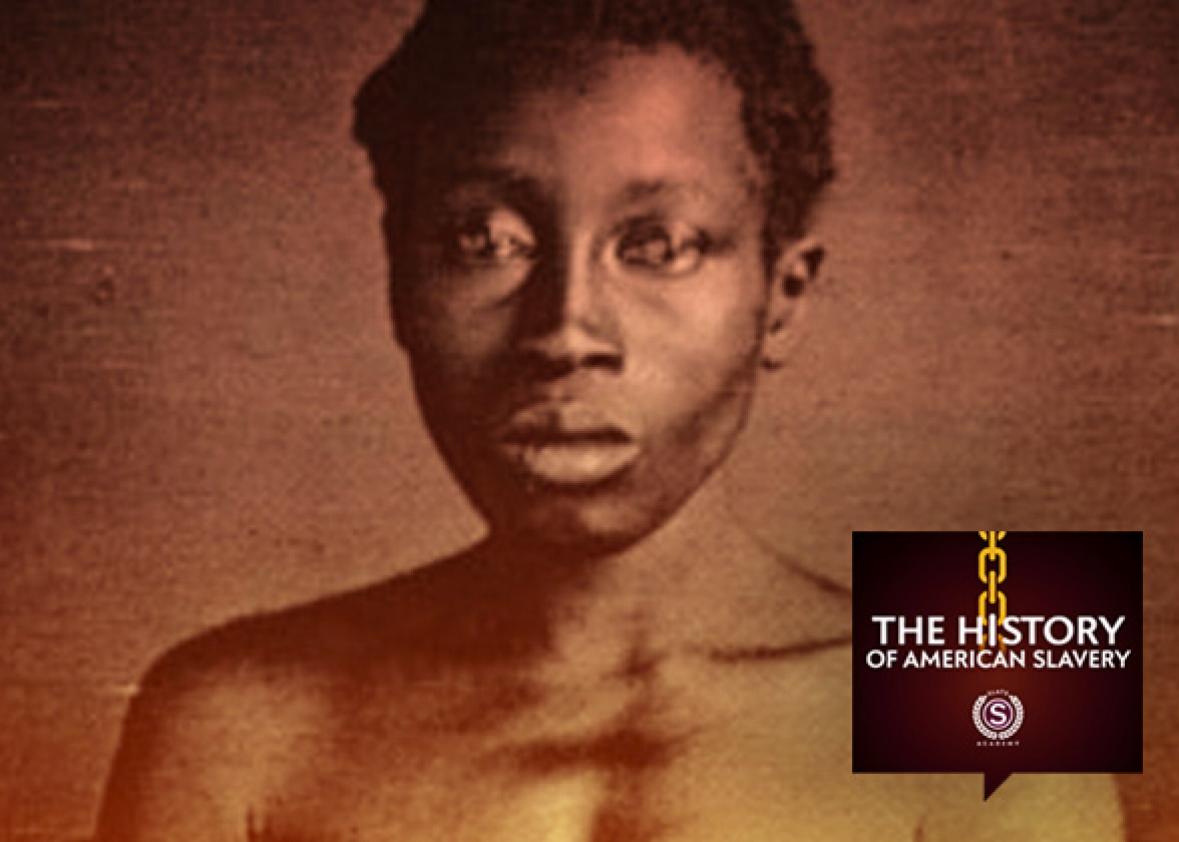 In Episode 7 of the History of American Slavery, a Slate Academy, hosts Rebecca Onion and Jamelle Bouie explore how science and medicine interacted with slavery in antebellum America.
They discuss how doctors such as J. Marion Sims used human experimentation on enslaved subjects to help advance the practice of medicine. And they explore how scientific racism, as practiced by doctors such as Samuel Cartwright, was used to justify slaveholder ideology. Jamelle and Rebecca begin their discussion by looking at the life of Anarcha (1828?-unknown), an enslaved women who endured more than 34 experimental surgeries that culminated in a path-breaking medical discovery.
For more information on how to subscribe to your Slate Plus podcast feed, go here.
Join us Sept. 17, Washington, D.C. How can we get Americans to talk honestly about slavery? As a capstone to the Slate Academy, George Washington University and Slate will host a symposium featuring Jamelle, Rebecca, LeVar Burton, and others. Click here for tickets and more information. And yes—we will podcast a recap of the event.
Christopher Willoughby, a Tulane University graduate student at work on a thesis that's tentatively titled, "Pedagogies of the Black Body: Race and Medical Education in the Antebellum United States."
In June 1845, a 17-year-old enslaved woman named Anarcha experienced a difficult delivery of her first baby. After the young mother pushed for three days, the Alabama slaveholder who owned her called in Montgomery doctor J. Marion Sims. Sims pulled the baby out with forceps—the historical record suggests that the child did not survive.
The experience left Anarcha with tears in her vaginal tissue—a condition known as obstetric fistulas. These tears often result in a constant leakage of urine or feces into the vaginal canal, leading to infections and social ostracization.
Anarcha's owner eventually brought her to Sims' office in Montgomery. Sims knew there was no cure for a fistula and that women of all races suffered from them. He decided to make a concerted effort to figure out how to treat fistulas. He leased Anarcha from her slaveholder and gathered a group of 11 other patients, some of whom were also enslaved.
Sims spent 3½ years performing experimental surgical techniques on these women. He did not administer anesthesia, which was not then commonly used. The doctor drugged the patients with opium during their two-week recoveries from each surgery. Anarcha underwent 30 surgeries before Sims finally perfected his technique and equipment enough to close one of her numerous fistulas, using silver sutures.
Anarcha drops out of the historical record at this point; we don't know if she was returned to her owner or when she died. As historian Deborah Kuhn McGregor points out, Sims did not record any further operations on Anarcha; we don't even know if he fixed her other fistulas.
What we do know is that thanks in large part to the techniques he perfected while operating on Anarcha and the others, Sims is often remembered as a "father of gynecology." Sims later described his motivation in undertaking these experiments: "I thought only of relieving the loveliest of all God's creations of one of the loathsome maladies." He was referring to the white women he was later able to treat using the techniques he perfected on Anarcha and her fellow patients.
Next time, on Episode 8 of the History of American Slavery, Jamelle and Rebecca remember the life of John Parker (1827–1900). They'll talk to Eric Foner and Steven Lubet about fugitives and the Underground Railroad. Your homework, should you choose to accept it: Read an excerpt from Foner's book, Gateway to Freedom.