The Family Life of Enslaved People
History of American Slavery, Episode 4: What happened when Thomas Jefferson and other slaveholders tore apart the families they owned.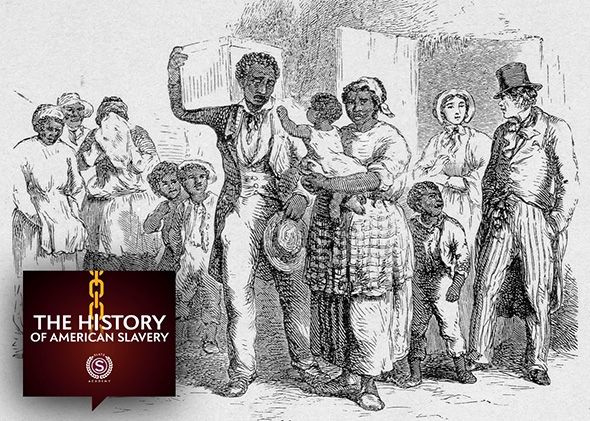 In Episode 4 of The History of American Slavery, a Slate Academy, hosts Rebecca Onion and Jamelle Bouie explore the shape of family life on the slave plantations of the late 18th and early 19th centuries.
They make a case study of one famous plantation, Monticello, the Virginia estate owned by Thomas Jefferson. Then they take a closer look at how slavery tore families apart, and the emotional history of that trauma. They begin their conversation by remembering the life of Joseph Fossett (1780–1858), a Monticello blacksmith. Upon Jefferson's death, his last will and testament granted freedom to Fossett, but not to Fossett's family. It would be 10 years before Joseph could reunite with his wife and 10 children.
For more information on how to subscribe to your Slate Plus podcast feed, go here.
Our guests this episode are:
Annette Gordon-Reed, professor of legal history at Harvard University.
Read an excerpt of Gordon-Reed's book The Hemingses of Monticello: An American Family.
Heather Andrea Williams, presidential professor and professor of Africana studies at the University of Pennsylvania.
Read an excerpt of Williams' book Help Me to Find My People: The African American Search for Family Lost in Slavery.
Here are some of the links discussed in Episode 4:
In 1773, Thomas Jefferson inherited ownership of Elizabeth Hemings. Eventually, more than 75 of Elizabeth's descendants lived at least part of their lives enslaved at Monticello, Jefferson's Virginia plantation. One of these was Joseph Fossett, Elizabeth Hemings' grandson, who was born in 1780.
It's believed that Joseph's father was William Fossett, one of Jefferson's white employees. When Joseph was about 9 or 10 years old, Jefferson sold his mother, Mary Hemings, to a Charlottesville merchant, but he wasn't willing to let Joseph go along with her. As it turned out, this wasn't the last time that Jefferson's sale of slaves would separate Fossett from his family.
By the time he was 14, Joseph Fossett was one of the more efficient boys working in Jefferson's experimental nail-making factory. He then trained in smithing, ultimately rising to become the plantation's blacksmith. An overseer described him as "a very fine workman" who "could do anything it was necessary to do with steel or iron." Fossett was allowed to keep some of the money he earned at this job.
He married Edith Hern in 1802; soon after, she was sent to Washington, D.C., to learn how to cook in the French style in Jefferson's White House. In 1806, Fossett traveled to Washington to see his wife without permission. Jefferson objected, considering Joseph a fugitive and chastising him for the action. Joseph and Edith Fossett's separation was to last until 1809, when Jefferson's D.C. household rejoined the Monticello contingent in Virginia.
When Jefferson died in 1826, he freed only five enslaved people, including Fossett. But most of Monticello's slaves were sold to settle Jefferson's considerable debts. This is how Joseph Fossett's wife and 10 children came to be sold at public auction along with Jefferson's furniture and farm equipment.
Joseph Fossett set up a blacksmith shop in Charlottesville. It would take him more than 10 years to earn the money he needed to buy back his wife, five children, and four grandchildren. The group moved to Ohio together in 1840.
Joseph Fossett died in Cincinnati in 1858.
Next time, on Episode 5 of The History of American Slavery, Jamelle and Rebecca remember the life of Charles Deslondes (unknown–1811). They'll talk to Edward Baptist and Joshua Rothman about slavery's role in the settlement of America's frontier in the 19th century. Your homework, should you choose to accept it: Read an excerpt from Rothman's book Flush Times and Fever Dreams: A Story of Capitalism and Slavery in the Age of Jackson.
You can post your feedback on this episode in the comments section below or email us at historyacademy@slate.com.
And you can talk to other Academy classmates in our members-only Facebook group. This week, we're asking you to share examples of memorials that do an effective job of commemorating the legacy of slavery.
Where are places where Civil War/slavery memorializing is done well and without sugarcoating the hard parts?

— Jamelle Bouie (@jbouie) June 24, 2015