I Ate Every Variety of Pepperidge Farm Cookie
What I learned about baked goods—and the human condition—from the Milano, the Verona, the Geneva …
That, according to the Pepperidge Farm origin myth, was when Rudkin boarded the Queen Mary and set off on a "tasting trip" of Europe. As part of her tour, she visited Delacre, a cookie plant in Brussels, where she found exactly what she was looking for. "She said she wanted 'cookies that would be delicate in flavor and texture' that the discriminating hostess could serve with tea, ice cream, or fruit compote on her best china," according to the historical materials provided to me by PF's publicity team. After taking a tour of Delacre, Rudkin negotiated a licensing agreement that would allow Pepperidge Farm to make and sell the bakery's fancy European cookies in America. "She was a very persuasive woman of Irish descent," said Callaghan. "She convinced them to give her the [recipes], and she convinced them to let her bring over some of their master bakers to the United States."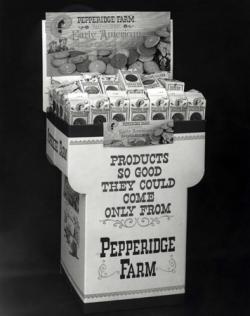 At the time, Delacre did not have any distribution in the United States. The company has since brought its "exquisite European biscuits" to the American market, and according to Mieke Vansevenant, Delacre's marketing manager, the Belgian company now considers Pepperidge Farm a competitor. ("We ... know that many of the Pepperidge Farm biscuits that are now on the market have indeed been invented and created by Delacre," Vansevenant wrote in an email, adding, "There are a lot of comparable elements between our brands and products. ... I am not convinced that, if the Delacre bakers would have known this 50 years ago, that they would still communicate their recipes so openly.")
The first line of "distinctive" Pepperidge Farm cookies hit stores in 1955. They came in six varieties—Biarritz, Bordeaux, Brussels, Venice, Dresden, and a brownie crème sandwich cookie called the Capri—and they resembled with deliberate precision the Delacres that inspired them. At first, Rudkin sent the cookies out to grocery stores on the same trucks that delivered her bread, and according to Callaghan, they were stocked in the bakery aisle rather than with the other cookies. Then, in early 1956, Rudkin showed off her new wares at a New York food convention, and before long, customers throughout the Northeast were seeking out PF's now-iconic white bags. Compared with Nabisco and Keebler, both of which had been around for decades by the time Pepperidge Farm's new line debuted, Rudkin's cookies exuded an air of European sophistication and delicateness. "It was different than all the cookies in boxes and cellophane, to put them in those bags," said Callaghan. "It felt like a special cookie, or a special gift."
An important moment came in 1957, when an accident resulting from Pepperidge Farm's speedy growth led to the invention of Milanos. At that point, PF was doing brisk business with an open-faced chocolate cookie called the Naples. But when the company's operation expanded into the South, it quickly discovered that the Naples wasn't built to withstand heat. "The chocolate started to melt," Callaghan said. "So instead of having an open faced cookie, we put a top on it, if you would. And so was born Milano."
By 1960, the cookies were being sold nationwide, and in 1961, Margaret Rudkin sold her company to the Campbell Soup Company. She stayed on as president for five more years, presiding over the brand during the pivotal introduction of the Goldfish cracker line, before retiring in 1966.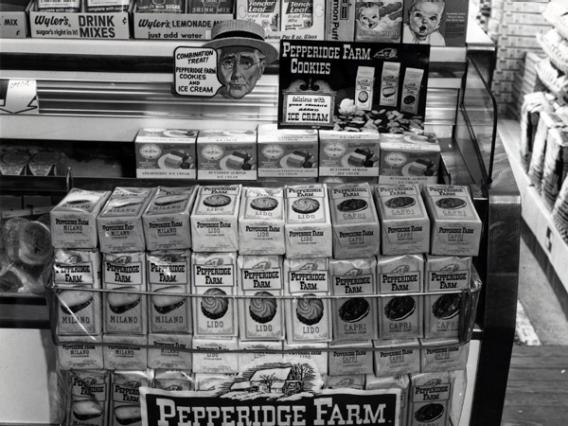 Callaghan himself made way for his successor this past summer, but not before making the decision to build a massive new testing facility at PF headquarters that is expected to define his legacy for years to come. Roughly two years and $30 million later, the gleaming, glass annex known as the Innovation Center is less than a month from being operational.
When I arrived in Norwalk in my rented gray Hyundai, the first thing I saw was a poster for a high school production of Willy Wonka, which made me wonder how heavily Pepperidge Farm figures into the local imagination. Driving alongside a nondescript shopping complex, I realized I didn't know what I was looking for. Then I saw it: a huge sign, which I recognized instantly from the Pepperidge Farm bag, with that snowy, idyllic drawing of the old red mill in Sudbury, Mass., where Rudkin used to buy flour for her loaves. I turned into the driveway and parked.
As I made my way through the building on a guided tour led by Geri Allen, the company's head of publicity, and Kirk Ringkamp, the engineer who oversaw the construction of the new wing, I saw cubicles piled high with cookie bags, signs identifying locations like the "Loaves Conference Room" and the "Layer Cake Area," a bookshelf containing binders full of archival photos of the bakery's early employees and advertising tear-sheets, even an old mixing bowl from Margaret Rudkin's day. But as large as the past loomed as we walked the corridors, it was the future that demanded my attention as I made my way down from the corporate offices to the grand, sunny warehouse space in which a team of engineers in hard hats was putting the finishing touches on the Innovation Center.
An engineer named Jack Weinstein explained that what I was looking at was a miniature Pepperidge Farm plant: A more or less exact replica of the eight plants the company runs around the country, but scaled down to about a tenth the size. Weinstein pointed out the 200-pound mixer into which a team of five R&D people in the company's cookie division will pour their ingredients; the "forming" apparatus that will be used to give the cookies their shape; and the make-up area where they will be adorned with nuts, chocolate chips, and powdered sugar. He showed me a set of metal rolling pins that are used to engrave Chessmen. I took a picture.