Yoplaited Out
The search for a better yogurt.
To drink sour milk is human; to eat yogurt is divine. The Hindu god Krishna likes yogurt. So do the sensual French. In some translations of the Song of Songs, the "land of milk and honey" is a haven chockablock with cultured dairy. Today, though, yogurt is less holy than wholesale, and even a devotee must sometimes suffer through the ugly specter of yogurt ennui. The hallmarks of this condition are, so to speak, plain: You buy the yogurt. You put the yogurt in the refrigerator. Eventually, you move the yogurt, untouched, to the trash. This is basically the yogurt version of a long-married couple checking into a lovers' bed-and-breakfast and then dozing off, right after dinner, underneath the Wall Street Journal.The urge to spoon comes with an expiration date.
If your yogurt history is like mine, you've tried to jump-start your desire with the aid of novel, striking, sometimes perverse products. Perhaps you got some kicks from Yoplait's "custard style" line, a bastion of the Clinton years that reimagined yogurt as a low-grade dessert with the texture of an untorched crème brûlée. When this concept got to be a little much, you might have moved on to YoCrunch: a multimedia yogurt project with a trove of muesli in its top.
Yet those were younger, more profligate years. The new ethos of yogurt is earnest. Warding off ennui now means moving beyond colorful and kinky, toward a deeper, more grown-up love for the stuff as it is. Some reading (another feature of your newfound maturity is a zest for product research, not that you're, as some friends have wrongly suggested, "compulsive" about it) has guided you toward yogurts that are geographically diverse, artisanally made, and reflective of the best values with which you live your life. From Mireille Guiliano, author of French Women Don't Get Fat, you learned to seek the yogurts of the world in their Platonic forms, steering clear of "the host of undesirable ingredients you find in the American versions." Mark Bittman tells you "local yogurt" is the way to go. Sonia Uvezian, who wrote The Book of Yogurt, suggests aficionados simply learn to make their own from scratch.(In case you were unsure: "The milk of cows, sheep, goats, horses, asses, camels, yaks, water buffalo, and even soybean milk can be used as a yogurt medium.")
In this matter, industry has followed opportunity. Last year, America produced 3.6 billion pounds of yogurt. It is unclear whether this figure even includes camel- and ass-milk efforts. Recent yogurt research, meanwhile, points toward more health benefits than ever—boons for the immune system, weight reduction without muscle loss—and the yogurt niche market has grown accordingly. Most supermarket sections these days will offer at least one organic or otherwise rarified line. In regions where "slow food" is de rigueur, you're apt to find enough varieties of upscale yogurt to sustain a NATO quorum.
So where to start? Given the wealth of options, can a jaded yogurt-eater find a product that's at once eco-friendly, adventurous, and delicious? I recently pulled together a panel of Slate staffers to find an answer. Clustered in a conference room one rainy afternoon, we spooned our way through a few of the more upscale and exotic yogurts currently on the market, evaluating each for taste, texture, and aesthetic appeal.
Methodology
Five yogurt brands— Fage, Liberté, Skyr.is, Stonyfield Farm, and Wallaby —were selected as a cross section of the upper quadrant of the yogurt market, representing both organic and international offerings. (Here's a longer, though by no means exhaustive, list of such yogurts.) Our jury of nine tasted two samples from each brand: a plain yogurt and a red-berry flavor—strawberry in all cases except one. Each sample was mixed in advance and spooned into paper cups to hide its identity.
Every juror awarded each sample a score from zero to 10 in three criteria—taste, consistency, and visual appeal. I averaged the numerical scores together for a group rating.
Below, the results, from worst to best:
Stonyfield Farm Stonyfield Farm is a New Hampshire-based dairy producer that aspires to be to the yogurt industry something like what Paul Newman was to salad. "[W]e use farm-fresh milk from family farms, and fruits that are hand picked to ensure that only the finest ones are used. And they're prepared the same day they're picked to retain the freshest flavor," the company explains. "[W]e offset all of the C02 emissions from our facility energy use. We also started a nonprofit called 'Climate Counts' which shows people how they can help fight climate change. …"
You get the idea. Stonyfield is in all respects a product we would dearly love to love. Unfortunately, we found this yogurt quite disgusting. Its texture, even after extensive mixing, was a blend of mucousy globules and runny bits. One person described it as reminiscent of an oyster, while another found it most evocative of "a cracked egg." The company's whole-milk plain was thought to taste "thinner" than its texture would suggest; someone mentioned feeling unsettled by its "bluish" hue. "This would be good cat food," one panelist averred.
And Stonyfield's fruit failed to improve our verdict much. Although everything in the company's white-chocolate raspberry whole-milk yogurt is natural, it had our phony-flavor receptors tripping. ("It's like the bad cologne of yogurt," someone exclaimed.) Two of our tasters mentioned being put off by a sticky, "gluelike" texture. The fruit itself was pulverized into what another juror described succinctly as "weird bits."
Stonyfield Farm plain
Taste: 3.1
Consistency: 2.7
Visual appeal: 2.2
Total: 8
Stonyfield Farm fruited
Taste: 3.7
Consistency: 3.7
Visual appeal: 3.7
Total: 11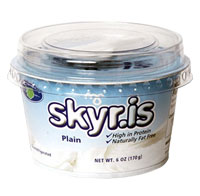 Skyr.is Skyr is both a brand name and the generic term for this Icelandic milk product. Although it's marketed and eaten as a yogurt, skyr is technically a cheese, traditionally made with rennet in addition to yogurt culture. Its résumé as a diet food is impressive (despite a thick texture and inordinately high protein levels, it has essentially no fat), and it's rumored to keep without refrigeration. Skyr.is—which is also, handily, the URL of the company site—has wisely gone international via a direct Iceland-to-Whole Foods shipping route. Today, it's rivaled on this continent by Siggi's, a skyr producer founded by an Icelandic expat in New York.
Plain Skyr.is sundered our panel: Some people appreciated its sour, "primal," buttery-thick body—"a taste of the farm, and callused hands," as one panelist put it—while others found it "upsettingly thick" and, in one case, suggestive of "a poached egg." It was noted that samples could be turned completely upside-down without suffering yogurt loss.
Strawberry Skyr.is was another story. The fruit flavor was variously pronounced "alarmingly dental," "like a chew vitamin," and "like a Nerds Rope." One panelist said the bright-pink mass "felt a bit tacky." Given that Iceland is not the world's capital for fruit farming, the company probably deserves an E for effort. But if you're keen to try Skyr.is, you should think about buying it plain and adding the strawberries yourself.
Skyr.is plain
Taste: 5.2
Consistency: 5.7
Visual appeal: 5.6
Total: 16.5
Skyr.is fruited
Taste: 3.8
Consistency: 5
Visual appeal: 5.4
Total: 14.2