Teacher Tweeting TMI
Should a school system enforce limits on what and with whom teachers can tweet?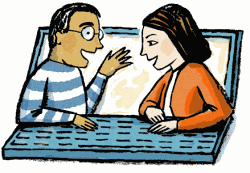 This week, Slate's tech columnist Farhad Manjoo and Dear Prudence advice columnist Emily Yoffe debate the question: Should you tell your sister-in-law, a middle school teacher, that her tweeting is inappropriate?
What's your opinion about this week's manners dilemma?
You can play any episode of Manners for the Digital Age using the player below:
Podcast produced by Mike Vuolo.