George W. Bush's Great-Great-Great-Great-Grandfather Was a Slave Trader
A surprising new discovery about the notorious Thomas "Beau" Walker.
Margaret White, a handwriting expert I contacted, confirmed that the signatures were from the same hand. Likewise, Keith McClelland, a research associate at the Legacies of British Slave Ownership Project at University College London, also examined the documents and came to the same conclusion. "Having examined the handwriting examples, it is clear that this was the same man," he said. "Having seen some of the documentation, there seems to me little doubt that the connection between Walker the slave trader and the current Bush family is also undeniable."
Hughes said he was convinced, based on the historical evidence, that Bush's forebear Walker was the same man as the known slave trader. "If I had to testify to this, I'd say this is the same guy.
If it's not the same guy, I'm going to the gallows."
The Bush family's spokesman in Houston, Jim McGrath, had no comment on the findings. The George W. Bush Presidential Center in Dallas did not respond to multiple requests for comment, nor did Jeb Bush spokeswoman Jaryn Emhof.
The signatures of Thomas Walker, the known Bush ancestor, come from documents recording his marriage to Catherine McLelland in February 1785 in Bristol. They are preserved in the Bristol Record Office. The signatures of the known slave dealer Walker were drawn from two letters dated June 23 and July 2, 1787, the first written at Bunce Island and the second at the Banana Islands, which lie off the Sierra Leone coast. These letters are preserved in the British National Archives at Kew.
The letters, addressed to Bristol slave dealer James Rogers, show Walker complaining about the high cost of slaves. The June 23 letter states: "Times on the coast is by no means as favourable as I expected. Slaves is at the price of 150 [illegible] and the coast seemes [sic] to be lin'd with vessels of all kind."
The July 2 letter says: "I have purchased seventeen fine negroes and am this day proceeding down the coast to try what I do can there. Slaves is at a very greate [sic] price."
The Thomas Walker who married Catherine McLelland is identified as Bush's ancestor in Gary Boyd Roberts' Ancestors of American Presidents, published by the New England Historic Genealogical Society.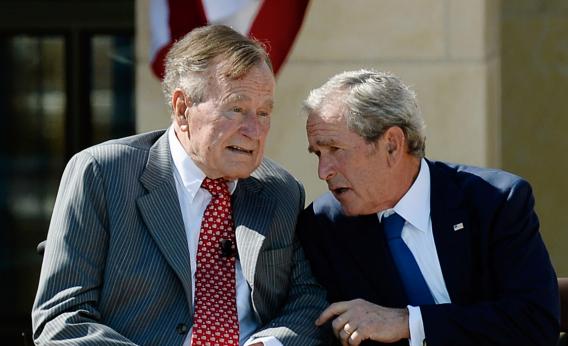 Roberts said that while he had not known of Walker's slave dealing, the finding did not surprise him, given that the Walkers were a mercantile family and Baltimore, where they established themselves in the United States, was a hub for the slave trade. "It would strike me as being perfectly logical and perfectly expectable," he told Slate.