The Afterlife of Cheap Clothes
Where do your Target bargains go when you get tired of them? The Salvation Army. Rag bins. And Africa.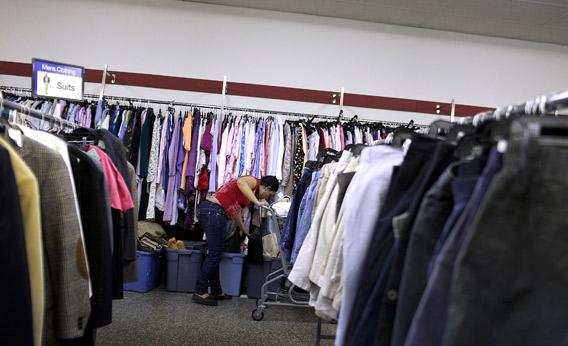 It was early morning at the Quincy Street Salvation Army, an easy-to-miss location tucked away on a Brooklyn side street. The only donations that had come in so far were books, an entire truck full from one single apartment. Charitable clothing donations usually roll in with fits and starts, with the changing of the seasons and at the end of the year, when people are looking for tax write-offs. It was on a weekday morning in the middle of the fall, the off-hours for clothing donations. But I didn't have to witness someone pulling up their car and shoveling bags full of clothes from the trunk. I'd been that person innumerable times, lugging overloaded trash bags, pierced by the heels of cheap pumps, sleeves and pant legs hanging out, to a local charity. I had never known what happens after I drive away and leave my old clothing orphaned on the Salvation Army's doorstep.
Michael Noneza, otherwise known as "Maui," one of the donation center's assistant supervisors, bounced into the warehouse. "You ready?" the cheery Pacific Islander asked, and ushered me over to a massive freight elevator and pressed the button for the third floor. The elevator jolted upward and the doors opened on a scene that looked a bit like a threadbare Santa's workshop. Dozens of Hispanic women were standing behind a row of wooden slides, pulling clothes out of elephantine gray bins and separating them into broad categories like jackets, pants, and childrenswear. "We keep only the best," Maui told me. "Then it's ticketed and priced." The pricers, perched on what looked like adult high chairs, quickly and methodically moved through racks of 80 garments each, making snap judgments based on condition and brand.
The Quincy Street Salvation Army may be on a quiet out-of-the-way street, but it is the main distribution center serving eight Salva­tion Army locations in Brooklyn and Queens. It processes an average of five tons of outcast clothing every single day of the year, and much more during the holiday season when donations spike. From that astonishing mass, the sorters choose exactly 11,200 garments a day to be divided up equally between the eight thrift stores they serve. I asked Maui if they've ever hit a dry spell, where the donations dipped too low to fully restock each stores with their share of the 11,200 items. He laughed, "We never run out of clothes. There are always enough clothes."
What American doesn't have something hanging in his or her closet worn only once or twice, a pair of pants waiting for a diet, or even a brand-new dress or jacket with the tags still on? Common sense and everyday experience tell us that we have so many clothes that a major­ity go underused and neglected. According to a 2010 national survey in ShopSmart magazine, one in four American women own seven pairs of jeans, but we only wear four of them regularly. Not surprisingly, charities regularly see brand-new clothes come in with tags still affixed. "We see people throwing away new stuff every day," Maui says.
There is an enormous disconnect between increasing clothing con­sumption and the resultant waste, partially because unworn clothes aren't immediately thrown out like other disposable products. In­stead, they accumulate in our closets or wherever we can find space for them. Master closets now average about 6 feet by 8 feet, a size more typical of an extra bedroom 40 years ago.
Maui and I took the elevator back downstairs and walked into a dimly lit warehouse hidden away on the far side of the donation drop-off area. Garments that make it into the Salvation Army thrift stores have exactly one month to sell. Then, they're pulled from their hangers, tossed in bins, and end up back in a room such as this one.
In the rag-cut room, two men were silently pushing T-shirts, dresses, and every other manner of apparel into a compressor that works like the back of a garbage truck, squeezing out neat cubes of rejected clothing that weigh a half ton each. The cubes were then lifted and moved via forklift to the middle of the room, where a wall of wrapped and bound half-ton bales towered. I saw tags for Old Navy, Sean Jean, and Diesel peeking out of the bales, as well as slivers of denim, knits in bright maroons and bold stripes, and the smooth sur­faces of Windbreakers. Smashed together like this, stripped of its sym­bolic meaning, stacked up like bulk dog food, I was reminded that clothing is ultimately fiber that comes from resources and results in horrifying volumes of waste. Clothing stores completely separate us from this reality, and a "rag-cut" room brings it home in an instant. The Quincy Street Salvation Army builds a completed wall made of 18 tons, or 36 bales, of unwanted clothing every three days. And this is just a small portion of the cast-offs of one single Salvation Army location in one city in the United States.
Most Americans are thoroughly convinced there is another person in their direct vicinity who truly needs and wants our unwanted clothes. This couldn't be further from the truth. Charities long ago passed the point of being able to sell all of our wearable unwanted clothes. According to John Paben, co-owner of used-clothing processer Mid- West Textile, "They never could."
There are thousands of secondhand textile processors in the United States today, mostly small family businesses, many of them several generations old. I visited Trans- Americas Trading Co., a third- generation textile recycler in Clifton, N.J., which employs 85 people and processes close to 17 million pounds of used clothing a year. Inside Trans-Americas, there is a wall of cubed-up clothing five bales tall and more than 20 bales long. "This is liter­ally several hundred thousand pounds of textile waste, and we bring in two trailer loads of this much every day," Trans-Americas president Eric Stubin told me. The volume they process has gone up over the years alongside our consumption of clothing.