Confessions of a Vine Dad
Making six-second videos with my baby started out as fun. Then came the followers, the money, and the fame.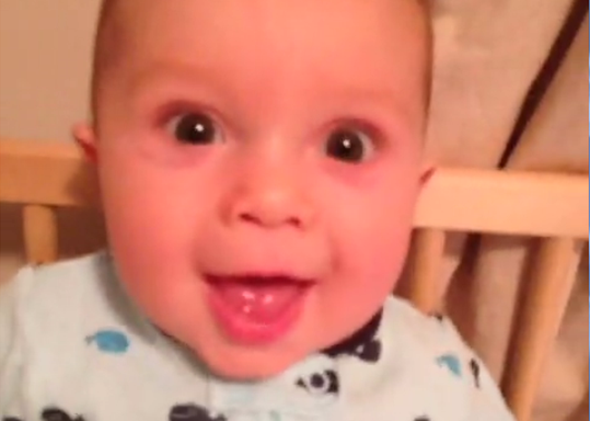 Vine and my son were born within three months of each other. When the video-sharing app came out, I was a stay-at-home dad—"staying-at-home" because I was freelancing, which is a cool writer term for being unemployed. Every day, instead of looking for a job, I happily played with my baby. Unfortunately, the "happily" part lasted for about 20 minutes, until, exhausted, I'd look at the clock and realize, Ugh, I still have seven hours and 40 minutes until my wife gets home from work.
Vine saved us. It's deceivingly simple: Create six-second videos that loop forever and share them with followers. One of the first Vines I ever saw was a beautiful sunset over the ocean. I watched it from our bed, wearing an unwashed T-shirt covered in spit-up. After I finished crying about never seeing the beach again, I knew I had to make movies too. My set would be our house. My supporting cast would be stuffed animals, a plastic giraffe named Sophie, and a 25-pound cat. My star, my muse, and my co-director would be my 3-month-old son.
Ever since I was a kid making movies with G.I. Joes and my dad's Hi8 camera, I'd been waiting for something like Vine. It was my perfect medium, combining my love of storytelling with my impatient desire to finish something quickly. I'd written cartoons for Disney, so I knew that there's no better way to quickly convey an idea and make people laugh than with fast cuts, silly voices, whip pans, and sound effects. A cute baby helps too. I spent all my time watching him, what he was doing, how he played with his toys, the sounds he made, the way he moved—all the while spinning these tiny details into six-second stories. Those eight hours alone with him started to fly by.
We started knocking out a Vine every day and getting followers so fast that the app gave up on notifying me about new ones. Our Vines were on CNN, Ellen DeGeneres' show, and in the Tribeca Film Festival. We even got recognized in public. Mom friends told me part of our appeal came from seeing what Dad does with the baby when Mom's not around. I let him lick money (oops); I propped him up, but he fell over (oops); I let him suck on a peanut butter jar lid (oops).
In spite of these momentary lapses of parental judgment, Vine commenters unanimously agreed that I was great with my son. Sure, the cultural bar for competent fathers is so low you could trip over it, and sure, commenters also argued about chemtrails and vaccine conspiracies, but their comments about me were different. They were about me! I was a Good Dad!
As the months went by, I faced my first real Vine-related parental crisis. Our friends' kids began talking to my son in my silly Vine voice, and I started to worry that maybe he'd grow up and hate me for this. Maybe I should stop. And yet … strangers liked me on the Internet—every insecure writer's dream. So I decided on a half measure. I would keep my kid's first name a secret. No one would ever know who he was … unless they recognized him … which they did … all the time.