My Parents Chose My Husband
Seventeen years later, I'm still married to him, still grieving, and still trying to figure out why I stay.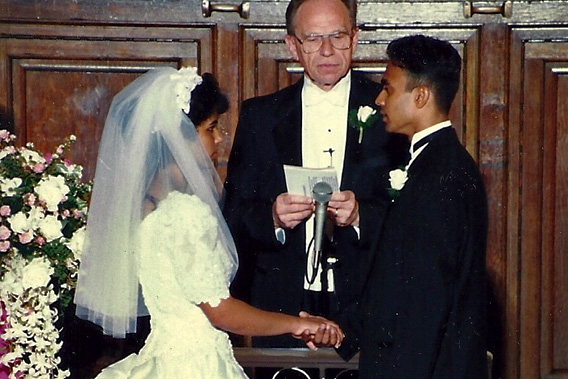 The first time I met Alex was on my parents' doorstep, the winter after I graduated from college. He was Prospective Groom No. 3, or 7, or maybe even 12; by the time my parents met him at the bus station and drove him to our house, I had long lost count. For more than a year, my extended family had been laboring on my behalf, receiving and rejecting proposals. Things were getting desperate; I was 22, and apparently throbbing with marriageability. Old-maid-hood loomed.
As per custom, I met Alex at the door with averted eyes and a guarded smile, feeling ridiculous in the traditional Indian garb my mother insisted was appropriate for the occasion. Over the course of the next several hours, I served him tea, sat across from him at dinner, and answered his questions about my education and interests. When my father at last gave the two of us permission to be alone, I ushered Alex into our family room to chat for a quick 20 minutes and decide whether or not I'd marry him.
By the time my parents drove Alex back to his Greyhound bus a day later, he was my fiancé.
When I tell people here in America that I have an arranged marriage, they react in one of two ways. Some love my story because it appears to confirm their belief that America is doing it wrong: "Kids nowadays—having sex in middle school! All the single moms! The institution of marriage is dying! Your culture is just so beautiful."
Others are more cautious. If Alex happens to be around, they appraise us both, searching for signs of trauma or misery. Eventually, they lean in and whisper, "Well, it ended up just fine, right? You're both happy? You've made it work and it was all for the best? Right?"
These aren't really questions. They're Statements Designed to Make Everything OK, and I know my cue well enough by now to smile big and say, "Yes!—Yes, of course."
The "yes" is not exactly a lie. Alex and I have been married for 17 years, and our relationship is stable. But the life we live together is still difficult for me to reconcile. For one thing, the words "arranged marriage" conjure up images that have nothing to do with me. Child brides and dowry burnings on the one hand, or henna and Bollywood on the other. I grew up in the United States, a product of New England suburbia, evangelical Christianity, Wellesley College, Pride and Prejudice and When Harry Met Sally. I was the bicultural kid who wore salwar kameezes during the day, read Sweet Valley High at night, and swooned over "happily ever after" stories.
But I always knew my marriage would be arranged. Dating was absolutely forbidden in my family. Still, I dated secretly in high school and college, hoping that my parents (conservative, first-generation immigrants from India) would change their minds and terrified at the prospect that they wouldn't. I pleaded. I prayed for a miracle. But by the time I turned 20, I knew my arranged marriage was set in stone. Saying "no" (though I still longed to) was not an option—the stakes in our honor-and-shame-based family were too high. Yes, I know this is hard for most Americans to understand, but it's true.
During my senior year of college, my parents contacted a network of friends and relatives, and an international community came together to find me a husband. We received proposals by mail, by phone, and in person. I thumbed through "bio-data" sheets with my mom. Everything American in me protested: How can love be arranged? Isn't romance a wild, unruly thing? How will it thrive if it's coerced?
When I told my family I couldn't fall in love with a stranger, they told me Indians don't have to fall like "poor, helpless Americans." "We choose," they said triumphantly, as if their notion of choice would make me feel free. "We're not at the mercy of falling and feeling. We choose to love."