Confessions of a Grade Inflator
Between the grubbing and the blubbering, grading fairly is just not worth the fight.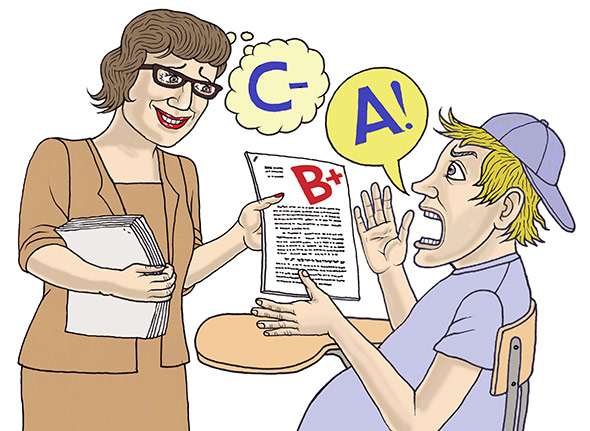 In the classroom, I can be formidable: I've been known to drill-sergeant lethargic students out of their chairs and demand burpees; I am a master of the I'm Not Mad, I'm Just Disappointed scowl. And yet, when it comes to assigning an end-of-semester letter value to their results, I am a grade-A milquetoast. It's grading time once again, and I'm a softie as usual: Of my current 33 students, 20 are getting either A's or A-minuses.
And I bet you anything the A-minuses are pissed.
It's not that I just "give" students good grades. Each course I teach has a meticulous assessment breakdown, taking into account participation, homework, quizzes, and essays—and for the latter, I grade with a rubric, which both minimizes griping and allows me to be slightly fair. But even with all of these "hard-ass" measures, the ugly truth is that to get below a B+ in my class, you have to be a total screw-up. I'm still strict with my scale—it's just that said scale now goes from "great" to "awesome." It's pathetic, I know. But when you see what professors today are up against, maybe you'll understand.
If I graded truly fairly—as in, a C means actual average work—the "customers" would do their level best to ruin my life. Granted, there exist professors whose will to power out-powers grade-gripers. There are stalwarts who remain impervious to students' tenacious complaints, which can be so single-minded that one wonders what would happen if they had applied one-fifteenth of that focus to their coursework. I admire and cherish those professors, but I am not one of them. You know why? Because otherwise, at the end of every semester, my life would become a 24-hour brigade of this:
@pankisseskafka Student accused me of causing her to lose her scholarship. Don't think the B+ she earned is what made her GPA too low.

-- Morgan C. Goldstein (@GoldsteinMorgan) May 9, 2014
@pankisseskafka 'If I don't pass this intro-level, gen ed-fulfilling class I'm going to lose my student visa and get deported'

-- Abram Fox (@abramfox) May 9, 2014
@pankisseskafka Student demanded I bump B+ to A-, complained in detail on "anonymous" eval when I didn't, asked for a rec a week later.

-- Liz Lundberg (@readmoar) May 9, 2014
@pankisseskafka "I came to almost every class" "I followed instructions" "I did the readings" "I turned in my work" (for real)

-- Mícheál Ó Broin (@michaeloburns) May 9, 2014
@pankisseskafka Student w/ A- threatened to blackmail me by telling Dean I passed out grading rubric "not part of adjunct syllabus contract"

-- Karen Zgoda (@karenzgoda) May 9, 2014
@pankisseskafka I got a student who wanted me to bump up a grade on their paper from a B- even though they plagiarized two wiki articles.

--Chance McMahon (@chancemcmahon) May 9, 2014
@pankisseskafka currently getting bombarded with emails from students who didn't meet w/ me once this semester demanding A's.

-- Mícheál Ó Broin (@michaeloburns) May 9, 2014
My time is worth more than said bombardment. Everyone's is. The other day, a friend of mine who teaches at a tony private university in the South messaged me in a huff: "I posted my grades at 10:00, and by 10:04 I had two hysterical complainers. OMG. I hate grades. #Hampshire," she pined, wishing to work somewhere like proudly grade-free Hampshire College in Massachusetts. As she was typing, another complaint came in.