What's Holding Back American Teenagers?
Our high schools are a disaster.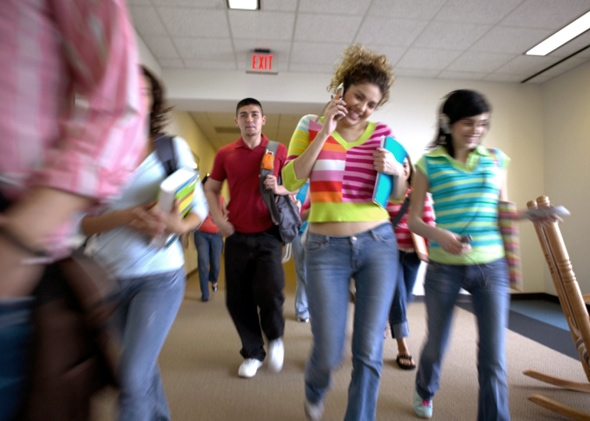 Every once in a while, education policy squeezes its way onto President Obama's public agenda, as it did during last month's State of the Union address. Lately, two issues have grabbed his (and just about everyone else's) attention: early-childhood education and access to college. But while these scholastic bookends are important, there is an awful lot of room for improvement between them. American high schools, in particular, are a disaster.
In international assessments, our elementary school students generally score toward the top of the distribution, and our middle school students usually place somewhat above the average. But our high school students score well below the international average, and they fare especially badly in math and science compared with our country's chief economic rivals.
What's holding back our teenagers?
One clue comes from a little-known 2003 study based on OECD data that compares the world's 15-year-olds on two measures of student engagement: participation and "belongingness." The measure of participation was based on how often students attended school, arrived on time, and showed up for class. The measure of belongingness was based on how much students felt they fit in to the student body, were liked by their schoolmates, and felt that they had friends in school. We might think of the first measure as an index of academic engagement and the second as a measure of social engagement.
On the measure of academic engagement, the U.S. scored only at the international average, and far lower than our chief economic rivals: China, Korea, Japan, and Germany. In these countries, students show up for school and attend their classes more reliably than almost anywhere else in the world. But on the measure of social engagement, the United States topped China, Korea, and Japan.
Trends in achievement within the U.S. reveal just how bad our high schools are relative to our schools for younger students. The National Assessment of Educational Progress, administered by the U.S. Department of Education, routinely tests three age groups: 9-year-olds, 13-year-olds, and 17-year-olds. Over the past 40 years, reading scores rose by 6 percent among 9-year-olds and 3 percent among 13-year-olds. Math scores rose by 11 percent among 9-year-olds and 7 percent among 13-year-olds.
By contrast, high school students haven't made any progress at all. Reading and math scores have remained flat among 17-year-olds, as have their scores on subject area tests in science, writing, geography, and history. And by absolute, rather than relative, standards, American high school students' achievement is scandalous.