They Released a Ron Burgundy Scotch
It's … not terrible.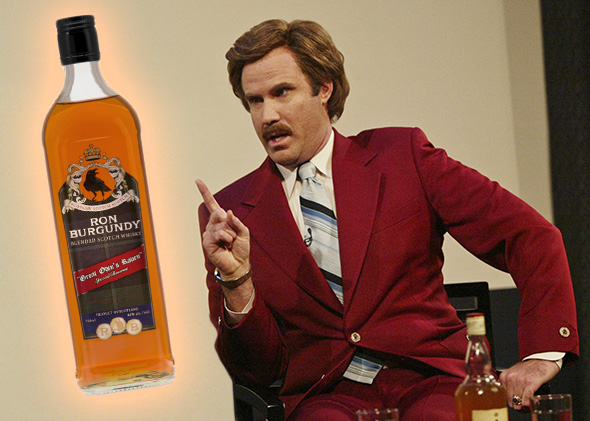 "It's the most aggressive marketing campaign I've ever seen," said one onlooker.
"This must be the most overmarketed movie of all time," declared another.
Were these PR professionals? Entertainment journalists? Hollywood executives? Nope. On the contrary, they were normal human beings, with actual souls and everything, including ears deafened by the news that Anchorman 2: The Legend Continues would be coming to a theater near them on Dec. 18 and eyes to roll at the promotional overkill accompanying this sequel to the 2004 Will Ferrell comedy. These people were, to be specific, a bartender and waitress coming in for the evening shift at a bar where I was clocking out of a brunch spent testing Ron Burgundy Blended Scotch Whisky, a new 80-proof liquor shilled in honor of Ferrell's fictional 1970s newsreader.
Promotional materials tell us that this hooch is a 60 percent malt and 40 percent grain blend of whiskies from Speyside, the Highlands, and Islay, adding superfluously that "Ron Burgundy is currently being used to sell products for Dodge, Ben & Jerry's, and Jockey." The passive voice, with its implication of exploitation, is used meaningfully in that sentence, but I wonder if that construction tells the whole merchandising story. I would wager that this whiskey's reason for being is to sell the movie. Reviewing the work of press-release-rewriting pop-culture bloggers, I got the idea there was a competition on to see who could arrange catchphrases from the original film most artfully. Tasting the actual product, I detected a faint wheaty note in its lingering finish—billboard paste.
In truth, the scotch is not bad. I mean, it's not good, either. The pandering sweetness of its pronounced toffee notes suggests an overdose of artificial caramel. And there are stronger options at its price point (suggested retail price: $25). A drinker choosing a blended scotch based on its proximity to things that are funny should stick with Famous Grouse, featured in The Gun Seller, a comic novel by Hugh Laurie. A drinker choosing a blended scotch based on its film resumé should ask—very clearly and very politely—for Mr. Scorsese's Cutty Sark. And if your plan is to toast the cult of celebrity, then you might enjoy the flavor profile of Dewar's White Label.
Still, Ron Burgundy Blended Scotch Whisky is better than it needs to be, considering that its likeliest consumer application involves fraternity hazing rituals. "The nose is not great, but it's all right," said the waitress. "For mixing? OK, sure!"
The use of scotch in mixed drinks is a controversial matter. It is, as a general rule, strictly a desecration to go slinging a single malt around in such a fashion. Blended scotches, however, have a proper place on the cocktail list, no matter what your cranky uncle says. Indeed, the youngest cocktail to qualify as a bona fide classic is the gingery-tart Penicillin created by Sam Ross, who is kind of a big deal. Would Ron Burgundy approve of this drink? Doubtful. I sense that he has been inoculated against its subtle charms. Instead, I suggest the Rusty Nail.
Really, Paramount Pictures is daring us not to Anchormanize this cocktail, which combines scotch and Drambuie, the scotch-based, honey-sweet, herb-scented liqueur that, like Ron Burgundy, regards itself as a "legend." The Rusty Nail is exactly thematically appropriate to the film franchise, redolent of both its period setting and the hero's personal style. I encourage you to imagine that this drink, which is sticky-sweet in the way of a sentimental oldster, is best enjoyed while reclined in La-Z-Boy wearing a bowling shirt, and I point, further, to David Wondrich's evocation of its wood-paneled personality: "thick-pile carpeting in harvest gold -- Naugahyde couch in burgundy -- 23-inch Zenith color console television -- with remote control -- a hi-fi, of course -- wire rack full of LPs -- Doc Severinsen -- 'Atomic Basie' -- Dean Martin -- all stereophonic."