Women's Mouths Are Getting Bigger, and Bigger, and Bigger
Welcome to the apoca-lips.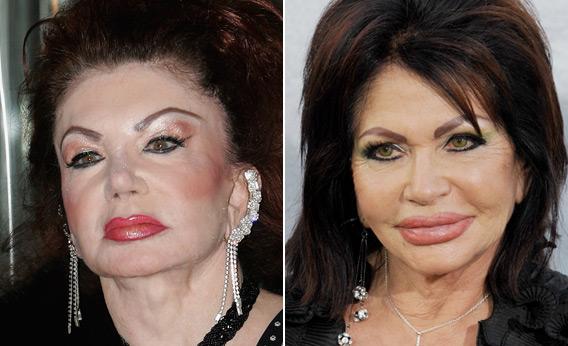 "Bardot was the creature of the fifties. She prepared the way for the sixties and made the sixties alluring rather than just ugly. Her lips made Mick Jagger's lips possible."
These words were written by Diana Vreeland, the legendarily eccentric fashion eminence, in her book Allure. As with all Vreeland utterances—she also declared that "pink is the Navy-blue of India"—this gem is simultaneously totally batty and wildly accurate. Without Bardot we might well have looked at Mr. Jagger, back in the early '60s, and said, "Too soon, young man. Go away. We are not yet ready for you and your big smackers."
If B.B. made M.J.'s lips possible (and I think it's now settled that she did), then who made Jackie Stallone's lips possible? Was it Angelina Jolie?
A lady bearing a more than passing resemblance to Ma Stallone recently showed up at the premiere of Sly's movie The Expendables 2 looking spry and glamorous … and staggeringly, shockingly be-lipped beyond belief. The press leapt all over it: What has she done to her lips, now? was the general gist.
Here's where things get a little confusing. Bear with me, and I will attempt to clarify the situation.
Turns out, the lady in the red-carpet pics was misidentified. She's not Jackie Stallone, and is actually named Ivone Weldon. (Her son worked on the movie.) In other words, there is more than one person on Earth who looks like that. And this surreal game of cherchez la bouche got me thinking: How did we get to the point where such ferociously plumped trout-pouts have become a common sight?
Let's take a trip down lip-memory lane and see if there is a through-line. The story of the 20th century is one of increasing comfort (and fascination) with large lips.
Nina Simone had lovely lips and had them since 1933. Since Bardot was born in 1934, then I think we have to give it up to Nina. So, the beautiful lip baton was passed from Nina to Brigitte, and then from Brigitte to Mick. If Brigitte made Mick's lips possible, than whose lips did Mick enable? The answer is quite obvious: The lips of his wife, Bianca Pérez-Mora Macias.
In the early 1970s, the luscious-lipped Mrs. Jagger was frequently and justifiably referred to as the most beautiful woman in the world. (She is now an activist and rabid supporter of Julian Assange, the Wikileaks impresario.) Bianca's was the face that launched a thousand lips in the days of Studio 54. I can't help feeling that David Johansen, the lipsticked glam-rock lead singer of the New York Dolls, also played a role.
The late '70s brought us the graphic beauty of Grace Jones' beautiful shrieking maw. But then the baton was briefly dropped and things went a bit wimpy and thin-lipped: for reference see Cheryl Tiegs and Madonna. We had to go back to Bardot's homeland to rediscover the beauty of larger lips. In 1986 Béatrice Dalle's levres engulfed the screen in Betty Blue and the larger lip was totally back, paving the way for Julia Roberts and Steven Tyler … and more.