The Simple, Humble, Surprisingly Sexy Button
A visual history.
After the Renaissance in Europe, buttons—along with many other things—became increasingly baroque, then rococo. Among the more extreme examples were "habitat" buttons, built to contain keepsakes like dried flowers, hair cuttings or tiny insects under glass. Hollowed-out smuggler buttons allowed thieves to transport jewels and other booty secretly. (This tradition of buttons-for-crime resurfaced in a heroin-smuggling attempt in 2009.)

Ornate buttoning among the wealthy required some help. Around this era is when buttons migrated to different sides of a shirt for men and women. Men usually donned their own shirts, so their buttons faced right for their convenience. Women with ladies' maids wore their buttons on the left, to make it easier for the maids to maneuver while facing them.

George Washington's 1789 inauguration gave the world its first political button. Made of copper, brass or Sheffield plate, these buttons could close a pair of breeches or a jacket while simultaneously announcing the wearer's politics. Political buttons took on a more recognizably modern (and less functional) shape during Lincoln's 1864 re-election campaign. (View 150 years of political buttons here.)
Poorer folks wore buttons, too, but they had to craft them laboriously by hand. In Colonial America until the early 20th century, working-class families counted themselves lucky if they owned a hand-held button-mold. You heated up the mold in a bed of hot coals, then filled it with molten lead or pewter, which set into a button shape. The sturdy metal buttons could then be covered with fabric or other embellishments.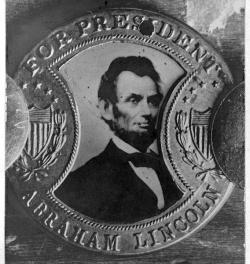 Extra buttons made at home could also be sold, which meant button-making could be hellish piecework. Playwright Henrik Ibsen channeled his own awful memories of home button-molding in a pivotal scene in Peer Gynt. Sent to fetch Gynt's soul, the Button-Moulder explains how the very good and very bad go to heaven and hell, but the middling-good are "merged in the mass" and poured into purgatory, an undifferentiated molten stream from the Button-Moulder's ladle.
Button-making was mercifully accelerated with the Industrial Revolution. An 1852 article from Household Words, a journal edited by Charles Dickens, marvels at the latter-day miracle that was automated button-manufacturing. The writer describes how engravers cut steel dies into the latest fashionable shape, while women and children stamped out pasteboard and cloth to cover the buttons by machine. Another machine stamped out the four holes that had become prevalent for men's dress-shirt buttons, while another was used to "counter-sink" the button, pressing its center to form a raised outer ridge. (It's this four-hole flat button that we regard as its iconic shape today.)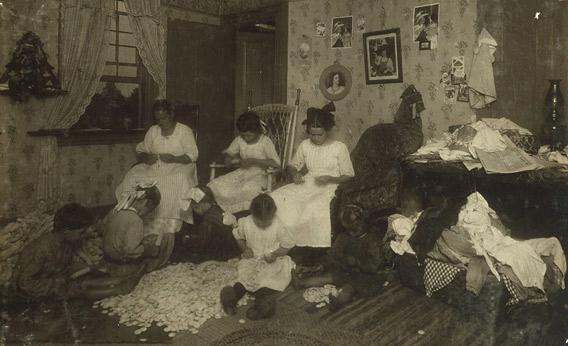 A rash of button patents during this period protected nearly every aspect of button-making, from manufacturing methods for glass or mother-of-pearl buttons, cheaper wire buttons, even improvements to button display cards for sale.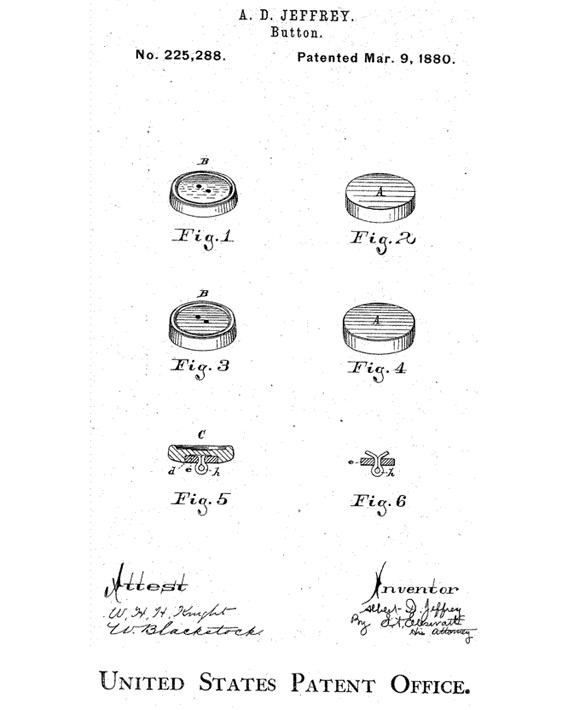 With the growing number of actual buttons came a parallel growth in button metaphors in everyday speech. The OED lists several, dating from the late 1800s to the early 20th century: "to take by the buttons" is to detain someone in conversation; "dash my buttons!" is an epithet of surprised vexation; "to have a soul above buttons" indicated someone employed in a profession unworthy of them; those who "have all their buttons" enjoy sound intellect, while those who are "a button short" do not.
This grand democratization didn't stem the tide of expensive ornamental buttons. Victorian "Tussie-Mussie" buttons pictured tiny bouquets whose flowers held symbolic messages. Queen Victoria donned mourning buttons of carved black jet upon her husband Albert's death, kicking off a fashion among bereaved button-wearers throughout the Empire.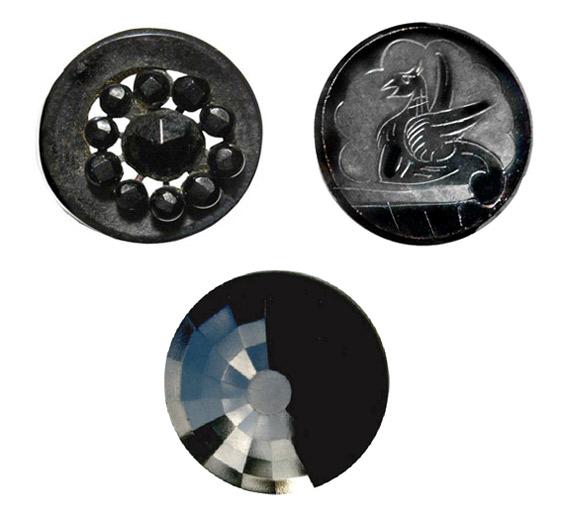 Once they became cheap enough to produce en masse, buttons by the hundreds lined most kinds of tight-fitting clothing, including shoes. (More buttons, closely spaced, gave the wearer the tightest fit.) In his book The Evolution of Useful Things, Henry Petroski explains how this profusion of buttons gave rise to a parallel problem: "Fingers were not a very effective tool for coaxing the crowded buttons through small buttonholes."