Sexy Cougar or Dangerous Predator?
Dear Prudence offers advice about a May-December encounter that the victim deems harmless—during a live chat at Washingtonpost.com.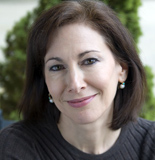 Emily Yoffe, aka Dear Prudence, is on Washingtonpost.com weekly to chat live with readers. An edited transcript of this week's chat is below. ( Sign up here to get Dear Prudence delivered to your inbox each week. Read Prudie's Slate columns here. Send questions to Prudence at prudence@slate.com.)
Q. Original Poster With the Boyfriend and Older Woman: First, this did not happen in America so forget contacting authorities. I just can't explain it, but I know this woman and I know my boyfriend and I really believe that this was an odd situation for her—my boyfriend said he hit on her for a month before she relented. He was also extremely "manly" at that age—I've seen photos and he looked 16 and was very handsome and charming. Which is also the reason women tend to love him—he is sweet and kind and also manly and strong at the same time—younger women like him too. I keep thinking of that teacher (Mary-Kay something) and her 12-year-old student—she never fooled around with other young boys and they are married with children now. This woman had an awful marriage and an abusive husband, and I'm sure that had something to do with her allowing it to happen.
A: It doesn't matter how much older he looked or how unhappy he was, it's still wrong. However, thanks for the background. Again, I say arrange your facial features neutrally. But if you're with a guy who gets off on making women of all ages melt, be aware of the implications.
Q. Nagging Employee: I recently was hired to run a small company. The past few months have been fantastic, but I'm having an issue with one of my employees. "Joan" is constantly nagging me. Joan works from home and we communicate mostly by email or phone, with occasional face to face meetings. I am very timely with my responses to her requests, but sometimes I tell her I have to think about something or I'm unable to respond because I'm in a meeting. For example, one day I was at a conference. I came back to my email inbox with five emails from her asking just about the same question. I've tried to tactfully let he know that "asking me just once is OK!" She also tends to do this with some of our clients and when I've discussed it with her, she says she feels that her "reminders" are helpful in reminding busy people to get things done. While I never express it to her, I tend to get angry about being asked to do something multiple times. Should I learn to just let this go? Or is there something I can say to her to get her to stop?
A: You're the new boss and you've discovered you have an employee who harasses not only you but your clients! You must do something about this. Put Joan on notice that this behavior has to stop because it's seriously jeopardizing her effectiveness with the company.
Q. 12- and 30-year-old: Your advice may be fine in this case, but could you just be really, really clear that a 12-year-old, boy or girl, can't legally consent to sex with a 30-year-old? They can't. Even if they want sex, and I certainly believe that they can (I was 12 once), it is the grownup's job NOT to do it. This is not complicated.
A: I think I've made that clear. No matter how the boyfriend romanticizes his past, this was wrong. But I also don't think anything can be done about it—particularly given how the girlfriend has clarified what the circumstances were. The girlfriend needs to focus less on the "older friend" and more on how her boyfriend may have a distorted view of his relations with women.
Q. Wedding Gift for Stingy Cousin: Get her a pair of matching socks.

A: Wouldn't weddings be so much more pleasant if all people had to shell out for was a pair of socks?

Emily Yoffe: Thanks, everyone. I'm off on vacation, and I'll be back August 29. Have a great rest of the month!

Like Prudie on the official Dear Prudence Facebook page and like Slate on Facebook. Follow us on Twitter.