Putting on a Public Face
Prudie counsels a reader on whether it's rude to apply cosmetics on the subway—and other advice seekers.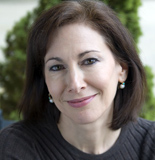 Emily Yoffe, aka Dear Prudence, is on Washingtonpost.com weekly to chat with readers about their romantic, family, financial, and workplace problems. An edited transcript of this week's chat is below. (Read Prudie's Slate columns here.)
Q. Subway Primping: I often take the train in my city straight from work to meet for a drink with friends or go on a date. Since I usually don't have time to go home, I use the commute to primp, reapplying lipstick or mascara or swapping accessories. I've been doing this for a couple of years without comment, but in the last week two separate people (strangers) have commented that they find this practice inappropriate. What do you think?
A: I don't know if I'm more surprised that your audience has been silent for the past couple of years, or that the season ticket holders have finally decided to start speaking up. I always find people like you, who think they are engaged in a piece of performance art titled "It May Look Like I'm on Public Transportation, But Actually I'm in My Bathroom Primping for a Date" more entertaining than appalling. But let's face it, there are others who are going to be moved to remind you that you are engaged in private activities they'd rather not be witness to. I'll bet anything that your office comes equipped with a bathroom. So before you set out for your date, make a pit stop there to transform yourself, and arrive at the train already dolled up.
Dear Prudence: Family of Sex Offenders
Q. To Wear or Not To Wear: I am a young woman in my early 20s, and I am Muslim. For over 10 years, I chose to wear a scarf on my head, but the problem is I don't want to wear it anymore. I started wearing it on my own because I believed in it, but for several years now I have been reconsidering. I wish I could just take it off, but I have several problems: One, my family is very religious and would freak out if I did. (I tried to bring up the subject once with them and they reacted very badly.) I am a college grad currently looking for a job but haven't found one yet, so I am stuck at home and therefore financially dependent on them. Two, should I take it off, I live in a small, tight-knit Muslim community, which would talk endlessly about it, and it would "ruin" my family's reputation, as it were. At the moment they are held in high regard in the community, and particularly my dad, who is seen somewhat as a religious leader. I don't want to shame my family in this way, nor alienate myself from them, which I know would happen if I took it off, because I am very close with them. What should I do?
A: Thank you for this fascinating insight into one woman's struggle. Non-Muslims are constantly hearing that wearing the hijab is a matter of choice and covering or not covering should be up to the individual woman. But in your case, it's not really a choice, is it, if uncovering will mean shame to your family and your being ostracized from them?
But I wonder if as an experiment you can live in two worlds without, for now, letting them overlap. Why not, when you venture forth to apply for jobs, and hopefully get one, do so without your headscarf? You're a grown woman, so you really will be exercising your choice as to how you interact with the outside world. Then you can cover when you return home. That's not being hypocritical; it's recognizing, for now, that family and work are two different spheres. And the more independent you become, emotionally and financially, the more comfortable you will be with the choices that are right for you.
Q. My Mom Missed My Wedding: A few months ago I married the most wonderful man! We chose to have a small ceremony, just our closest friends and our family, and everything was perfect, except for one thing. My second mom (stepmom) missed the ceremony because apparently she "toasted us" a few too many times the night before. I grew up with her, she has been in my life for almost 20 years, and while we didn't have a perfect relationship, I thought we were close. Deep down, I feel that if it had been her daughter, she would have been there with a bucket by her side if she had to. I have not said anything to her because I don't want to hurt her, but how do I get over this? Should I approach her so this doesn't fester, or just chalk it up to it being her loss and move on?
A: That must have been some rehearsal dinner. Does your stepmother have an alcohol problem, because even a couple of cocktails too many should not keep someone from being able to sit upright at a wedding the next day. You need to speak up. You won't get anywhere by putting her on the defensive ("I can't believe you got so drunk that you missed my wedding!"), but you can't pretend it didn't happen, either. Next time you see her, get some private time with her and say, "Deb, I know you ended up under the weather on my wedding day, but we haven't mentioned it since. I just want to talk it out with you because I still feel sad that you didn't see me marry Paul." Let's hope she has the grace to apologize so you feel better about moving on. And if she doesn't have that grace, accept that you got if off your chest and move on anyway.
Q. Marriage Tips: I recently got married and adore my husband. However, I go through phases where I don't mind (and I actually want and seek out) affectionate physical contact, but any sexual contact is almost repulsive to me. It isn't my husband that is repulsive since I still want to be close—just sexual contact. I'm not sure how to handle this or what to say to him. Do you have any thoughts?
A: My immediate thought is that you need to address this quickly before you receive annulment papers from your husband—unless he, too, finds sexual congress to be repulsive. If he doesn't, you need to talk to him about the fact that you are not having a normal reaction to marital sex and you are disturbed to find yourself avoiding it. Tell him you're going to get a thorough physical exam and also find a sex therapist (start by asking your gynecologist for a referral). Tell your husband you'd like him to come with you to those sessions because you want more than anything to have a happy, fulfilling marriage with him.
And if you actually are just looking for a way to say, "Honey, I adore you, but sex is repulsive and I'm not having it with you," you've come to the wrong place.
Q. Girlfriend Too Quiet: I have been seeing a wonderful girl for the past couple of months; she is sweet, mature, and above all easy to get along with. My problem is that when we are around my close friends and family, she completely clams up. I've explained to her multiple times how important it is that my family and friends approve of my mate, and she seems to understand. Yet she can't seem to maintain a conversation with anyone other than me. She truly is a great girlfriend, but my loved ones are beginning to think she is cold and undeserving of my attention. I want things to work out, but I don't see how they can if this problem persists. What should I do?
MYSLATE
Photograph of Prudie by Teresa Castracane.