Stop That PDA PDQ
Should gay couples be held to a different set of social rules?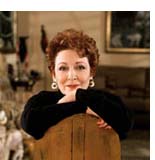 Dear Miss,
Prudie will offer you the benefit of her own experience being on the wrong end of a personal question. The woman's response to a question Prudie had no business asking was, "We could talk about it … another time." Anybody who keeps at it after that deserves nothing further. You do not owe anyone an answer about anything. As for people "demanding" an answer—who are these people, government interrogators? Why people are reticent to throw the burden back on the person who asked the none-of-your business question is a bit of a mystery. (And speaking of service dogs, Prudie's favorite organization is Canine Companions for Independence.)
Dear Pru,
I would appreciate some sound advice. I am a skinny lass (always have been considered 20 pounds underweight by no fault of my own) and am not proud of it. I was mercilessly teased for years about being an apparent anorexic. My larger co-worker, who knows this, thinks it's flattering to bestow upon me "compliments" such as "Oh, gosh—eat a Twinkie already, would you!?" whenever I mention trying to eat well. After several back-handed compliments like this, I finally told her today that I wished she would not say such things to me. After I stopped talking to her, she asked if I was angry with her and then apologized, saying that she thought she was complimenting me. In the past, this co-worker has stated that once she loses some weight herself, she wants to be a "healthy" weight—not a bag of bones. I'm left to wonder, how the heck is this Twinkie business a compliment? I'm at a loss about how to handle this woman. Her abrasive "joking" is starting to burn my britches. Please advise.
Dear Twink:
The Twinkie business isn't a compliment, it's a needle. And you are far too sensitive. You've already asked her to knock off the skinny talk, and if she can't do it, ignore the digs. If you're feeling snarky, try putting a package of Twinkies on your desk. Sometimes the unspoken is very powerful.