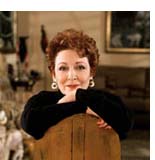 Get "Dear Prudence" delivered to your inbox each week; click hereto sign up.Please send your questions for publication to prudence@slate.com. (Questions may be edited.)
Dear Prudie,
A friend of mine (age 25) has been having an affair with a married man (39 with two young kids). It sickens me, and I have been questioning whether I should maintain my relationship with her. At any rate, it has been going on for over a year, and she does not show any signs of breaking up the relationship despite advice from numerous friends. I am tempted to anonymously call his wife and give her a tip, such as, "Watch your husband" or "Your husband is having an affair." I can't stand to think of this poor woman at home with two young children, unknowing, while her husband is out gallivanting! Is it wrong to meddle with fate?
—Confused and Distressed!
Dear Con,
Fate being fate, it cannot be meddled with, but you definitely should not meddle in your girlfriend's affair. It is rotten, granted, but why on earth would you want to lay this information on the poor wife? These things have a way of working themselves out without phone calls from informers. Often, by the way, the wife knows. Whatever might happen as a result of your phone call—if you did make it—is nothing you need on your scorecard. The short answer is that this situation really has nothing to do with you. Cool your jets, and perhaps find a hobby.
Dear Prudence,
I am very much still in love with my high-school sweetheart, though we are together no longer. When we went to college, we broke up. I am now with a man I have been with for over four years. Though I love this man, I know we are not meant to be together. My high-school sweetheart is now engaged to be married (within a month or two). I have seen him on two occasions in the last year, in which he has declared his love for me and told me he is "settling" by marrying his fiance. I turned down his advances, not for lack of love but out of respect for his new relationship, though I told him I did not love him. (I didn't want him to think about me.) Now that his wedding is approaching, I find myself wanting more and more to tell him how I feel. This is not because I want him longing for me but because I truly love him. 
Dear Con,
Prudie can think of no reason why you should not make a clean breast of it. At least no one is married at this point, and who knows? You have conducted yourself well and honorably. And it's not as though you set about sabotaging his plans; he came to you. If the two of you wind up together, it would be one terrific love story. Let Prudie know what happens.
Dear Prudence,
For the past year I have been attracted to the father of one of my son's friends. He is divorced, but I have been married for 10 years. It's not a perfect marriage, but it's not entirely awful, either. We don't communicate very well, and he is very jealous. He has always made me feel like I am wrong, no matter what the subject or fight is. I was not attracted to this other man right away, but gradually I began to have feelings for him. I don't know him very well, so I can't figure out how the feelings became so strong. He knows how I feel because I have written him letters, and he has called me to say he has a girlfriend. Because of that and the fact that I am married, he will not even meet with me to talk about this. There is virtually no chance that we will ever get together, because I can't see me leaving my husband just for the slight possibility that I may be with this other man. So why am I not able to get over my feelings for him? I think about him all the time, and I don't know how to stop, even though I am aware that this is wrong. I also wonder if I should confess this to my husband. I know he will be very upset and maybe leave me over it. And he would probably go after the other man, even though none of this is his fault. Please help!
Dear Con,
You are obsessing about this man—who has politely, and correctly, told you to back off—most likely because your marriage is not a good one. The situation you have put yourself in is largely a fantasy. You have filled the empty space in your life with a make-believe romance. Do not tell your husband about this. It is really all right to think anything; what is not all right is to act on thoughts that would be self-destructive. What you perhaps should be thinking about is how to improve your situation or whether you would be happier leaving the marriage. Something is wrong with things as they now are, but Prudie suspects you know that.
Dear Prudence,
I have been with "Bob" for almost five years, living with him for almost two of those years. We plan to spend the rest of our lives together and look forward to purchasing a house together. However, whenever the subject of marriage comes up, Bob says he's been there, done that, laughs, and changes the subject. It's extremely frustrating and hurtful to me because he knows I would like to get married, but it doesn't seem to matter. This Christmas I assumed I was going to get an engagement ring because he had asked me a few times what kind of ring I like. No real surprise, I guess; there was not a ring under the tree. Nor on New Year's Eve. Not even a Cracker Jack ring. Bob is my best friend, my lover; I cannot imagine life without him. I plan to wait until the beginning of June and then sit him down and ask him what is it about me that makes it so he can't or won't marry me. I would like to have your opinion on this matter.
—Never Been There or Done That
Dear Nev,
To take liberties with an old cliché: You can lead a horse to water, but you cannot make him get married. You are perfectly within your rights, however, after five years, to ascertain if there are rice and bridesmaids in your future. If you don't like his answer, you are free to go. This is always an unhappy situation, but sometimes a man is just not the marrying kind. And sometimes the woman just doesn't seem like the right one. You are certainly entitled to find out where it is you fit in. And, in a perfect world, your best friend-and-lover will tell you he's all set to pop the question in July.