No, I Do Not Want to Pet Your Dog
They're lounging in our offices and licking us at our cafés. It's time to take America back.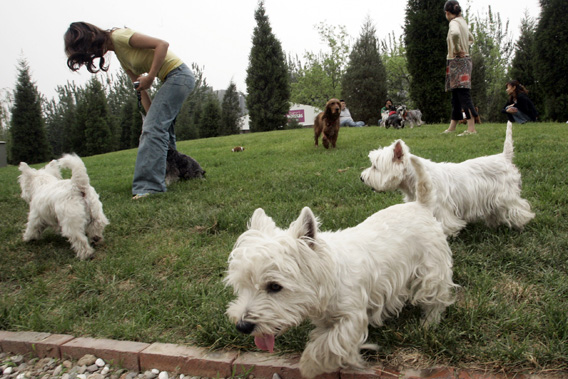 The other day I walked into my gym and saw a dog. A half-dozen people were crowding around him, cooing and petting. He was a big dog, a lean and muscular Doberman with, I later learned, the sort of hair-trigger bark you'd prize if you wanted to protect a big stash of gold bullion.
"This is Y.," the dog's owner said. No explanation was offered for the pooch's presence, as if it were the most natural thing in the world to have a dog in a place usually reserved for human beings. Huh, I thought.
The dog came up to me, because in my experience that's what dogs do when you don't want them to come up to you. They get up real close, touching you, licking you, theatrically begging you to respond. The dog pushed his long face toward my hand, the canine equivalent of a high five. And so—in the same way it's rude to leave a high-fiver hanging, especially if the high-fiver has big teeth and a strong jaw—I was expected to pet him. I ran my hand across his head half-heartedly. I guess I was fairly sure he wouldn't snap and bite me, but stranger things have happened—for instance, dogs snapping and biting people all the time.
Anyway, happily, I survived.
But wait a second. Come on! Why was this dog here? And why was no one perturbed that this dog was here? When this beast was barking at passersby through the window as we were all working out, why did no one go, Hey, just throwing this out there, should we maybe not have this distracting, possibly dangerous animal by the free weights?
No one was asking because no one could ask. Sometime in the last decade, dogs achieved dominion over urban America. They are everywhere now, allowed in places that used to belong exclusively to humans, and sometimes only to human adults: the office, restaurants, museums, buses, trains, malls, supermarkets, barber shops, banks, post offices. Even at the park and other places where dogs belong, they've been given free rein. Dogs are frequently allowed to wander off leash, to run toward you and around you, to run across the baseball field or basketball court, to get up in your grill. Even worse than the dogs are the owners, who seem never to consider whether there may be people in the gym/office/restaurant/museum who do not care to be in close proximity to their dogs. After all, what kind of monster would have a problem with a poor innocent widdle doggie? It's a dog's world. We just live in it. And it's awful. Bad dogs!
Not everyone agrees with me on this issue. Some people—or maybe even most people, since dogs, like zombies, have an insidious way of turning opponents into allies—love that dogs abound. If you adore dogs but aren't able to keep one, the world is now your dog park, with pooches everywhere to pet and nuzzle and otherwise brighten your day.
I am not a dog person. (Could you tell?) It's not that I actively despise mutts; I just don't have much time for them, in the same way I don't have time for crossword puzzles or Maroon 5. Now imagine if, everywhere you went, whatever you did, Maroon 5 was always playing and everyone pretended it was totally normal—that this permanent new situation was not in any way offensive, distracting, dirty, and potentially dangerous.
But here's my problem: There's now a cultural assumption that everyone must love dogs. Dog owners are rarely forced to reckon with the idea that there are people who aren't enthralled by their furry friends, and that taking their dogs everywhere might not be completely pleasant for these folks.
Example: If you're in the office and someone has brought her dog in for the day—because, fun!—the dog is sure to come around you, get between your legs, rub against your thigh, take a nap on your feet, or do some other annoying thing.
If the dog's owner notices these antics, I can promise you she won't apologize for the imposition. Nor will she ask you if you mind her dog doing what he's doing. Nor will she pull on its leash, because there won't be a leash, this being an office, where dogs are as welcome as Wi-Fi and free coffee.