Is Hunting Grizzlies Really Sporting?
A professional hockey player killed Cheeky.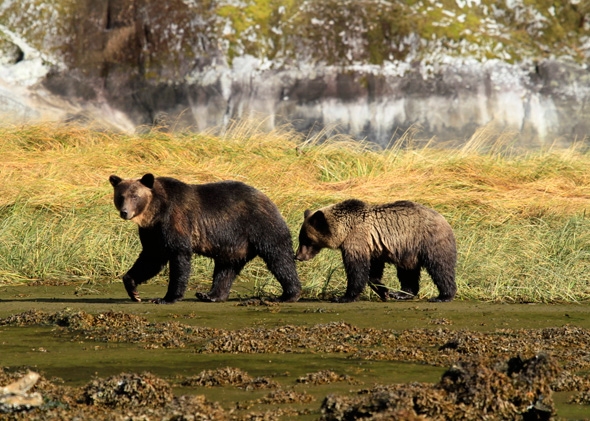 In Bella Bella, British Columbia, a First Nations community about 700 kilometers north of Vancouver, I met Larry Jorgensen, founder of the Qqs Projects Society, a program for Heiltsuk First Nation youth.
"Are you here about the kill?" he asked.
Someone shot a grizzly bear in Heiltsuk Territory, in Kwatna Inlet, part of the Great Bear Rainforest. The killer? Clayton Stoner, an NHL defenseman for the Minnesota Wild. The victim? A 5-year-old male named Cheeky.
Stoner's kill outraged the indigenous community. It outraged many other British Columbia residents. At the same time, hunters united around the hockey player's right to hunt. Hunting is big business. But so is bear viewing, especially in an area stung by economic hardship and stripped of one natural resource after another—except bears. Living bears. Parts of the Great Bear Rainforest, 32,000 square kilometers of habitat along the B.C. coast, are protected and closed to hunting. Some parts are not—residents can still hunt grizzlies here, and in most of the other grizzly habitats in the province. It's legal. So far it looks like Stoner is a legal resident who killed the bear in a non-restricted area, and therefore he didn't break the law.
But he did violate the First Nations' hunting policy. Last year, the Coastal First Nations, an alliance on B.C.'s central and north coasts and the islands of Haida Gwaii, announced a ban on hunting bears in their territories. The ban is for a number of reasons, including distaste for the practice, ecological considerations, and a growing bear viewing industry.
The province of British Columbia, however, did not ban hunting and has no plans to, and its laws govern where hunting is allowed in the Great Bear Rainforest. Hunters kill about 300 grizzlies a year in the province, harvesting the skin and paws, leaving the rest to rot in the bush.
Canadian opposition to the grizzly hunt centers here, in the Great Bear Rainforest, an ecotouring powerhouse where bears are shot with high-priced cameras wielded by ecotourists, some wealthy, some splurging their savings on the trip of a lifetime. The Raincoast Conservation Foundation, which is against hunting, came up with a clever strategy to limit the practice: It purchased two guided hunting territories, including Kwatna, where Stoner shot Cheeky. To hunt in British Columbia as a nonresident, hunters must hire a guide or accompany a resident with a special license. Raincoast's purchase put the brakes on hunting by nonresidents, but not residents.
It took one professional hockey player to do in one day what Canadian scientists and the First Nations have struggled to do for the past decade: put British Columbia's grizzly bear hunt in a media spotlight.
The attention should grow this month with a new study led by Kyle Artelle, a biologist with the Raincoast Conservation Foundation. It provides evidence that too little is known about the grizzly population to call the current hunt sustainable. The fate of grizzly bears in British Columbia, Artelle writes, is being determined by a management game of Russian roulette.
"By ignoring what they don't know about British Columbia's grizzly bears—their actual population sizes, how many are poached, and so on—managers are taking a considerable gamble with their current hunt management approach," Artelle told me shortly after Stoner shot the bear.
Sifting through hunting data from between 2001 and 2011, Artelle and his co-authors found evidence of "overmortality"—more bear fatalities than a population could endure—in 26 of the 50 bear populations open to the hunt. Overmortality ranged from one to 24 bears. "Almost all, 94 percent, of total overmortalities could have been avoided by reducing or eliminating the hunt," Artelle says.
To count bears is no simple task. Rugged terrain and their natural wariness usually cloak bears in invisibility. The best way to interpret bear populations is through DNA analysis of bear hair caught on barbed-wire hair traps. Analysis of the hairs can reveal population levels, health, and the movements of individual bears.
Doug Heard, a senior government biologist, devised the technique used for estimating bear populations with colleague Garth Mowat about 10 years ago. The model uses the ecological characteristics of a landscape—people, livestock, vegetation, and precipitation, for example—and the few areas that have DNA mark-recapture data. Biologists crunch the data and come up with a number.
The government does not allow hunting in 14 of the 56 population units, including the nine with threatened populations. Nor is hunting allowed in any national park, Grizzly Bear Management Areas, and some provincial parks. (Bears, however, do wander beyond human-made boundaries.)
But to Artelle and his colleagues, that's not good enough. Aside from the uncertainties highlighted in the paper, there are other unknowns that remain beyond the scope of the study, for example the impact of declining food availability or the social lives of bears. (Not all bears are equal, and the removal of one individual might have more serious repercussions than another.) In light of the uncertainty, the bear hunt makes no sense, Artelle says.
Nor does it make sense to the Coastal First Nations that are monitoring the bear populations in their territory in partnership with Raincoast. William Housty keeps track of the bears in a number of Heiltsuk Territory watersheds, including Kwatna, as part of a grizzly-monitoring project that covers about two-thirds of the Great Bear Rainforest. "We have guys on the ground researching, and there's guns going off in the same area. It doesn't jive," Housty told me a few days after Stoner's kill.