Removable Truths
A memory expert's indestructible past.
When Beth was 14, her mother drowned in a swimming pool. The obituary called it an accident, but Beth's father suspected suicide. Only God knew the truth, and the bereft girl decided that God, having failed to intervene, was a fiction. What had really happened? No one would ever know.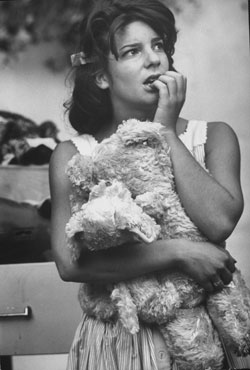 For a year afterward, Beth wrote letters to her dead mother, telling her how much she missed her. She excoriated herself for having failed to express her love when it mattered. In one of her removable notes, she wrote,
"MY GREATEST REGRET: Many nights, such as tonight, September 23, 1959, I lie awake and think about my mother. Always, I start to cry, and my thoughts trace back to the days when she was alive and ill. She would be watching TV and ask me to come sit by her. 'I'm busy now,' was my usual reply. Other times, she would be in my room, and we would get in fights because she wouldn't leave. Oh, how I hate myself for that! With a little bit of kindness from her only daughter she might have been so much happier."
But the girl couldn't change what she had done. Nor could she unclip the note and make her mother's death, or the pain that followed it, go away.
Two years after she lost her mother, Beth lost her home. A brush fire destroyed her house while sparing the rest of the block. She stood outside the burning building, clutching a Teddy bear and staring at the flames. Around her, rescued by neighbors, lay the remains of her childhood: chairs, drawers, stuffed animals. So much had been lost. What tortured her most was the disappearance of her diaries, which, to her relief, she eventually recovered. She wasn't afraid of losing them to the fire. She was afraid that they might fall into somebody else's hands.
A weaker girl might have crumbled under these losses. But Beth pressed on. She became a workaholic and obsessive achiever. She threw herself into math, the one subject she could get her father to talk about. Then, as an undergraduate at UCLA, she discovered something more captivating: the study of the mind.
People were much more interesting than numbers. In their actions and reactions, the laws of nature came to life. Her favorite psychologist was B.F. Skinner. From his writings and experiments, she learned that rewards and punishments could control and explain animal behavior. By systematically rewarding a behavior, you could reinforce it.
She was fascinated. But what excited her most was watching the process unfold in her own hands. She was given a rat and a cage—a "Skinner box"—in which to train it. By selectively administering food during a series of repetitions, she taught the rat to look at, then approach, then press a lever. By the time she was done, the rat had learned to run straight to the lever as soon as it was put in the cage. She had made the animal do her bidding.
In 1966, she entered Stanford's graduate program in mathematical psychology. She might as well have walked into a men's locker room. She was the only woman admitted to the program that year. All her professors were men. Her classmates unanimously voted her least likely to succeed as a psychologist. They placed bets on when she'd quit. The betting pool turned out to be a damning test of mathematical psychology. Its abstract equations, designed to explain and predict behavior, couldn't account for the particulars of this young woman. She had lost her home and her mother. Compared with that, exams were easy.
She soon outgrew the boys' game. The deeper she waded into mathematical psychology, the less she liked its simplifications. People were more complicated than that. So was she. In her second year at Stanford, she was assigned to mentor an incoming student. She married him instead. On June 30, 1968, she became Elizabeth Loftus.