Murder in Miniature
One woman's ghastly dollhouse dioramas turned crime scene investigation into a science.
As for the homicides themselves, Lee attended autopsies, visited crime scenes, and studied blood spatter patterns. She made sure that her corpses possessed the correct degree of bloat and discoloration and that the evidence she was portraying—whether the angle of a knife or the pooling of blood—matched the mysterious circumstances of the deaths. She depicted an eclectic array of mortal endings, from hangings to falls to fires to gas-oven suicides. She often portrayed victims who were far removed from her own experience in life, such as drunks, prostitutes, and the poor.
On the other hand, Botz points out that most of the victims are female, and many died in their homes. Gender and the home, of course, were major themes in Lee's life. Some scenes hint at their creator's personal life and interests, too. Like the room depicted in the Nutshell "Pink Bathroom," Lee also had a pink bathroom in her home. She also enjoyed fish imagery—the wallpaper motif in that scene. "There was an interplay between factual documentation and imaginative fiction," Botz says. "Her own biases came into play."
For the larger items—the houses themselves, the roofs—Lee enlisted the help of her carpenter, who followed her specifications exactly. The roof of the "Barn" Nutshell, for example, came from pieces taken from a 200-year-old barn on Lee's own property, ensuring that it was authentically weathered. With her carpenter's help, she turned out up to three crime scenes per year.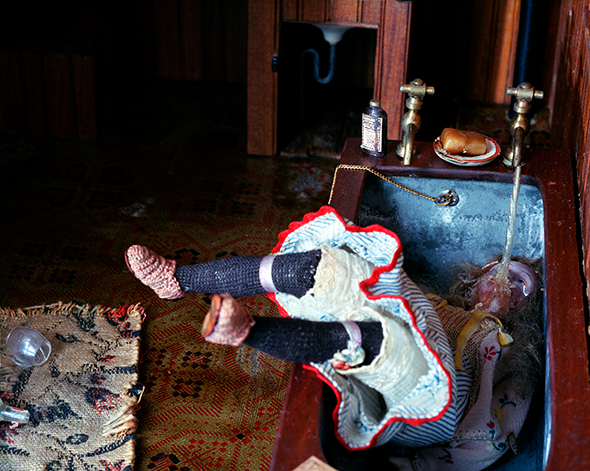 "She'd have been less frustrated if she had been born today, but it's lucky for us, because the models are a result of her own personal time and culture, of her Victorian sensibilities and its emphasis on domestic space and family life," Botz says. "All of these things came together to shape the models."
In 1945, Harvard installed the first of Lee's models, and she began delivering biannual, weeklong seminars that used them as training tools. Lee was almost always the only woman in the room. After some initial reluctance, she came to be accepted. She wined and dined her new colleagues, and many of the detectives grew fond of her, sometimes referring to her as "Mother" and sending her Mother's Day cards. She even became an honorary captain with the New Hampshire State Police, making her the first woman to join the International Association of Chiefs of Police. Most significantly, though, her work mattered. Careful evidence gathering became a quintessential part of investigations, and several states amended their legislation to require better-trained coroners and medical examiners. As Goldfarb says, "She made forensic investigation into a scientific process."
Lee died in 1962 at the age of 83, and the endowment for the Harvard program ceased. The university shuttered its forensics program and put the Nutshells into storage. They were likely headed for the dumpster, when Harvard professor Russell Fisher accepted a job in Baltimore as Maryland's chief medical examiner. He brought the Nutshells with him, and in 1968, began using them in teaching seminars. Today, they are permanently installed on the fourth floor of the Office of the Chief Medical Examiner, behind a door marked "Pathology Exhibit." The Nutshells are still used as training tools in homicide seminars. "This is not a museum or a gallery, it's still functional," Goldfarb says of the exhibit. "Death doesn't change."
Lee has a dedicated and growing following. She was the inspiration behind the character Jessica Fletcher in Murder, She Wrote, and a CSI episode was inspired by her work. Recently, Guillermo del Toro contacted Botz about optioning the rights to create an HBO show about Lee.
Although the Nutshells are not available for public walk-ins, they do get plenty of visitors, ranging from detectives to artists to miniatures aficionados. Paging through a guest book kept on top of the "Three-Room Dwelling" Nutshell—a possible double-murder and suicide that includes an executed infant—a column asking for purpose of visit contains a range of answers, from "artistic curiosity" to "DMort3 Training" to "love."
Now I, too, have stumbled upon Lee's intriguing story and perplexing creations, thanks to a field trip organized by the New York–based Morbid Anatomy Library and Museum. Back at the Parsonage Parlor, I am still mulling over what happened to Dorothy. I try to put myself in the detective's place, to imagine walking into the diorama as a 5-inch-tall figure, as Lee used to instruct of her trainees, and to use my senses to infer information about both Dorothy and her killer. Temperatures, Lee points out in the text contained below the Nutshell, exceeded 90 degrees that week. Dorothy's body, accordingly, is beginning to show signs of decomposition, mirroring the now-rancid hamburger steak that neatly lies on a nearby chair along with her purse. The blood pooling around her head indicates that she died in that room, but there are no signs of struggle in the room. A hammer smeared with a trace of blood lies near Dorothy's corpse, but then there's the knife—which was the actual murder instrument?
So was it the butcher who did it, or perhaps the parson, who was supposedly on vacation at the time? Or maybe a secret lover? Most likely, someone she knew lured her in, willingly, to her death, since the purse and meat placed on the chair indicate a casual, relaxed encounter. The bite marks and position of her body suggest a sexual assault, but only a postmortem analysis will reveal whether Dorothy was raped. The teeth marks might help identify her killer by comparing imprints with suspects' dental records, and if Dorothy had been murdered today, genetic testing could lend clues about her killer's identity. High-tech tests are not needed to solve this crime, however: According to a 1966 story published in the Harvard Crimson, there is a solution.
But as frustrating as that lingering mystery might be, the answers to the Nutshells are kept secret to preserve their usefulness as training tools. Unless we solve the crime ourselves, we are left to wonder, as I am still doing myself. "Wanting answers is natural," Goldfarb says. "Everyone wants to know the answers."
Simply answering the riddle, however, is not the point. As Lee once wrote herself, "The Nutshells Studies are not presented as crimes to be solved. Rather, they are designed as exercises in observing and evaluating indirect evidence, especially that which may have medical importance."
Sometimes those observations can lead to a well-savored answer, but other times, more information—whether through an autopsy or interrogations—is needed. In other cases, the mystery cannot be solved with certainty, reflecting the grim reality of crime investigations. But whatever the circumstances, the investigator, Lee wrote, is tasked with "seeking only the facts—the Truth in a Nutshell."