Black Dog Syndrome
Why do people discriminate against dark pets?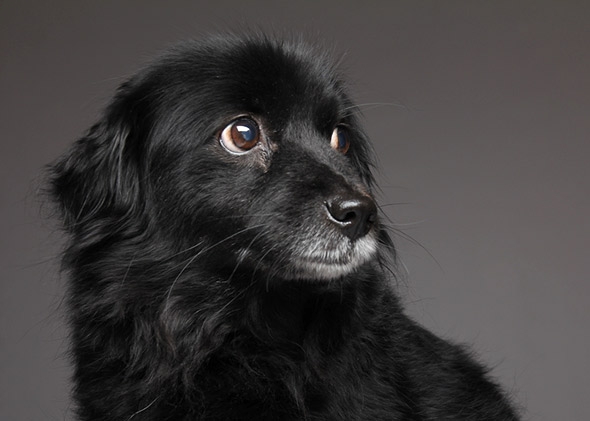 Just when you were hoping there were no new ways to be racist, it turns out people may be racist against dogs. Black Dog Syndrome is the name shelter workers have given to the tendency of dark-furred pups to languish in kennels while their lighter-furred brethren get adopted. "The effect is very real," says Mirah Horowitz, executive director and founder of Lucky Dog Animal Rescue. "We recently had a litter of five very cute, very fluffy puppies, two yellow and three black. And the yellow ones all went immediately, but for the black ones it took weeks."
Black dogs get euthanized at higher rates. They linger at pounds and adoption agencies for longer than light-colored dogs, and they are less likely to find a home. Marika Bell, director of behavior and rehoming for the Humane Society of Washington, D.C., says the organization has been tracking animals that have stayed at their shelters the longest since March 2013. They found that three characteristics put a pet at risk of becoming one of these so-called "hidden gems": medium size, an age of 2-3 years, and an ebony coat.
What kind of nefarious psychological quirk would prevent someone from adopting a dog based on fur color?
It's not all superstition, though. With the ascent of image-based sites like Petfinder and Petango, much of the adoption process takes place before you even arrive at the shelter. And glamour shots of black animals are harder to imbue with the requisite sparkle. "Their faces look less expressive, and their eyes get lost," says Fred Levy, a photographer whose Black Dog Project attempts to give jet-hued canines the star treatment they deserve. (Photography lighting problems can also drive fashion glossies to subtle racism.) Because of the way the camera averages out exposure levels over the entire scene, Levy explains, "often all you'll see of the dog is a black silhouette and a big tongue." He solves the problem by arranging his models against a charcoal background. And Horowitz has found that videos work better than photographs at capturing a dog's lovable personality. But for adoption programs without video equipment or access to professional photographers, shots of black animals remain harder to sell than those of lighter-colored pets.
The drama of the black dog doesn't get much easier once you arrive at the shelter. While bright white and yellow pooches catch people's eye, Horowitz tells me, darker-haired pups tend to get lost in a crate's shadows. (For this reason, some rescue organizations now train inky dogs to sit in front of their kennels during visiting hours.) And though black may not actually be the most common canine color, says Bell, it is sometimes perceived as such, which means prospective owners looking to stand out from the crowd will sometimes DQ a black dog.
Bell has her own pet theory: "I think it comes down to facial expressions," she tells me. "People attach to dogs when they can read their facial expressions, and on black dogs those are harder to make out. You can barely see their eyebrows, and it becomes harder to humanize them and connect on an emotional level."