Is Google Wrecking Our Memory?
Nope. It's much, much weirder than that.
Is the Internet ruining our ability to remember facts? If you've ever lunged for your smartphone during a bar argument ("one-hit father of twerking pop star"—Billy Ray Cyrus!), then you've no doubt felt the nagging fear that your in-brain memory is slowly draining away. As even more fiendishly powerful search tools emerge—from IBM's Jeopardy!-playing Watson to the "predictive search" of Google Now—these worries are, let's face it, only going to grow.
So what's going on? Each time we reach for the mouse pad when we space out on the ingredients for a Tom Collins or the capital of Arkansas, are we losing the power to retain knowledge?
The short answer is: No. Machines aren't ruining our memory.
The longer answer: It's much, much weirder than that!
What's really happening is that we've begun to fit the machines into an age-old technique we evolved thousands of years ago—"transactive memory." That's the art of storing information in the people around us. We have begun to treat search engines, Evernote, and smartphones the way we've long treated our spouses, friends, and workmates. They're the handy devices we use to compensate for our crappy ability to remember details.
And frankly, our brains have always been terrible at remembering details. We're good at retaining the gist of the information we encounter. But the niggly, specific facts? Not so much. In a 1990 study, long before the Interwebs supposedly corroded our minds, the psychologist Walter Kintsch ran an experiment in which subjects read several sentences. When he tested them 40 minutes later, they could generally remember the sentences word for word. Four days later, though, they were useless at recalling the specific phrasing of the sentences—but still very good at describing the meaning of them.
The exception is when you're obsessed with a subject. If you're deeply into something—football, the Civil War, Pokémon—then you're usually great at hoovering up and retaining details. When you're an expert in a subject, you can retain new factoids on your favorite topic easily. This only works for the subjects you're truly passionate about, though. Baseball fans can reel off stats for their favorite players, then space out on their own birthday.
So humanity has always relied on coping devices to handle the details for us. We've long stored knowledge in books, paper, Post-it notes.
But when it comes to quickly retrieving information on the fly, all day long, quickly? We don't rely on documents for the details as much as you'd think. No, we rely on something much more immediate: other people.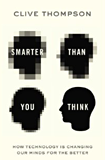 Harvard psychologist Daniel Wegner—and his colleagues Ralph Erber and Paula Raymond—first began to systematically explore "transactive memory" back in the '80s. Wegner noticed that spouses often divide up memory tasks. The husband knows the in-laws' birthdays and where the spare light bulbs are kept; the wife knows the bank account numbers and how to program the TiVo. If you ask the husband for his bank account number, he'll shrug. If you ask the wife for her sister-in-law's birthday, she can never remember it. Together, they know a lot. Separately, less so.
Wegner suspected this division of labor takes place because we have pretty good "metamemory." We're aware of our mental strengths and limits, and we're good at intuiting the memory abilities of others. Hang around a workmate or a romantic partner long enough and you discover that while you're terrible at remembering your corporate meeting schedule, or current affairs in Europe, or how big a kilometer is relative to a mile, they're great at it. They're passionate about subject X; you're passionate about subject Y. So you each begin to subconsciously delegate the task of remembering that stuff to the other, treating one's partners like a notepad or encyclopedia, and they do the reverse. In many respects, Wegner noted, people are superior to notepads and encyclopedias, because we're much quicker to query: Just yell a fuzzily phrased question across to the next cubicle (where do we keep the thing that we use for that thing?) and you'll get an answer in seconds. We share the work of remembering, Wegner argued, because it makes us collectively smarter.
Experiments have borne out Wegner's theory. One group of researchers studied older couples who'd been together for decades. When separated and questioned individually about the events of years ago, they'd sometimes stumble on details. But questioned together, they could retrieve them. How? They'd engage in "cross-cuing," tossing clues back and forth until they triggered each other. This is how a couple remembered a show they saw on their honeymoon 40 years previously:
F: And we went to two shows, can you remember what they were called?
M: We did. One was a musical, or were they both? I don't ... no ... one ...
F: John Hanson was in it.
M: Desert Song.
F: Desert Song, that's it, I couldn't remember what it was called, but yes, I knew John Hanson was in it.
M: Yes.
They were, in a sense, Googling each other. Other experiments have produced similar findings. In one, people were trained in a complex task—assembling an AM/FM radio—and tested a week later. Those who'd been trained in a group and tested with that same group performed far better than individuals who worked alone; together, they recalled more steps and made fewer mistakes. In 2009 researchers followed 209 undergraduates in a business course as they assembled into small groups to work on a semester-long project. The groups that scored highest on a test of their transactive memory—in other words, the groups where members most relied on each other to recall information—performed better than those who didn't use transactive memory. Transactive groups don't just remember better: They also analyze problems more deeply, too, developing a better grasp of underlying principles.
We don't remember in isolation—and that's a good thing. "Quite simply, we seem to record as much outside our minds as within them," as Wegner has written. "Couples who are able to remember things transactively offer their constituent individuals storage for and access to a far wider array of information than they would otherwise command." These are, as Wegner describes it in a lovely phrase, "the thinking processes of the intimate dyad."