The Scrotum Is Nuts
Why are testicles kept in a vulnerable dangling sac? It's not why you think.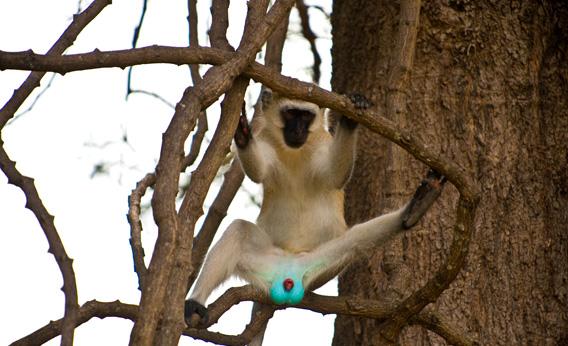 Soccer fans call it brave goalkeeping, the act of springing into a star shape in front of an attacker who is about to kick the ball as hard as possible toward the goal. As I shuffled from the field, bent forward, eyes watering, waiting for the excruciating whack of pain in my crotch to metamorphose into a gut-wrenching ache, I thought only stupid goalkeeping. But after the fourth customary slap on the back from a teammate chortling, "Hope you never wanted kids, pal," I thought only stupid, stupid testicles.
Natural selection has sculpted the mammalian forelimb into horses' front legs, dolphins' fins, bats' wings, and my soccer ball-catching hands. Why, on the path from the primordial soup to us curious hairless apes, did evolution house the essential male reproductive organs in an exposed sac? It's like a bank deciding against a vault and keeping its money in a tent on the sidewalk.
Some of you may be thinking that there is a simple answer: temperature. This arrangement evolved to keep them cool. I thought so, too, and assumed that a quick glimpse at the scientific literature would reveal the biological reasons and I'd move on. But what I found was that the small band of scientists who have dedicated their professional time to pondering the scrotum's existence are starkly divided over this so-called cooling hypothesis.
Reams of data show that scrotal sperm factories, including our own, work best a few degrees below core body temperature. The problem is, this doesn't prove cooling was the reason that testicles originally descended. It's a straight-up chicken-and-egg situation—did testicles leave the kitchen because they couldn't stand the heat, or do they work best in the cold because they had to leave the body?
Vital organs that work optimally at 98.5 degrees Fahrenheit get bony protection: My brain and liver are shielded by skull and ribs, and my girlfriend's ovaries are defended by her pelvis. Forgoing skeletal protection is dangerous. Each year, thousands of men go to the hospital with ruptured testes or torsions caused by having this essential organ suspended chandelierlike on a flexible twine of tubes and cords. But having exposed testicles as an adult is not even the most dangerous aspect of our reproductive organs' arrangement.
The developmental journey to the scrotum is treacherous. At eight weeks of development, a human fetus has two unisex structures that will become either testicles or ovaries. In girls, they don't stray far from this starting point up by the kidneys. But in boys, the nascent gonads make a seven-week voyage across the abdomen on a pulley system of muscles and ligaments. They then sit for a few weeks before coordinated waves of muscular contractions force them out through the inguinal canal.
The complexity of this journey means that it frequently goes wrong. About 3 percent of male infants are born with undescended testicles, and although often this eventually self-corrects, it persists in 1 percent of 1-year-old boys and typically leads to infertility.
Excavating the inguinal canal also introduces a significant weakness in the abdominal wall, a passage through which internal organs can slip. In the United States, more than 600,000 surgeries are performed annually to repair inguinal hernias—the vast majority of them in men.
This increased risk of hernias and sterilizing mishaps seems hardly in keeping with the idea of evolution as survival of the fittest. Natural selection's tagline reflects the importance of attributes that help keep creatures alive—not dying being an essential part of evolutionary success. How can a trait such as scrotality (to use the scientific term for possessing a scrotum), with all the obvious handicaps it confers, fit into this framework? Its story is certainly going to be less straightforward than the evolution of a cheetah's leg muscles. Most investigators have tended to think that the advantages of this curious anatomical arrangement must come in the shape of improved fertility. But this is far from proven.
When considering any evolved characteristic, good first questions are who has it and who had it first. In birds, reptiles, fish, and amphibians, male gonads are internal. The scrotum is a curiosity unique to mammals. A recent testicle's-eye view of the mammalian family tree revealed that the monumental descent occurred pretty early in mammalian evolution. And what's more, the scrotum was so important that it evolved twice.
The first mammals lived about 220 million years ago. The most primitive living mammals are the duck-billed platypus and its ilk—creatures with key mammalian features such as warm blood, fur, and lactation (the platypus kind of sweats milk rather than having tidy nipples), although they still lay eggs like the ancestors they share with reptiles. Platypus testicles, and almost certainly those of all early mammals, sit right where they start life, safely tucked by the kidneys.
About 70 million years later, marsupials evolved, and it is on this branch of the family tree that we find the first owner of a scrotum. Nearly all marsupials today have scrotums, and so logically the common ancestor of kangaroos, koalas, and Tasmanian devils had the first. Marsupials evolved their scrotum independently from us placental mammals, which is known thanks to a host of technical reasons, the most convincing of which is that it's back-to-front. Marsupials' testicles hang in front of their penises.
Fifty million years after the marsupial split is the major fork in the mammalian tree, scrotally speaking. Take a left and you will encounter elephants, mammoths, aardvarks, manatees, and groups of African shrew- and mole-like creatures. But you will never see a scrotum—all of these placental animals, like platypuses, retain their gonads close to their kidneys.
However, take a right, to the human side of the tree, at this 100 million-year-old juncture and you'll find descended testicles everywhere. Whatever they're for, scrotums bounce along between the hind limbs of cats, dogs, horses, bears, camels, sheep, and pigs. And, of course, we and all our primate brethren have them. This means that at the base of this branch is the second mammal to independently concoct scrotality—the one to whom we owe thanks for our dangling parts being, surely correctly, behind the penis.
Between these branches, however, is where it gets interesting, for there are numerous groups, our descended but ascrotal cousins, whose testes drop down away from the kidneys but don't exit the abdomen. Almost certainly, these animals evolved from ancestors whose testes were external, which means at some point they backtracked on scrotality, evolving anew gonads inside the abdomen. They are a ragtag bunch including hedgehogs, moles, rhinos and tapirs, hippopotamuses, dolphins and whales, some seals and walruses, and scaly anteaters.