Don't Be a Dead Hero
In some disasters, more rescuers die than original victims.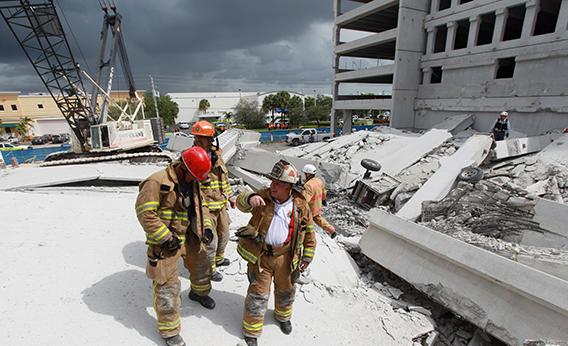 In 2007, a Virginia dairy farmer died from inhaling methane fumes while working in an enclosed manure pit. A hired worker attempted to save the farmer and was also killed by the fumes. The farmer's wife and two daughters then jumped in, each frantically trying to save the earlier victims, and also died.
One tragic death quickly became five.
Sadly, this type of compound tragedy, in which rescuers become additional victims, is far too common.
In certain situations, the data show, more people are killed trying to rescue others than are killed in the initial accident. The Occupational Safety and Health Administration recently examined reports for fatal, confined-space accidents and found that when multiple deaths occurred, the majority of the victims were rescuers. The National Institute for Occupational Safety and Health previously reported that rescuers account for more than 60 percent of confined-space fatalities.
OSHA defines confined spaces as those with limited or restricted entrances or exits, places that are not designed for continuous occupancy. They include, for instance, underground vaults, tanks, storage bins, manholes, pits, silos, and pipelines.
But untrained rescuer fatalities aren't limited to confined spaces. Chances are you've read other stories about compound tragedies, most likely involving floods, riptides, traffic accidents, electricity, or mines. Here are just a few.
In July 2012 in Georgia, a man was killed by a train while trying to rescue a crash victim from a minivan that rolled on its side near a set of railway tracks. An eyewitness said, "I just said a prayer with him and kept talking to him and told him he wasn't going to go nowhere because he was trying to help someone else."
In 2001 in Alabama, 12 miners attempting to rescue an injured miner after a coal mine explosion were killed by a second explosion.
Last summer along the Northern California coast, five people in three incidents drowned attempting to rescue their pets from strong ocean currents.
Each of us, we hope, would rise to the occasion to help someone in a life-threatening situation, however dangerous. This type of heroism was on display after the bombing at the Boston Marathon, when brave witnesses rushed to help the hundreds of people who were injured. Thankfully, they were not added to the list of casualties, and they saved lives amid the horrific chaos.
So how should you decide whether and how to help? First responders are trained to approach dangerous situations to save lives and avoid becoming additional victims. As it turns out, first responders—firefighters, military and coast guard commanders, electrical workers, and others—all use similar strategies. Understanding how they evaluate risks and responses may help save even more lives—including yours.
When firefighters respond to a call, it's the responsibility of the first ones on the scene to assess the safety and risks of the site, according to Nick Schuler, battalion chief with Cal Fire, the largest fire agency in California. "They immediately perform a walk around, shut off the electricity, shut off the gas." If they determine there is a chance for a rescue, they follow a strict "two in and two out" policy. "If two firemen go in, two more firemen need to be available to rescue those."
Firefighters' safety depends on extensive training, proper equipment, and performing a risk assessment as soon as they arrive. Despite these precautions, firefighting is inherently dangerous. There were 83 on-duty firefighter fatalities in 2012. This represents 2.33 firefighter fatalities per 100,000 fires. The U.S. Fire Administration reports "These are the risks all fire-fighters accept every time they respond to an emergency incident. However, the risks can be greatly reduced through efforts to improve training, emergency scene operations, and firefighter health and safety initiatives." In fact, such efforts have been extremely successful. The rate of fatalities has declined dramatically over the past three decades, and 2012 had the lowest rate of firefighter fatalities in the past 15 years.
Oftentimes specific hazards cannot be immediately identified or assessed, as happened when workers responded to the meltdown at the Fukushima nuclear power plant in Japan. Emergencies are also often accompanied by widespread communication breakdowns, leaving first responders to make difficult choices with limited information. To minimize this problem, trained first responders have specialized, integrated communications systems, and use centralized command centers to collect and distribute information.
Our understanding of what risks to prepare for continues to evolve. Few of us comprehended beforehand that the Twin Towers could collapse. On 9/11, more than 400 first responders lost their lives, including 343 firefighters, 60 police officers, and 15 EMTs. An estimated 2,000 additional first responders were injured following the attacks.
Massive tragedies require involvement of multiple agencies and clear coordination and communication. The 9/11 Commission Report concluded that "Much of our response on the day of 9/11 was improvised and ineffective, even as extraordinary individual acts of heroism saved countless lives."
By contrast, the commission characterized the emergency response to the 9/11 attack on the Pentagon as "mainly a success for three reasons: first, the strong professional relationships and trust established among emergency responders; second, the adoption of the Incident Command System; and third, the pursuit of a regional approach to response. Many fire and police agencies that responded had extensive prior experience working together on regional events and training exercises."