Pepper
In the summer of 1965, a female Dalmatian was stolen from a farm in Pennsylvania. Her story changed America.
In any case, Cooper's bill—which had the support of Christine Stevens and the Animal Welfare Institute—was ridiculed by hard-core anti-vivisectionists, who lobbied against it as "a snare, a delusion and a fraud." A more restrictive version favored by the Humane Society soon followed, along with a scaled-down bid from the American Humane Association and an NSMR-backed pitch for the upgrade of government-funded animal facilities. Laboratory-animal bills of all types would be introduced by the dozens over the next five years; newspaper endorsements piled up. While angry debates raged among the animal rights activists, not a single proposal came close to being passed.
"Passions were high," remembered Ann Cottrell Free, "because nothing was happening."
Congress had little interest, at first, in the fact that someone's dog had perished in a medical experiment. It was Pepper's 10-day ordeal in the hands of scurrilous dog dealers that had inflamed Rep. Joseph Resnick and her journey across interstate highways that inspired his "dog-napping" bill in the summer of 1965. At hearings in September, he dispelled any notion that his proposal was intended to aid the anti-vivisectionists: "This bill is concerned entirely with the theft of dogs and cats," he said, "and, to a somewhat lesser degree, the indescribably filthy conditions in which they are kept by the dealer."
Indeed, the law didn't seem to have much bearing on the issues that were most important to animal-welfare groups. It focused only on dogs and cats and gave enforcement authority to the Department of Agriculture, which had close ties to the livestock industry. Worse, it took no position on the actual practice of research—all regulation would stop at the laboratory door. For Christine Stevens and her fellow moderates, though, the pet-theft bill was a chance to move forward.
They knew Pepper's story would strike a chord with the American public. Dog ownership was on the rise through the 1960s—one study found it increased by more than one-third—and stolen purebreds had been the subject of the enormously popular 1961 Walt Disney feature, 101 Dalmatians. ( Lady and the Tramp, with its own sad portrayal of canines in captivity, was reissued in 1962.)
In a matter of weeks, eight more dog-napping bills were brought to the floor of the House, and Joe Clark—whose office took the first call on Pepper's disappearance—introduced one in the Senate. By the following spring, Resnick's bill had spawned a total of 33 others.
Stories of pet theft multiplied just as rapidly in the newspapers. After tracing Pepper to Montefiore Hospital in July, activist Fay Brisk turned her attention to a purebred, black-and-white English setter that had vanished from a farm in Boyce, Va. That dog turned up at the NIH in Bethesda and was returned to its owner in August. A few months later, Brisk found a stolen Irish setter named Reds at a hospital in New York and sent him home to a family in suburban Philadelphia. Then there was Alvin, a black cocker from New Jersey, and Peanuts, a German shepherd from Falls Church, Va.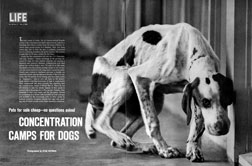 The most significant contribution to the dog-napping panic arrived in February 1966, when Life magazine released an eight-page photo essay, "Concentration Camps for Dogs." (A cover line warned, "Your dog is in cruel danger.") Life photographer Stan Wayman had joined Humane Society investigators on a raid of a dog dealer's farm in Maryland, where animals were chained to wooden boxes and left out in the cold to feed on frozen entrails. Christine Stevens distributed a copy of the article to every member of Congress.
Lawmakers claimed to be getting more mail on the subject of dog-napping than they were on Vietnam: The Senate commerce committee received 20,000 letters over the 12-month period beginning with Pepper's death; the House agriculture committee counted 60,000. At the beginning of March 1966, the House held two days of hearings to sort through the growing stack of animal welfare bills. The Humane Society's Dec Hogan testified to the ugly details of the raid in Maryland: The dealer, he said, "showed us a beagle, blind in one eye and pus running from the other." According to the New York Times, the huge hearing room was crammed with spectators, and the crowd spilled out into the hallway.