The Darkest Year of Medical School
Students come in altruistic and empathetic. They leave jaded and bitter.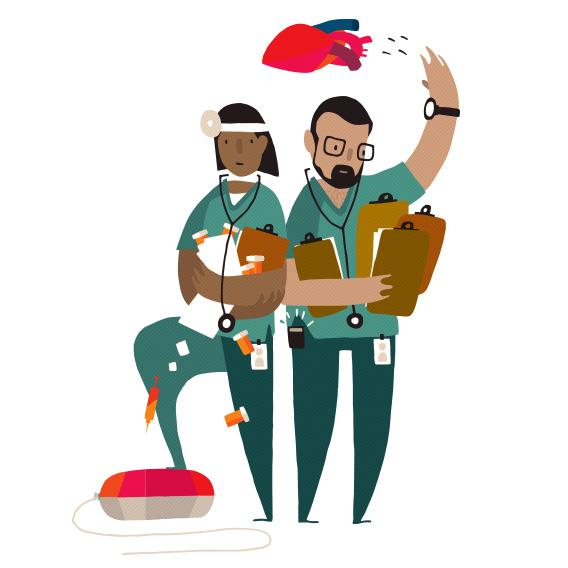 Next month, your future doctor will take the first steps into clinical medicine. I am not talking about the first day of internship (though that also happens on July 1), but the monumental transition that medical students make at the halfway point of medical school from the classroom years to the clinical years.
After two years of the predictable life of lectures, textbooks, and exams, the students are plunged into the world of actual clinical medicine, where patients and their illnesses rarely go by the book.
It is the moment these students have been waiting for. One would think that the third year of medical school would be a crowning achievement—the donning of the white coat, the grasping of the golden ring after many years of striving. And in some ways it is. The learning curve is voraciously steep as students soak up clinical knowledge at an impressive rate.
However, there is a darker side of this transition to clinical medicine. Many of the qualities that students entered medical school with—altruism, empathy, generosity of spirit, love of learning, high ethical standards—are eroded by the end of medical training. Newly minted doctors can begin their careers jaded, self-doubting, even embittered (not to mention six figures in debt).
For starters, the entry into the clinical world can be an intensely disorienting experience. Complications, drug interactions, patient idiosyncrasies, medical errors, insurance issues, and emergencies keep life frenetic. Everything—from the smell of infected bedsores and the insistent clanging of alarms to the foreign language of hospital lingo and the capriciousness of death—serves to create a disconcerting world. In the midst of this are the greenhorn medical students, acutely aware of their lack of practical skills to do anything of use.
And as soon as students have figured out the ins and outs of the electronic medical record system, the names of the social workers, and where the bathrooms are, they are shipped off to the next rotation—in a different place, with a different medical team, with different patients, with different expectations, and often an entirely new computer system to battle with.
Every four to eight weeks, the students are whisked through a new world: surgery, internal medicine, obstetrics-gynecology, psychiatry, neurology, pediatrics, and outpatient medicine. This ensures that students have a good grounding in the broad field of medicine, but it also ensures that any relationships formed—with patients, nurses, senior physicians, or mentors—are serially disrupted. It's no wonder that so many students spend the year in a daze.