The Good Fight
Evangelical environmentalists are getting serious. Now if only they could all get along.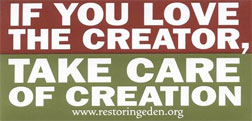 Good news on the climate front can be hard to come by—in Cancun or on Capitol Hill. So here's something: At least we know, as of last week, that John Shimkus of Illinois won't be chairman of the powerful House energy and commerce committee. At a subcommittee hearing last year the GOP congressman— a contender for the gavel that will now go to Michigan Republican Fred Upton— invoked the Bible to justify a do-nothing approach to climate change. "Man will not destroy this earth. This earth will not be destroyed by a flood," the congressman intoned.
Shimkus's theology "doesn't hold water," says Rev. Richard Cizik, president of the New Evangelical Partnership for the Common Good  and former top lobbyist for the National Association of Evangelicals. "Let's be clear," he told me, "the idea that we can't irreparably damage this planet by our actions runs contrary to all that's taught in the scriptures."
Cizik, a prominent advocate for climate action, spoke with me as he returned from the U.N. conference in Cancun. At the forefront of a growing evangelical "creation care" movement, he was instrumental in launching the Evangelical Climate Initiative, which turned a lot of heads in February 2006. Originally signed by 86 evangelical leaders—the tally is now more than 350—the ECI states that human-caused climate change is real, that the impact will be felt disproportionately by the world's poor, and that Christians are called to take action. Pushback was fierce, and it still is. (In late 2008, Cizik's more conservative brethren used his climate advocacy, along with his shifting position on same-sex unions, to have him ousted from the NAE.)
The creation-care movement now finds itself at a critical juncture, thanks to the political misfortunes of climate legislation and congressional Democrats. With Republican gains in the House and Senate and the rise of the Tea Party, evangelical environmentalists are quietly taking sides over how aggressively, and in what ways, to push for action. Unlike its secular counterpart, the evangelical environmental movement may have real influence over conservative Republicans. But the evangelical community is far from monolithic, and some creation-care advocates are clearly wary of rocking the GOP boat. Others, like Cizik, say bring it on.
"We have to get serious, as the evangelical creation care movement, and be as committed to the political process as our opponents are," Cizik told me. His New Evangelical Partnership has formed a 501(c)4 action fund and will work to "persuade members of Congress that they will pay a price for the positions they take," Cizik said. Evangelical environmentalists with bite.
Of course, the phrase "evangelical environmentalist" still has an oxymoronic ring to it—and turning the conservative evangelical community into a force for climate action is no small challenge. "The term 'environmentalist' is as toxic among evangelicals as the term 'evangelical' is among non-evangelicals," says Jonathan Merritt, the 29-year-old who in 2008 founded the Southern Baptist Environment and Climate Initiative and earlier this year published his first book, Green Like God: Unlocking the Divine Plan for Our Planet. For evangelicals, especially older and more conservative types, environmentalism smacks of tree-hugging, earth worship, or worse, Al Gore (who, as it happens, was raised an evangelical).
In a Pew Research Center survey released in October, only 16 percent of regular churchgoing white evangelicals said climate change is a "very serious" problem. (Overall, 31 percent of Americans said the same; you decide which figure is more depressing.) To some observers, such numbers indicate that the Evangelical Climate Initiative didn't live up to its promise. It got the community's attention (as the intense pushback suggests), but did it change very many minds? "Maybe not as many as some people hoped," says John Green, an expert on evangelical politics who advises the Pew Forum on Religion & Public Life.
In fact, the ECI itself has become a point of contention within the creation-care ranks. "We failed to do the hard work of winning over the hearts and minds of the average everyday Christian," Merritt told me. "There are a lot of us out here who'd love to flip the switch and get evangelicals on board. The reality is, it's not going to happen that quickly. It's a big ship, and it takes a long time to turn that ship, and it has to be done in a proper way."
Proper, for Merritt and other creation-care activists, means keeping it biblical and grass roots—with a particular emphasis on younger evangelicals. In addition to Merritt's, at least two other books by young evangelical climate advocates have appeared since 2009. One of them, Green Revolution, is by Ben Lowe, an infectiously positive 26-year-old graduate of Wheaton College who just ran for Congress as a Democrat in suburban Chicago (and, yes, lost badly). Another, A Climate For Change: Global Warming Facts for Faith-Based Decisions, is by husband-and-wife team Andrew Farley and Katharine Hayhoe, both 38 and professors at Texas Tech University. He's a conservative pastor; she's a respected climate scientist who has contributed to the IPCC.
There's also an emerging evangelical student movement, best represented by the campus network Renewal and nurtured for years by Restoring Eden, a group founded by evangelical pastor Peter Illyn. By his own account, Illyn brings "a slightly different, West Coast, emergent/evangelical church perspective." Illyn recruits at Christian rock festivals and puts out bumper stickers like "Your soul needs the wild (Luke 5:26)" and, my favorite, "God's original plan was to hang out in a garden with naked vegetarians."