A Death in Yellowstone
On the trail of a killer grizzly bear.
Rangers bagged up the scat, along with some hairs they found on and around the body, and resumed the investigation. Wallace's pack was right next to his body. His lunch, still in its container, was partially buried in the cache pile near Wallace's head. When they moved Wallace's body, they would find a half-eaten energy bar underneath him, the remaining portion of the snack neatly wrapped in plastic.
A pair of hind footprints had survived the overnight rainstorm, as did a partial front footprint in the dust nearby. Gunther took out his tape measure and measured the tracks. Because of their size and shape—toes straight across the pad of the paw and a couple of partial claw marks poking into the ground, he knew they had come from grizzlies. Still, there was no way of knowing whether those prints belonged to the killer bear. What if a grizzly had just passed through on its way to somewhere else, maybe the bison carcass investigators had found nearby? But another set of paw prints—these ones tinged with blood—suggested that one bear, at least, had made contact with Wallace's body.
Though the helicopter had to leave at sunset, Gunther's team briefly considered staying on. If they did, they would have to hike out 5 miles on foot, perhaps with a killer bear or bears still lurking near the trail. But it might be worth it, if they could find more hair, blood, or scat—anything that a lab could analyze for DNA. It had already been more than 24 hours since John Wallace had died, and it would be another 12 until investigators could return to the backwoods. After a brief deliberation, the rangers decided to leave with the helicopter.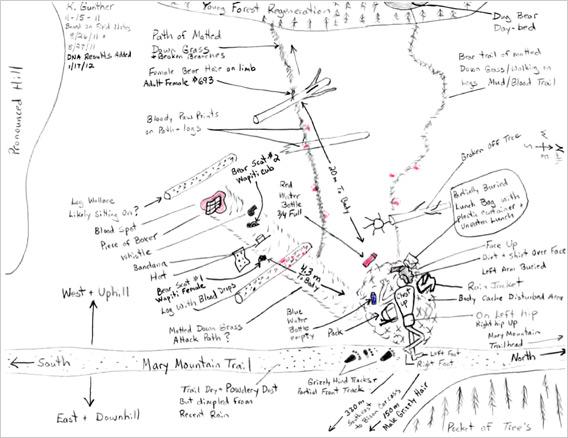 The body was sent to Bozeman, Mont., for an autopsy. When the results came back two days later, they'd learn that John Wallace was in excellent shape and there were no signs of drugs or alcohol in his bloodstream. He had died from exsanguination, or blood loss, from the wounds inflicted by a grizzly bear.
Another set of clues had turned up in the meantime. When rangers revisited the site of the attack on Aug. 27, they found two fresh sets of bear tracks, one big and one small. At some point after Gunther's team took off in the helicopter, and before the next set of investigators arrived in the morning, a mother grizzly and her cub had been nosing around the crime scene, probably looking for the body that was no longer present. Then rangers found slightly older prints from the same two bears, on a log about 20 meters from where the body had been cached. These were bright red, as if mother and cub had just been dipping their paws into John Wallace's bloody remains.
The initial investigation of the attack was over. From the evidence available, it looked like Wallace had sat down on a log near the Mary Mountain trail to have a snack at around 10 a.m. on Aug. 25 when he was attacked. Bite wounds and bruising on his arms indicated that he had faced the grizzly and attempted to fight back. The bear had left bite marks on his back, too, and his torso was partially eaten. It wasn't yet clear from the autopsy whether the grizzly that killed Wallace was the same one that ate his body. They'd need to wait for the DNA analysis to know for sure.
At this point, the main suspect in Wallace's death was a grizzly bear with offspring, whose home range was somewhere in the Hayden Valley—a lush, meadow-filled expanse in the middle of Yellowstone, about 20 miles northeast across the park's Central Plateau from its most famous landmark, the Old Faithful geyser. Rangers knew there was at least one bear that fit the description—and she already had a criminal record. The so-called Wapiti sow had already killed a tourist in July and given some other park visitors a fright.
In June, wildlife photographer James Yule came across the sow and her two cubs, one blond-headed and the other brown, while they were digging for gophers. He's used to observing grizzlies in the wild—he's taken reams of photographs of them—but this one spooked him. As he shot video footage from his Suburban, Yule noticed that the sow was looking right back at the camera. "She stared as she moved across the road and was looking back at me after she crossed," he says. The experience was disturbing enough that he warned some nearby hikers to stay away from her.
It's not so unusual for a sow with young cubs to appear aggressive to a human, though. At that point, the Wapiti sow, which was six or seven years old, had never been trapped, tagged, or radio collared, as about one-third to one-half of the bear population in Yellowstone has been. Despite her forbidding demeanor, she hadn't had any major run-ins with human beings. (All bears involved in management actions are entered into a database.) But in the month after Yule's encounter, all of this would change. In July, Yellowstone is more crowded with visitors than at any other time of the year, with 900,000 people coming through, and that meant plenty of chances for the bear to get in trouble.