The Great "Do Bears Hibernate?" Debate
Their sleeping patterns are weird. Their sex is weirder.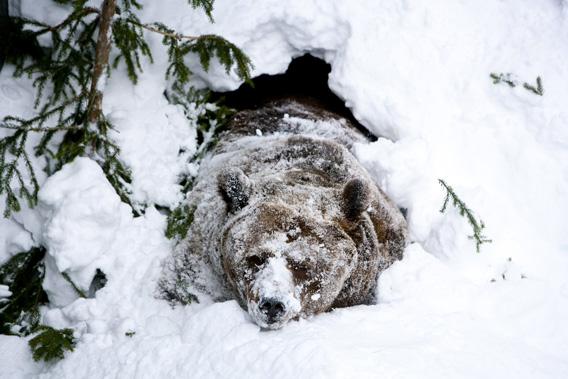 Bears hibernate. They spend all year eating salmon, blueberries, and picnic baskets and then, sometime around baseball playoffs, they all wander off to a cave full of treasure and explorers' skulls where they curl up in a big furry ball and snore away the winter.
Everybody knows this! Even small children too young to attend to their own biological functions know how these wild animals make it through a period of harsh weather and food shortage. But beyond the fact that bears den up in winter, what do we really know of these lumbering slumber beasts and the secrets they keep beneath the ice and snow?
Let's start with this bit of housekeeping—cursory Googling of bears and hibernation will lead you to all sorts of trash talk saying bears aren't "true hibernators." True hibernators, such as Arctic ground squirrels, are capable of dropping their body temperatures below the freezing point of water, conditions so cold that neurons in the brain's cortex are physically incapable of firing. Not to mention you can do all sorts of awful things to true hibernators while they slumber—like, oh, I don't know, locking marmots in airtight jars filled with carbonic acid and hydrogen. (Easy, PETA. We're talking 1832.)
I know what you're thinking: First Lance Armstrong, then Manti Te'o, and now this. But before you sit the kids down and blow their fragile little minds with the message that bears may not be true hibernators, consider that science is something of a moving target. The more we learn, the more questions we raise.
"In my opinion, bears are the best hibernators," says Brian Barnes, director of the Institute of Arctic Biology at the University of Alaska Fairbanks. "Their body is a closed system. They can get through winter with only oxygen—it's all they need."
Using infrared cameras, surgically implanted electrocardiograms, and radio transmitters, Barnes and his team monitored hibernating black bears (Ursus americanus) for three years. Think of it as CBS's Big Brother—except someone actually cared about the bear feeds. Their research showed that bears can drop their heart rate from 55 to 9 beats per minute and reduce their metabolism by an incredible 53 percent. They accomplish this without compromising much on body temperature, a crucial fact that allows bears to be more alert than true hibernators. (Those fancy squirrels can require hours to thaw out.)
Higher body temperatures also allow hibernating bears to keep newborn cubs warm. During a period when most animals are locked in hand-to-hand combat with the bony fists of Death, bears perform the miracle of Life. Bear reproduction is actually sort of a boring story though, so let's move on to …
I'm kidding, of course. Bear reproduction is all kinds of curious. The coitus occurs in spring or summer, when many animals are already giving birth. The male is aided by a penis bone called a baculum, which is not attached to the rest of the skeleton. (Baculi are rather common among mammals, from walruses and chimps to cats and bats. Because the Internet is a wonderful, horrible place, you can purchase baculi online, where they are marketed improbably as Mountain Man Toothpicks. Humans do not have penis bones, alas. Just the euphemism.)
After bears rock it in the usual way, the reproductive process takes a hard left from everything you learned in that sex-ed class taught by the school gym teacher. Following fertilization, the baby bears stop growing after becoming multicelled blastocysts. For a few months, they just float around in a state of arrested development known as delayed implantation. Should the female bear fail to fatten up enough over the course of the year, her body can put the kibosh on pregnancy in an act of self-preservation. Conversely, if times are good, her body will allow more blastocysts to develop and implant in her womb—adjusting the number of cubs created based on fat stores.
Even though the deed is done months ahead of time, active gestation is surprisingly short—just 60 days in polar bears—and this results in helpless, underdeveloped cubs that are usually born between November and February, depending on the species and climate. Super-rich milk ensures that by the time spring comes, the cubs are ready to hit the ground running in a life-or-death race to rotundness. Polar bear milk contains up to 46 percent fat and tastes like the chalky cream of a fishy cow. And how do we know what it tastes like? Well, because polar bear scientists like Andrew Derocher are absurdly dedicated dudes.
"Don't get me wrong, I'm not walking around drinking cups of the stuff," Derocher says, "but I'm always amazed when you take a graduate student all the way out onto the sea ice and they won't try it."