Dear Kids
This Mother's Day, write a letter to your children. Leave them something for after you're gone.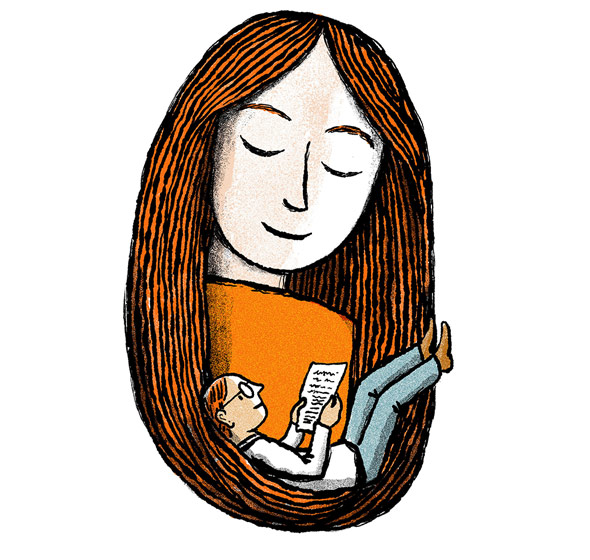 President Obama was asked recently about regrets. "I regret not having spent more time with my mother," he said. The president's mother, Ann Dunham, died at age 52 when Barack Obama was 34. "I was so busy with my own life that I didn't always reach out and communicate with her, and ask her how she was doing and tell her about things. You know, I was nice and I'd call and, you know, and write once in a while ... I realize that I didn't, uh, every single day, or at least more often, just spend time with her and find out what she was thinking and what she was doing because she had been such an important part of my life."
I know how he feels. My mother died when I was 29, and though it has been 17 years, I still have the instinct to call her. She was also a journalist, so there's the news to talk about, and there are the anniversaries of big events that she covered, and now that I have kids, there's the larger set of conversations we could have about ambition, faith, fear, and generally trying to keep it all together. But the president is not describing conversations he might have now, he's regretting conversations he didn't have then—all that he could have learned from this trusted source and all that he could have given her. Now that we are parents, we know how powerful a child's love is when it comes back in simple conversation. This is the real sting. You had all these little presents and you didn't give them.
The president told the young people in his audience to call their parents. And, yes, by all means call your mother (and call your father too, for that matter). But there's also homework in this regret for parents: Write to your children now for when they're older. Leave them some writing for after you're gone.
I called my mother almost every day for the several years before she died, just as the president suggests. We'd had a bad relationship when I was a teenager, but we repaired it. I was a secretary trying to break into the news business, just as she had once been. I faxed her the stories I was trying to write. She told me about the way Washington used to work. But even in that perfect circumstance, the ability to "find out what she was thinking and what she was doing" was impossible. Child-parent conversations are out of phase. I didn't know what questions to ask to really get at the truth of her life. I was busy trying to figure out who I was, which was all the shelving in my brain could accommodate at that age. My progress was fun for her to watch. It reminded her of her own. She didn't want me asking deep, plumbing questions of her.
The greatest lesson my mother taught me was about resilience. She could take a punch. For almost a decade they told her she couldn't go on television because she was a woman. She never gave up and in 1960 became the first female correspondent for CBS News. She was attractive, which made life easier for her in lots of ways but made it hell too. A lot of the men she needed to take her seriously were either chasing her around the desk or minting bawdy knee-slappers for the boys. She plowed through it. Not long after I was born, she was fired from NBC. She went out on her own and made documentaries.
I know about her grit not because I witnessed it (I was too young) and not because I asked about it (I was too self-obsessed) but because I discovered it in the personal papers she left me after she died.
After Mom was let go by NBC, my parents had no consistent income. In 1970, when I was 2, Mom made a new will and wrote her five children a letter explaining why she'd written it the way she had. "Today I made out my will. If I die anytime soon, you all may wonder why I did what I did. Times have been very difficult for the past year. I am making a lot of speeches and flying all over to earn some money. Each time I get in a plane, and as you may suspect, I am a terrible coward about flying, I worry about what will happen to all of you if there is a crash."