Lessing Is More
Lessing was right to deny that The Golden Notebook was a feminist masterpiece.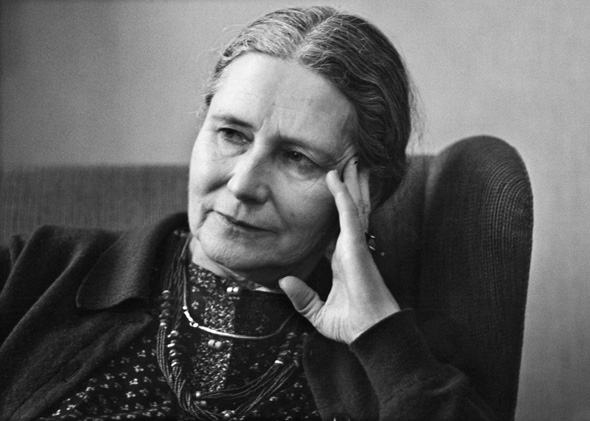 Doris Lessing is dead, finally dead at age 94. When I heard the news I thought right away of the moment when Jane Eyre is being terrified into obedience by the loathsome Mr. Brocklehurst. "Should you want to fall into a pit and be burning there forever?" he asks her, hoping to scare her into cowering Christianity. "No, sir." So what will you do to avoid it, he asks her, will you repent? I have a better idea, she replies: "I must keep in good health, and not die." Repenting—to ministers, to capitalist fat-cats, or to p.c. bullies—was never an option for Lessing. But refusing to die (or to shut up) worked pretty well for Lessing right up to yesterday.
It's likely that most obituaries and rapid-fire memorializations will circle back to the book Lessing is virtually synonymous with, The Golden Notebook, her mind-bending novel about the rage, the woe, and the lunacy that go along with being young, female, and politically opinionated in sexist, parasitical, not-yet-post-imperial London. Lessing was already a prescient anatomizer of postcolonial rage in her breakout 1950 novel The Grass Is Singing. But it's Golden Notebook's quirky genius that led to her being praised and pilloried as a political feminist of the '60s. When I went back to it last year, it still felt as fresh as lemon juice on an open cut.
Lessing always denied that The Golden Notebook was a feminist masterpiece, and my view is that she was right to do that. Like her later novels, it aims to rotate the world and look at the old truths, and the old fights, from another axis entirely. If anything, The Golden Notebook explored why people wanted to call themselves feminist, or Marxist, (not to mention Tory or Labour)—as if pinning a label on your blazer solved anything.
Lessing was the last of a loveably, brilliantly irascible generation of writers who never stopped screaming about the horrors of the American century that they were stuck in. But she was also the truest practitioner of what Emile Zola labeled back in 1880 "the experimental novel." I have no idea how she pulled it off, but Lessing wrote novels that tweaked everyday stifling reality just enough that not so everyday things started happening—on the page and in her readers' reeling brains.
Lessing was born in 1919. When she left Rhodesia in 1949 for London she was already toting with her an award-winning novel (and a baby she raised alone). Scarcely a year went by (maybe 2006?) in which she didn't publish something not only new but unexpected, including a graphic novel and at least four books about cats. I'd lay money that she has gone through as many phases and genres as any three other Nobel laureates combined. I'm a huge fan of her reputation-imperiling "space fiction" of the 1980's, but there are people who swear by her four Africa-centric works of memoir/autobiography, and others devoted to the not-quite-fantasy Children of Violence series, which culminates in the abidingly bizarre The Four-Gated City (1969).
There are many ways to make sense of Lessing without making The Golden Notebook your litmus test. For one thing, she was the last survivor of the generation of writers that included Saul Bellow (b. 1915), John Cheever (b. 1912), William Burroughs (b. 1914), and almost George Orwell (b. 1903); believe it or not Flannery O'Connor, Norman Mailer, and Allen Ginsberg were born in the next decade, as was Lessing's diminished shadow, Nadine Gordimer. I think the peers she belongs with most, though, are Ralph Ellison (b. 1914) and Richard Wright (b. 1908). Like her, they were novelists who veered away from the mandarin modernism of Joyce and Faulkner, lighting up the low dishonest decades of the midcentury with biting protests against things as they are, and luminous proposals for how different everything could be.