The Patriarchy Is Dead
Feminists, accept it.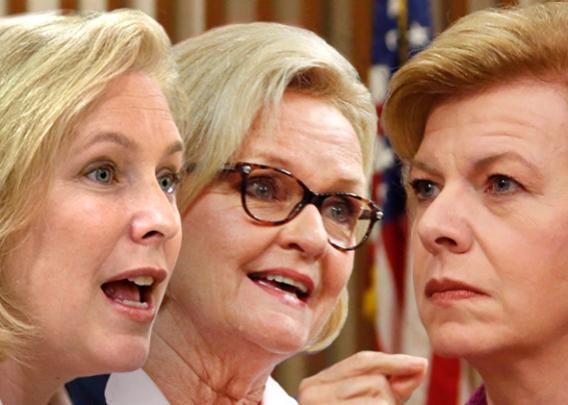 You would think that a book called The End of Men would be, prima facie, an insult to men. But one of the great surprises I've had while speaking about the book over the last year is how little resistance I have gotten from the aggrieved sex. Yes, I've been to a forum or two where dude-bros from the men's rights movement accuse me of destroying American manhood. But most of the resistance to the idea that men have ceased to be the dominant sex has come from women—not from working-class women, who seem to find what I'm describing painfully familiar, if not totally obvious, but from women in the college, professional class.
There comes a point in nearly every book event I've done when a little feminist revolt stirs inside the crowd. I can feel it coming when an audience saves its whole-hearted applause for the first moment I mention a sin committed against the women of America—say, our appalling lack of paid maternity leave (which is appalling!). Or when a questioner quotes to me in a triumphant tone statistics about the tiny percentage of female CEOs, as if I had never heard them before.
"Let's call it what it is: THE PATRIARCHY." This was a comment from a young woman at an event I was moderating on Anne-Marie Slaughter's 2012 Atlantic article "Why Women Still Can't Have It All." Though Slaughter and I have many points of agreement, we tend to draw a different crowd, or mood. Women come to hear her when they feel like they've hit a wall, and need to commiserate. They want to vent about their frustrations, not hear how they've prevailed.
"Can you say that word? PATRIARCHY?" This woman was not gunning for a laugh; she was dead serious, and pretty angry. She looked to be 30 or so, and from the way she spoke seemed well-educated—the type of woman I portray in the book as benefiting from the new era of female dominance, when women are better prepared for the current economy and have more independence to choose their life path.
As the woman spoke, I started to think of my own Slaughter moment, when, after the birth of my first child, I decided to work four days a week, a capitulation that sank me into a terrible depression. (If only Sheryl Sandberg had been around then to tell me to "Lean in!") I tried to figure out who, in the series of events that led up to that decision, had played the role of the patriarch. My husband? He couldn't care less how many days I work. My employer? Relatively benevolent and supportive— willing to let me work four days or five, willing to let me leave early. I suppose the patriarchy was lurking somewhere in my subconscious, tricking me into believing that it was more my duty to stay home with our new baby than my husband's. But I didn't see it as a "duty." I wanted to stay home with her, and I also wanted to work like a fiend. It was complicated and confusing, a combination of my personal choices, the realities of a deadline-driven newsroom, and the lack of a broader infrastructure to support working parents—certainly too complicated to pin on a single enemy.
I said some version of this out loud from the stage, partly because I was looking for sympathy, and partly because I wanted to convey that the "patriarchy" was not a fixed monolith we could never get around but something shifting and changing and open to analysis. But that confessional approach only brought more ire. "Lucky for you that you have the luxury to agonize about your choices," the young woman said. "What about the woman who picks up your trash after you leave at 5?"
This is when I knew I was dealing with some irrational attachment to the concept of unfair. For my book I'd interviewed plenty of women who might find themselves picking up the trash, likely as a second job after a full day of school or another job, or both, because their husbands—or, more likely, the fathers of their children—were out of work. My young interrogator might be annoyed to learn that many of those women who pick up the trash yearn to bring back at least some aspects of the patriarchy. They generally appreciate their new economic independence and feel pride at holding their families together, at working and studying and doing things on their own, but sometimes they long to have a man around who would pay the bills and take care of them and make a life for them in which they could work less. And they want the men in their lives to be happy. It's elite feminists like my questioner and me who cling to the dreaded patriarchy just as he is walking out of our lives.
A few months after my book came out, sociologist Stephanie Coontz published an editorial in the New York Times that was headlined "The Myth of Male Decline," which summarized many of the responses to my book in order to support her argument that the end of men was nowhere in sight. Many of the points made by Coontz and other members of what Liza Mundy, author of The Richer Sex, calls the academic "Fempire" are true, in a selective sort of way that elides other truths. I notice they often choose the statistics that make women look the most beleaguered.
For example, one figure that both Mundy and I cite in our books, and that has provoked much angry dissent, is how many wives earn more money than their husbands. We all agree that the proportion of female breadwinners leapt from only 4 percent in 1970 to nearly 30 percent in 2010. Coontz, however, discounts this gain by arguing that when we look at all married couples, not just dual-earner couples, the numbers look much weaker because some wives don't work at all. This is a fair point. But if we are going to add on extra data samples, then I offer another, more relevant one: the growing number of single mothers. The United States is undergoing an explosion not of full-time stay-at-home mothers but of single mothers who are often, for better or worse, the main breadwinners for their families by default. We recently passed the threshold, for example, at which more than half of all births to mothers under 30 were to single mothers. I'm not sure this counts as feminist progress, but it does count as a profound shift in the traditional power dynamics of the American family.