Why Do We Tolerate Revenge Porn?
A new bill in California tries to address the problem, but doesn't go far enough.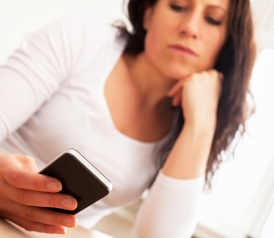 Revenge porn is a scourge. It's the term for posting sexual photos of people without their consent (often women, often exes). If you're tempted to wave this off as the kind of ephemeral cyberharm that drifts away on its own, don't. A couple of years ago, I interviewed a woman whose ex-boyfriend, she suspected, had posted nude photos of her on a site called Private Voyeur. The caption included the words "Jap Slut," her name, her place of work, and the city where she lives. A stranger told her about the photos. She started fearing that one of her co-workers or clients would ask about the photos—and in fact, one did. And when she Googled herself, the Jap Slut post showed up near the top, which meant that anyone looking for her online would see it.
In her forthcoming book Hate 3.0, University of Maryland law professor Danielle Citron tells the story of a Florida graduate student who found herself the subject of revenge porn—nude photos and a sexual video. A profile including the images, as well as her name and email address, appeared on a website for soliciting sex from strangers, and then someone emailed the photos to her boss and her co-workers. Search for her name on Google, and the first 10 pages to come up were entry after entry of the images and humiliating captions. The woman ended up changing her name to Holly Jacobs: She felt she had no choice because she "wanted a professional future," she told Citron. And then the local government posted her request for the name change online, ruining her chance to start over.
Jacobs founded the website End Revenge Porn, and she also tried to fight back by going to the local police the FBI, and by contacting the sites that hosted the nude photos and the video. None of it worked. There was nothing law enforcement could do, she was told. And because the site operators had no legal responsibility to take the revenge porn down, trying to get the images deleted turned into "a nightmare game of whack-a-mole, which she kept losing," Citron writes.
This can't be right—revenge porn cannot be allowed to be a harm without a remedy. That's why there's been a wave of attention for a California bill that aims to address it. The problem is that the bill only goes halfway. It makes it a misdemeanor offense to post revenge porn only if a prosecutor shows that the poster intended to inflict emotional distress, rather than treating the act of posting a sexual photo without consent as an objectively harmful invasion of privacy. And the punishment wouldn't apply if the subject of the photo took the picture herself, which means it wouldn't help people whose exes persuaded them to hand over photos as a sign of trust. As Amanda Marcotte argues, "Just as we recognize that two people having had consensual sex doesn't mean later encounters are necessarily consensual, we should recognize that a picture offered as a consensual sexual gesture can later be turned into a tool to harass and abuse—and there should be penalties for that."
Here's a better model bill that doesn't have the flaws of the one in California. The bill makes it a crime to "disclose" an image, video, or recording involving nudity or sexual contact without the subject's consent, "under circumstances in which the person has a reasonable expectation of privacy." Consenting to the photo within a private relationship doesn't meaning consenting to public disclosure. The author, University of Miami law professor Mary Anne Franks, says that when people tell her they oppose it, they often start "waving their hands about free speech. But when you ask them how this violates the First Amendment, they can't tell you why." That's because it really doesn't. Eugene Volokh, a strong free-speech advocate who teaches law at UCLA, doesn't see a constitutional problem with "a suitably clear and narrow statute banning nonconsensual posting of nude pictures of another, in a context where there's good reason to think that the subject did not consent to publication."