Shock and Bra
Femen's punk activists are taking on the world by taking off their tops.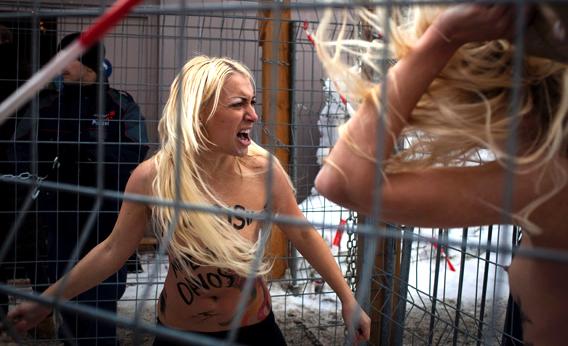 Their targets have included Silvio Berlusconi, Vladimir Putin, Dominique Strauss-Kahn, IKEA, the G-8, and the pope. The predominantly blond-haired, bare-breasted young women have struck in 17 countries across the world and are reported to have 150,000 supporters worldwide. They call themselves the new Amazons, boldly evoking the mythical nation of all-female warriors.
Protests by Femen, as the group is named, are designed to attract attention. In August, a Femen leader named Inna Shevchenko demolished a towering wooden crucifix, around three times her size, armed with a chainsaw. Dressed in nothing but coral hot pants, black leather boots, protective goggles, and a floral wreath on her head—a symbol of unmarried women in her native Ukraine— Shevchenko knelt to cross herself before destroying the crucifix in Kiev, Ukraine's capital. The words "Free Riot," painted in black over her chest, suggested the act was in response to the arrest of singers belonging to Pussy Riot following the band's "punk prayer" in a Russian Orthodox church.
Femen is an all-female protest group devoted, they say, to "attacking patriarchy, in all its forms: the dictatorship, the church, the sex industry." Members' punk rock attitude and extremism are a recipe for lots of exposure, but a swarm of questions has followed the group into the spotlight. What is one to make of Femen? Are they a force to be reckoned with or just an exhibitionistic group of women who like to disrobe publicly?
Femen was founded in Ukraine in 2008 by a group of women in their 20s. They were Anna Hutsol, a former concert organizer; Oksana Shachko, a former student of iconography; and Alexandra Shevchenko, a former professional coach at an electronics company. The Ukrainian sex trade has boomed since 2005, when visa requirements for tourists were removed, and has been fueled by high unemployment. The group initially wanted to stop the country, which attracts ads for "mail-order brides" and "pleasure weekends" in Google searches, from slipping further into the hands of sex tourists and human traffickers.
So in one of Femen's earliest protests, in 2008, members dressed up in high heels and fishnet stockings and shouted "Ukraine is not a brothel!" on Kiev's Independence Square. But the group soon realized that, in addition to Ukrainian politicians, sex-seeking foreigners also needed to be taught a lesson. When The Rock FM, a popular New Zealand radio station, organized a "win a wife" competition, in which men were flown out to meet potential wives in Ukraine, Femen arrived topless at the airport to humiliate the winner, a wine maker named Greg.
Because Femen fight against patriarchy in all its forms, their protests are broad in scope. In November, the group infiltrated a Catholic rally against gay marriage in Paris. They were dressed only in black underwear, stockings, and black and white nun's headdresses. Slogans like "In Gay We Trust" and "Gay is OK" were scrawled on their naked upper bodies. Most recently, they stormed a polling station where Berlusconi, Italy's former prime minister and lover of "bunga bunga" parties, was casting his electoral ballot. Half-nude and screaming "Basta Berlusconi!" the women attempted to make their way toward the politician before they were wrestled to the ground by police. Some members of Femen have been arrested up to 40 times in the past few years for stunts like these.
The audacity of such protests has inspired many women to join what is often referred to as Femen's "army." Femen claims to have enlisted women from across the world, in countries ranging from Tunisia to the United States. Last September, at the invitation of French feminists, they opened an office in Paris. They established another center in Berlin earlier this year. In both places, women receive physical training for future protests. Femen members say they plan to open their next international office in Brazil.