Porn Fans Aren't What They Used To Be
Reporting from the Adult Entertainment Expo, where the gun-owning, flip-phone-carrying demo reigns and James Deen just wants to talk about pandas.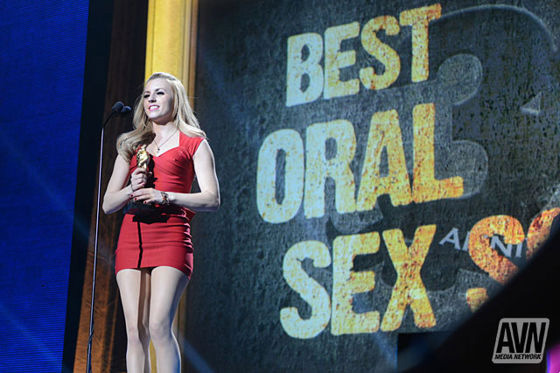 The first time I traveled to Las Vegas for the Adult Entertainment Expo, America's largest gathering of porn stars and their fans, I found myself sitting on the ground near the elevator bank at the Hard Rock Hotel & Casino with a blue-eyed, gravelly voiced girl who performs under the name Katie St. Ives. She lit a cigarette and sank into the carpet. St. Ives was coming off an eight-hour shift perched on a pair of platform heels and running her mouth dry in repetitive conversation with strange men. I asked her if she was having a good time.
"Uh. Yeahhhh," she said. "Sorry. That sounded … not convincing." Hours of posing and autographing had bottomed her out, but what really got to her were the legions of pornography fans who had attempted to pry past her "Katie" exterior to access the regular girl underneath. "Fans will get comfortable with me because I can act very friendly. They start to expect things of me. They seem offended when I don't get up and give them a hug." As St. Ives spoke, a pack of twentysomething polo shirts pooled around her, waiting for an elevator to skyrocket them to their room. One of them recognized St. Ives. He plucked a novelty penis drink stirrer from his cocktail and flicked it at her freckled face. "You want this cock?"
She did not want that cock, but the offer illustrated how drastically the relationship between porn stars and fans has changed in the past few years.
When David Foster Wallace chronicled porn's biggest fan show back in 1998—at the height of VHS and DVD sales—he observed a sweaty, trembling mass of shy guys who appeared both thrilled and ashamed to make first contact with their favorite pornographic actors. But the Internet crumbled all that, and last year I watched a man wait 30 minutes to grope a porn star's breasts and announce, "That's going on Facebook later!" Another languished in line to see if his favorite star was nice; act too aloof, and "I'll never want to see her again," he told me. "Not even in porn."
In an age when every conceivable permutation of pornography is immediately accessible for free online, the power dynamic between viewer and star has shifted. Most porn viewers are still quietly accessing the material from the privacy of their own homes, but because it's so easy to get, the reverence has faded. And when a man actually uses up his vacation days, books a plane ticket to Las Vegas, secures a hotel room off the strip, and drops between $35 (one-day access) and $325 (the VIP treatment) to celebrate porn in person, he is no longer content to gawk at a porn star standing on a pedestal. He expects an intimate affair.
Stoya, 26, is something of an Internet phenomenon. Fans know her for her thoughtful Tumblr that takes on issues like street harassment and sexual health; her wink-nudge public romance with porn it-boy James Deen; and the work she has done having sex on-camera. As we perch in the convention's pressroom at this year's expo last weekend, Stoya details the classes of fans she meets at shows. There are the "very socially awkward guys"—Foster Wallace's quiet, sweaty types. There are the "douchebags"—the grabby guys who get oiled up enough at the bar to ask, "Do you think I could do porn?" And now the "hipsters"—guys drawn to Stoya's alternative pornographic aesthetic who nonchalantly sidle up to her booth. "Those guys don't pay for it," Stoya tells me.
Those guys are the industry's biggest problem—people who like to watch porn but also situate themselves as above it all. Today, most viewers don't count themselves as "fans" at all. Clarissa Smith, a researcher at the University of Sunderland in northeastern England, has spent years collecting data on thousands of Internet porn users. When she crunched some preliminary numbers from a voluntary online questionnaire of 5,490 men and women, she noticed a schism between young and old consumers. Both male and female users in their teens and 20s viewed porn frequently but not passionately. They accessed it through downloads and tube sites and amateur portals when they were either horny or bored. And out of all porn viewers, those aged 18-25 rated pornography as least important to their lives. When porn is free, we want it more, and we value it less.
It's ironic that the omnipresence of porn in our homes is now backfiring on the porn industry. For a while there, figuring out new ways to deliver porn straight into the consumer's home was the name of the game. The porn industry has managed to successfully leverage the erotic potential of every new technology, from the printing press to the telephone to the VCR to the camcorder, to facilitate that process. Throughout the '80s and '90s, America's foremost porn convention even shared floor space with the Las Vegas outpost of the International Consumer Electronics Show. Back then, the adult show functioned a little bit like CES's dad's basement—it was the darkened exhibition hall you and your friends could sneak into after-hours to pop in a racy film. For reluctant porn fans, the tech conference provided the perfect cover for an explicit outing. For tech types, it was a legitimate business opportunity: a place where DVD distributors could shake hands with content producers, and their busty starlets, too. The alliance was a success.
But now, the conference's techie contingent has all but withered. DVD distributors and pornographers have less to chat about. Technophiles have little incentive to hop over to the porn convention to peruse the newest titles; they can just dial them up on their smartphones. It's gotten to the point where Dan O'Connell, founder and president of the lesbian-focused porn company Girlfriends Films, can spy a likely customer by the quality of his cellphone. If he's packing a dinosaur of a flip-phone, perhaps O'Connell can interest the guy in some DVDs. But it's all over when the iPhone comes out.