Small Waist, Large Breasts, Big Problem
I may have your ideal figure, but just try shopping for a bra.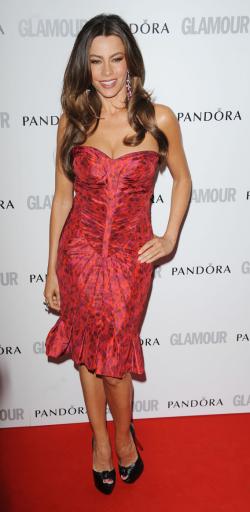 Two months ago I walked into Neiman Marcus' lingerie department in San Diego and asked the saleswoman if she had any bras in my size, 28G. Like a deleted scene from Pretty Woman, she treated me as if I was a pair of Lucite platforms away from a highway strip club.
"Oh, we don't do that here," she said with a hint of embarrassment. She then proceeded to fold the dime-sized A-cup she had just sold to a normal customer.
In theory, the United States likes large breasts. In practice, the United Stastes likes large breasts as long as they're on the right body. That means bigger women have bigger chests, smaller women have smaller chests. The average American bra size was once a 34B, now it's a 36D, according to Tomima Edmark, founder of online lingerie retailer HerRoom. (There is some dispute on this: Women's Wear Daily cited the median in 2010 as 36DD.) Breasts have grown and so have waistlines; bigger women, bigger chests.
But then there's me. And then there's Sofia Vergara. In the September issue of Allure, the self-satirizing Colombian and resident Modern Family babe inadvertently became the spokeswoman for the small percentage of petite Americans with big busts when she admitted she has difficulty finding bras in her size, 32F. Vergara sometimes has to settle for a more common 34DD because of the dearth of lingerie in her dimensions, which, according to intimate apparel professional Moira Nelson, the bra industry calls "full-busted"—defined as a small band size (36 and under) with a large cup size (DDD and over). (Full-busted as opposed to "full-figured" or "plus-sized," which both refer to 38 bra bands and up.)
"Nobody with real boobs usually has those measurements," Vergara told Allure. And she's right. In the context of the American bra industry, being "full busted" is about as unusual as Gloria Pritchett's argot.
As I learned that day in Neiman's, full-busted bras are often associated with plastic tits. Even feminist website Jezebel once quipped, "it's important that we separate the woman with a 28-inch band and G cups from the woman who wears a 36C, because one may be a hot porn star with implants, while the other is just a fatty."
Nelson, founder of lingerie industry website Bra La Mode and the Lingerie Alliance, an online community made up of intimate apparel industry pros, confirmed for me what I already know: "Most of the brands that cater to the full-busted market are in the UK and Europe," she told me. "Very few American brands carry full-busted sizes at all and only a handful actually caters to this consumer."
Though there appear to be no definitive statistics on the average bra size in the UK, in 2009 British department store Debenhams concluded the average bra band was 34 after polling 250,000 women in the country. Meanwhile, British lingerie manufacturer Triumph conducted a survey in 2007, which revealed that more than 50 percent of UK women need a D cup or more. These results together suggest that British women are slightly more full-busted on average than American women (with Liverpool boasting an average size of 34E and Newcastle 34DD).
The few homegrown brands that do service the full-busted American woman—such as Aviana, Glamorise and Lunaire, which can be found at JCPenney and Macy's—rarely offer bands below a 32 or cups bigger than a G. I know this from experience as well as reporting. Like I said, I'm a 28G and there are only two U.S. bras I could conceivably wear in a pinch: California brands Parfait by Affinitas, which sells 30-40 D-G sizes in specialty stores and online (I can wear a 30FF if I have to), and Claudette, which also offers 30G bras online and in various boutiques across the country. This year Claudette is looking to add sizes up to 28K (the fullest bust the bra market appears to sell), according to an interview on the Full Figured Chest blog. But those brands are only a tiny drop in the Unites States' swelling ocean of lingerie.