Liberals, Don't Homeschool Your Kids
Why teaching children at home violates progressive values.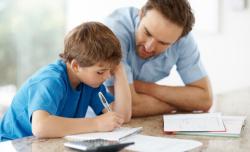 As a child growing up in Arizona and Georgia college towns during the 1980s and 1990s, the filmmaker Astra Taylor was "unschooled" by her lefty, countercultural parents. "My siblings and I slept late and never knew what day of the week it was," Taylor writes in a new essay in the literary journal N+1. "We were never tested, graded, or told to memorize dates, facts, or figures. … Some days we read books, made music, painted, or drew. Other days we argued and fought over the computer. Endless hours were spent watching reruns of 'The Simpsons' on videotape, though we had every episode memorized. When we weren't inspired—which was often—we simply did nothing at all."
Over the past year, there has been a resurgence of interest in homeschooling—not just the religious fundamentalist variety practiced by Michele Bachman and Rick Santorum, but also in secular, liberal homeschooling like Taylor's. Think no textbooks, history lessons about progressive social movements, and college-level math for precocious 13-year-olds. Some families implement this vision on their own, while others join cooperatives of like-minded, super-involved parents.
Homeschooling is so unevenly regulated from state to state that it is impossible to know exactly how many homeschoolers there are. Estimates range from about 1 million to 2 million children, and the number is growing. It is unclear how many homeschooling families are secular, but the political scientist Rob Reich has written that there is little doubt the homeschooling population has diversified in recent years.* Yet whether liberal or conservative, "[o]ne article of faith unites all homeschoolers: that homeschooling should be unregulated," Reich writes. "Homeschoolers of all stripes believe that they alone should decide how their children are educated."
Could such a go-it-alone ideology ever be truly progressive—by which I mean, does homeschooling serve the interests not just of those who are doing it, but of society as a whole?
In her N+1 piece, Taylor struggles to answer this question in the affirmative. Drawing upon her own upbringing, as well as on the traditions of the radical private school the Albany Free School, Taylor calls on parents and students to "empty the schools," which force students to endure "irrational authority six and a half hours a day, five days a week, in a series of cinder-block holding cells," she caricatures.
This overheated hostility toward public schools runs throughout the new literature on liberal homeschooling, and reveals what is so fundamentally illiberal about the trend: It is rooted in distrust of the public sphere, in class privilege, and in the dated presumption that children hail from two-parent families, in which at least one parent can afford (and wants) to take significant time away from paid work in order to manage a process—education—that most parents entrust to the community at-large.
Take, for instance, Sonia Songha's New York Times account of forming a preschool cooperative with six other brownstone-Brooklyn mothers, all of whom "said our children had basically never left our sides." Indeed, in a recent Newsweek report, the education journalist Linda Perlstein noted a significant number of secular homeschoolers are also adherents of attachment parenting, the perennially controversial ideology defined by practices such as co-sleeping with one's child and breast-feeding for far longer than typical, sometimes well beyond toddlerhood. Meanwhile, in suburban New Jersey, one "hippy" homeschooler told the local paper she feared exposing her kids to the presumably negative influences of teachers and peers. "I didn't want my child being raised by someone else for eight hours out of the day," she said.
Recent reports of teachers and teachers' aides in Los Angeles and New York molesting children only flame the fans of such fears. But these stories make news exactly because they are so rare; there's something creepy about giving in totally to the terrors of the outside world harming one's child. In a country increasingly separated by cultural chasms—Christian conservatives vs. secular humanists; Tea Partiers vs. Occupiers—should we really encourage children to trust only their parents or those hand-selected by them, and to mistrust civic life and public institutions?
Moreover, being your child's everything—her parent, teacher, baby-sitter, and afterschool program coordinator—requires a massive outlay of labor. Songha's pre-K cooperative hired a teacher, but parents ended up putting in 10 to 12 hours of work per week administrating the program. Astra Taylor's father was a college professor, while her mother supervised the four children's "unschooling."