Why We Borrow So Much Money
The story behind the explosion of debt in America. Listen to the United States of Debt, Episode 1.
This article supplements the United States of Debt, our third Slate Academy. Please join Slate's Helaine Olen as she explores the reality of owing money in America. To learn more and to enroll, visit slate.com/Debt.
Credit card debt is on the rise, student loan debt is at record levels, and millions of Americans continue to experience difficulty with housing and medical bills.
In this first episode of the United States of Debt, a Slate Academy, host Helaine Olen outlines the state of debt in America. How much do we owe and why? Can debt help us get ahead? And why do we judge those who owe money? Olen takes a look into the past to figure out why there's been an explosion in borrowing.
Our guests on Episode 1 include debt expert and former CNBC personal finance columnist Carmen Rita Wong, University of Illinois professor Robert Lawless, and professor Joseph Cohen from Queens College at the City University of New York.
To join this Slate Academy and hear future episodes, chat in our private Facebook group, and read supplementary materials, visit slate.com/debt.
Slate Academy: The United States of Debt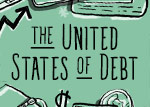 How did debt get so bad in the United States? Join personal finance columnist Helaine Olen as she takes in-depth look at the reality of debt in America. What's it like to empty out your 401(k) to help a family member? What works—and what doesn't—for people struggling to get out of debt? Find out. Join us today.